No Rescue for U.S. Citizens Who Stay If Russia Invades Ukraine: White House
The White House has issued a warning to any American citizens still in Ukraine: Leave in the next "24 to 48 hours."
If they don't leave and Russia invades Ukraine, the White House said that the U.S. won't be able to rescue any remaining American civilians, the Associated Press reported.
The State Department issued a similar warning on Thursday, saying that the U.S. "will not be able to evacuate U.S. citizens in the event of Russian military action anywhere in Ukraine," NBC News reported.
The order comes amid buzz that tensions at the Russia-Ukraine border could soon reach their breaking point after concerns of a Russian invasion have been mounting for months.
An NBC report published Thursday cited a U.S. military and intelligence assessment that indicated the Russian military could initiate a full-scale invasion within 48 hours.
National Security Adviser Jake Sullivan made the plea on Friday that Americans leave "as soon as possible and in the next 24 to 48 hours." He said that the White House "obviously cannot predict the future," but "the risk is high enough and the threat is now immediate enough," AP reported.
Sullivan also said that an invasion could be launched before the conclusion of the 2020 Beijing Winter Olympics, which are set to end on February 20.
"We continue to see signs of Russian escalation, including new forces arriving at the Ukrainian border," he said. "As we've said before, we are in the window when an invasion could begin at any time should Vladimir Putin decide to order it."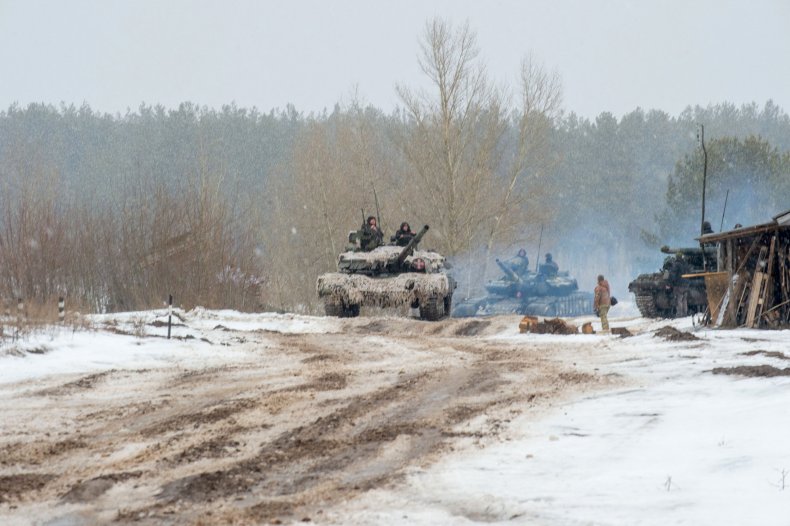 Sullivan's comments echo statements recently made by President Joe Biden and Secretary of State Antony Blinken, ramping up the threat of a Russian invasion into the former Soviet Union member nation after a long period of anticipation.
In an interview with NBC's Lester Holt that aired on Thursday, Biden instructed American citizens in Ukraine to leave immediately.
"It's not like we're dealing with a terrorist organization. We're dealing with one of the largest armies in the world. It's a very different situation, and things could go crazy quickly," he said.
When Holt asked Biden if there was a scenario that would spur the U.S. to deploy troops to rescue U.S. citizens fleeing Ukraine, the president responded that "there's not."
"That's a world war when Americans and Russia start shooting at one another," Biden said.
"We're in a very different world than we've ever been," he added
Blinken also said Friday that a Russian invasion could "begin at any time," and reiterated the State Department's call for Americans to leave Ukraine, Reuters reported.
Newsweek reached out to the White House for additional comment.
Update 2/11/22, 3:30 p.m. ET: This story was updated with additional information.