'No Slamming!': Donald Trump Insists He Didn't Have Temper Tantrum in Border Wall Meeting With Pelosi and Schumer
President Donald Trump has denied claims he threw a "temper tantrum" during a Wednesday White House meeting on the ongoing partial government shutdown with Senate Minority Leader Chuck Schumer and House Speaker Nancy Pelosi.
After the heated meeting, Schumer told reporters that the president had "slammed the table" and "just walked out."
Related: Senators sponsor bills to stop Congress pay during government shutdown
To defend himself, Trump tweeted early Thursday: "Cryin' Chuck told his favorite lie when he used his standard sound bite that I 'slammed the table and walked out of the room.'
"Because I knew he would say that, and after Nancy said no to proper Border Security, I politely said bye-bye and left," Trump said, adding: "No slamming!"
The U.S. leader reiterated the claim again as he left the White House on Thursday, telling reporters he does not have "temper tantrums."
"I didn't pound the table. That is a lie," he said. "All of that narrative is a lie."
Schumer told reporters on Wednesday, the 19th day of the government shutdown, that Trump had openly expressed his concern that if he opened up the government, Democrats would no longer "do what I want" and hand over the $5.6 billion he has demanded for the construction of his long-promised border wall.
Calling Trump's actions "cruel" and "callous," Schumer accused the president of "using millions of innocent people" as "pawns."
"And then, a few minutes later," Schumer said of Trump, "he sort of slammed the table and when leader Pelosi said she didn't agree with a wall, he just walked out and said, 'We have nothing to discuss.' He said it was a waste of his time."
In a Twitter statement following the meeting, Trump did brand the discussion a "total waste of time," asserting that he had "asked what is going to happen in 30 days if I quickly open things up."
"Are you going to approve Border Security which includes a Wall or Steel Barrier? Nancy said, NO. I said bye-bye, nothing else works!" the U.S. leader tweeted.
Democrats have maintained that they will not provide any funding for Trump's border wall, while Trump has dug his heels in as well, asserting that he will not reopen the government until they concede.
The president also claimed on Thursday that there is "GREAT unity" among Republicans in Congress, despite the fact that some GOP members have called for an end to the shutdown.
"There is GREAT unity with the Republicans in the House and Senate, despite the Fake News Media working in overdrive to make the story look otherwise," Trump said in a tweet. "The Opposition Party & the Dems know we must have Strong Border Security, but don't want to give 'Trump' another one of many wins!"
The partial government shutdown is now on its 20th day, meaning hundreds of thousands of federal workers have been working without pay for nearly three weeks.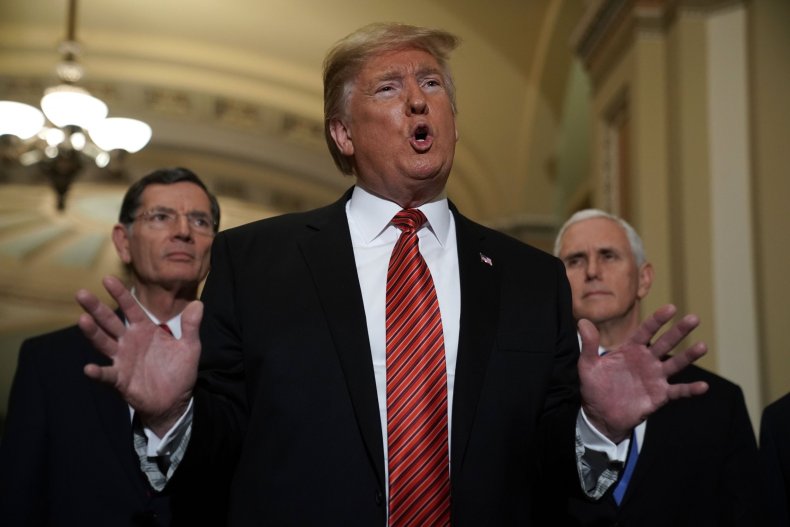 This article has been updated with more information on the partial government shutdown.