With No Successor in Sight, Intelligence Czar Dennis Blair Departs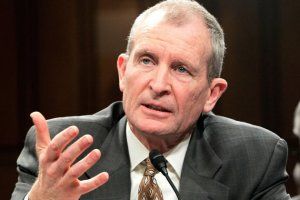 On Dennis Blair's last day in office as director of national intelligence, the Obama administration seems more stymied than ever in its efforts to replace him.
Following a torrent of criticism from Capitol Hill—apparently touched off by this Declassified interview with Rep. Pete Hoekstra, the House Intelligence Committee's top Republican—the candidacy of James Clapper looks doubtful to say the least. On top of Hoekstra's criticism of the retired three-star general, who currently serves as the Defense Department's intelligence chief, the Senate Intelligence Committee's leaders are now also publicly saying they think he's the wrong man for the job. "I believe the best thing for the U.S. Intelligence Community is to have someone with a civilian background in charge," committee chair Sen. Dianne Feinstein tells Declassified through her spokesman. "So I do have concerns about General Clapper as a choice to be the next director of national intelligence. The committee's Republican vice chairman, Sen. Kit Bond, also expresses qualms. "Jim Clapper has served honorably and with distinction for a long time … but I have reservations about moving him into the DNI job. I have had a good personal relationship with him, but I believe he is too focused on Defense Department issues, and he has tried to block our efforts to give more authority to the DNI."
After we published Hoekstra's comments, a Pentagon spokesman contacted us to deny the congressman's suggestion that Clapper had any involvement in instructing officials in not to cooperate with Hoekstra during his visit there in January. The spokesman also insisted that Clapper has always been respectful of congressional oversight and fully cooperative with oversight committees. The spokesman said the Pentagon would provide "specific examples of the lengths" Clapper and his office have gone to in keeping Congress informed about intelligence activities. But despite several e-mail reminders we have sent over the past two days, Defense officials have not yet followed through with a detailed defense of Clapper's dealings with Congress.
Meanwhile a consensus has been growing on Capitol Hill that any attempt to name Clapper to the post now would face formidable obstacles. And compounding the difficulties for the White House talent search, two other leading candidates are out of the running despite their qualifications for the job, one because he would have political problems if nominated (White House counterterrorism coordinator John Brennan) and the other because he most emphatically doesn't want the job (CIA Director Leon Panetta). The latest boomlet in speculation on potential candidates is centered on Michael Vickers, a former Green Beret and CIA operative who has been the Defense Department's top civilian in charge of counterterrorism and special-operations programs slnce late in the Bush administration. Vickers was one of 15 potential DNI candidates we identified when news of the job opening broke, and his standing in the rumor mill rose late on Thursday with mention in a story carried by the Associated Press. Nevertheless, several current and former intelligence officials, including officials familiar with the views of influential legislators, question whether Vickers has the stature or the political clout to earn him the White House's nomination and confirmation by Congress.
One official familiar with congressional views on the subject suggests that the administration should start thinking outside the box, perhaps by looking at corporate CEOs. Exceptional management skills would be a definite plus: one of the DNI's principal duties is to oversee and coordinate the activities of 16 fractious and competitive agencies. (The other is to serve as the president's chief intelligence advisor.) But other names keep coming up. Some, such as Homeland Security undersecretary Rand Beers, Joint Chiefs of Staff Deputy Chairman Gen. James Cartwright, and outgoing Sen. Evan Bayh, have surfaced before (one former official who worked in national security positions with Beers describes him as "indefatigable"). But others are new to this particular search, including Rep. Jane Harman, former Ambassador to Iraq Ryan Crocker, and former CIA deputy director John McLaughlin. In retrospect, some current and former officials say Obama made a serious mistake by accepting Blair's resignation before lining up a successor. A White House spokesman could not be immediately reached for comment.