Prolific hit-maker Steven Soderbergh is back with a new movie coming exclusively to HBO Max this week.
On Thursday July 1, 2021, No Sudden Move arrives on the streaming service with a strong ensemble cast, an interweaving plot that keeps you guessing, and a suspenseful story that leave you on the edge of your seat until the credits roll—all of the tropes we've come to expect from a Soderbergh movie.
Don Cheadle, Benicio del Toro, Ray Liotta, David Harbour, Bill Duke and Brendan Fraser are just some of the stars playing mobsters in this 1950s Detroit-based thriller. Each of them told Newsweek how they found working with the famed filmmaker on this project.
Members of the 'Soderbergh Club'
Many of the actors in this film have collaborated with Soderbergh before, some of them multiple times. On being accused of being part of the Soderbergh Club, Cheadle says it's a fair assumption. He said: "I didn't get a card or anything or even a fruit basket but it's great to know that he's someone that feels that we are worthy partners in crime."
Cheadle and del Toro team up to lead the huge ensemble cast, playing small-time gangsters Curt Goynes and Ronald Russo, respectively. The pair form an uneasy alliance when the job they're hired for goes awry.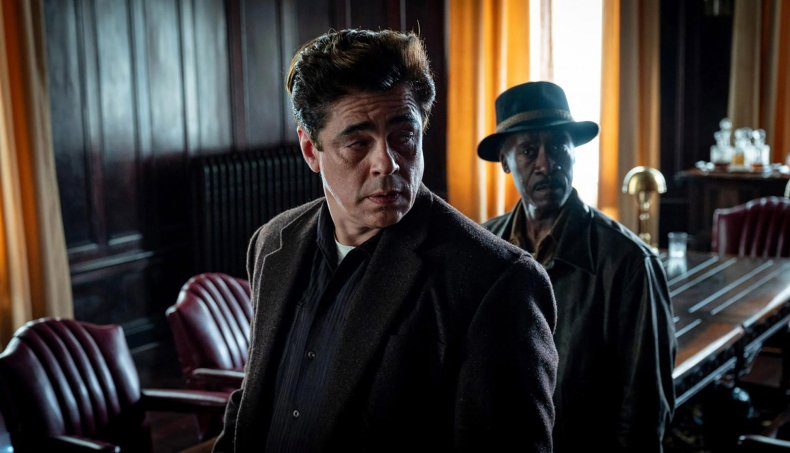 Cheadle first starred in a Soderbergh picture in 1998's Out of Sight. Del Toro joined the two to star in the 2000 movie Traffic—a role which won him the Oscar for Best Actor in a Supporting Role, and Soderbergh the Best Director prize.
Comparing his first experience working with Soderbergh to working with him on No Sudden Move, del Toro told Newsweek: "If anything he's gotten sharper and faster. He's gotten faster in making the decisions. He knows his instrument. He's more efficient.
"We were doing a movie during the pandemic so he was also in charge of organizing the bubble to make sure no one got sick and he was extremely successful, no one got sick. We were able to start and finish the movie with no delays. That was amazing."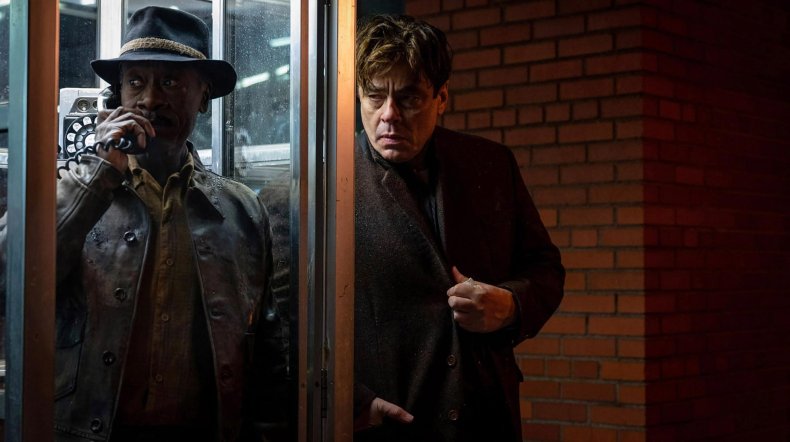 Filming No Sudden Move during a pandemic
Production for No Sudden Move was delayed due to the pandemic but finally got started in September 2020 before wrapping in November.
Stranger Things actor Harbour plays a family man in over his head, Matt Wertz in the movie. He reckons the restrictions in place changed the shooting of the film but the results are still impressive.
"I think this was a unique experience for all of us because it was a post-COVID set as well so I don't know whether we got the exact Soderbergh treatment exactly. I don't know if he got the exact David Harbour treatment as well," he said.
"I think we were all somewhat traumatized dealing with what we were dealing with but I did feel like we were in the hands of a true, and I try not to say this lightly, but a true genius and master of this craft of filmmaking. He's a guy who directs and edits, shoots, A-cam opp, the DP, he's everything."
It's clear to see Harbour isn't exaggerating when he says Soderbergh does everything. Credited under pseudonyms, Soderbergh also takes on the role of editor and cinematographer in his films. Once again in No Sudden Move, the film's cinematography is performed by the fictional "Peter Andrews" and edited by the non-existent "Mary Ann Bernard."
It's Bill Duke's third time collaborating with the multitalented director and he thinks Soderbergh is as sharp as ever. He told Newsweek: "He's at the top of his game. Working with Steven Soderbergh, you don't get to do that very often so it's a privilege."
Discussing his other highlights from the shoot, Duke said: "The collaboration with some wonderful actors who were kind, collaborative, with no egos who really just wanted to make the best movie."
Brendan Fraser agreed with Duke's sentiment and admitted, on his second movie with Soderbergh, that "it's really nice to be welcomed back into the family."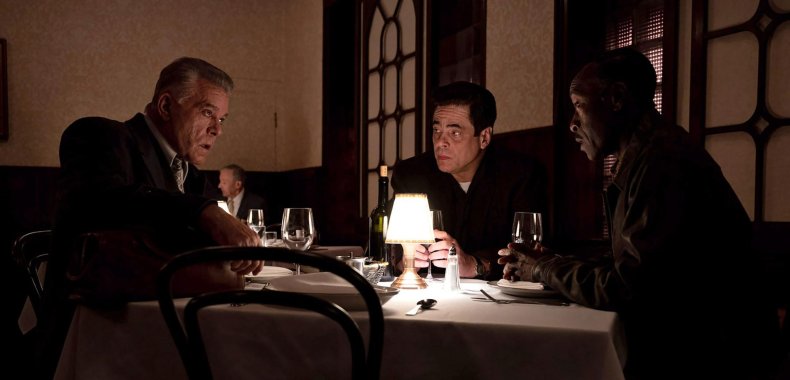 First times for Ray Liotta and Steven Soderbergh
While many actors were returning to work with Soderbergh, some people were working with him for the first time. Despite enjoying an impressive career, this marks the first time Liotta has worked with the No Sudden Move director.
Liotta, who plays mobster Frank Capelli, admits that having the opportunity to work with Soderbergh was the main reason why he wanted to star in the movie. He said: "As most directors who are great at what they do, there's a passion to tell the story but they also know what it is they want. They see the movie in their head and they just chip away the excess."
The cast list is filled with impressive talent, which also includes Julia Fox (Uncut Gems), Frankie Shaw (SMILF), Kieran Culkin (Succession), Amy Seimetz (Sweet Tooth), Noah Jupe (A Quiet Place) and Jon Hamm (Mad Men). By the later stages of the movie, there's also a short yet impactful cameo to rival Ned Beatty in Network or Alec Baldwin in Glengarry Glen Ross.
Liotta says the people he worked with are what made this role memorable for him, but the COVID rules mean he won't be able to remember everyone. He said: "It was just working with Steven and the cast. Everyone was really good and committed to the story we wanted to tell.
"It [the restrictions] wasn't a strain but you had to be careful, you had to keep social distance. Half the crew you didn't even know what they look like because they wear a mask the whole time. I could bump into somebody now and I wouldn't know who they were because the mask does hide them," Liotta said.
No Sudden Move will be available to watch on HBO Max from Thursday July 1, 2021.