'No Sudden Move' Arrives on HBO Max Despite COVID Challenges
No Sudden Move bucked the trend in Hollywood in 2020 and powered through production, despite the presence of a global pandemic.
Battling through the challenges the cast and crew faced, Steven Soderbergh's 1950s noir thriller is available to watch on HBO Max now.
Not only did the movie complete production, one of its stars believes the "high stakes" of COVID-19 brought the actors closer, which shows in their final performances.
The ensemble cast features Don Cheadle, Benicio del Toro, Ray Liotta, Jon Hamm, Brendan Fraser, Amy Seimetz, Kieran Culkin, and Julia Fox, to name just a few.
Production was initially due to begin on April 1, 2020, but was delayed due to the coronavirus. Instead, filming began in September 2020 and wrapped in November 2020, which is an impressive turnaround considering the amount of restrictions and protocols that were in place on set.
Many of the cast members spoke to Newsweek about making the movie, and they revealed what it was like making a major movie during 2020.
Brendan Fraser believes the extra challenges improved things for the cast.
He said: "We shot this during the period of COVID, fall of 2020 when we were quite vulnerable. All of us were. Yes, the health and safety protocols were all in place but an interesting thing happened I believe as a result. It brought us closer together in spite of all the social distancing, We cared about each other even more."
Fraser plays mob middle-man Doug Jones in the movie, getting the opportunity to act opposite many actors we see on screen. It was one of the first big projects that went back into production after the lockdown and Fraser feels the sense of jeopardy heightened expectations.
"We know the stakes were very high clearly for everyone. For the performers, we were without masks at that time and we were vulnerable.
"I think there's a secret binding ingredient in this ensemble, I'm convinced that it just shows we care about each other more, and I think it shows through in the performance and the quality of the film," he said.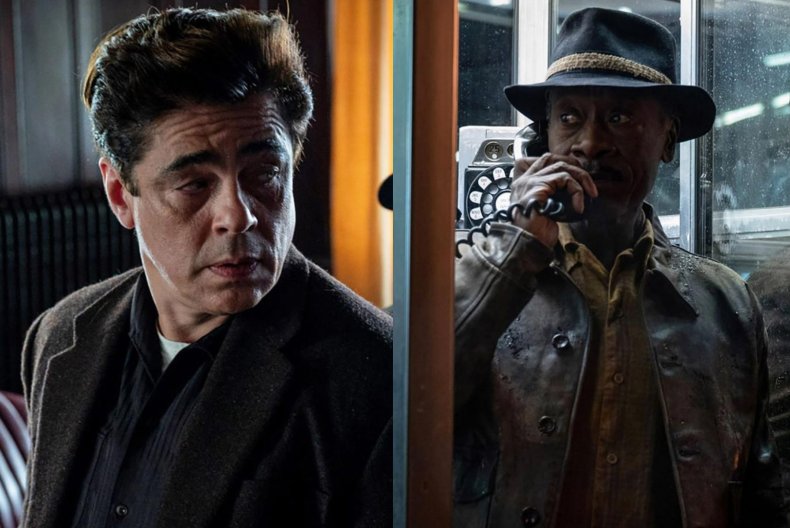 Despite coronavirus, the pandemic and restrictions being at the forefront of the agenda in 2020, Don Cheadle says he'll forget about those things from the set of No Sudden Move.
When asked if his memories of the shoot will be COVID-related, he replied: "No. My memories will all be about working with all the great actors, chiefly Benicio [del Toro] who I've been wanting to work with for a long time."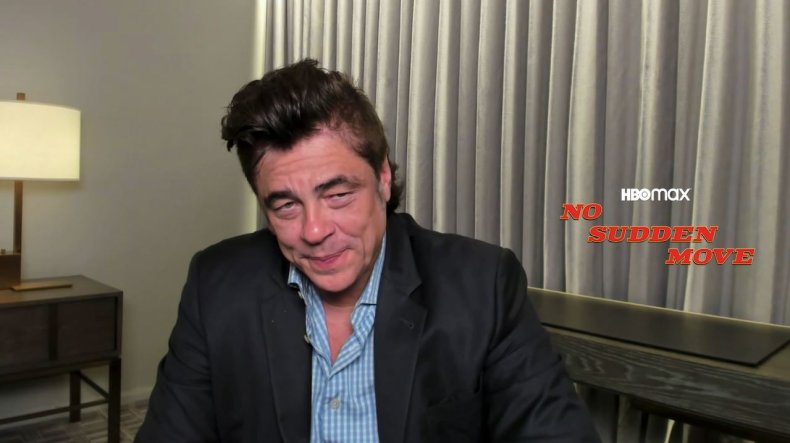 Cheadle's wish was granted in this movie as the pair play a central role. They're two small-time criminals who must quickly work through the criminal ranks in order to figure out why their "easy job" went wrong.
Cheadle continued: "All of my takeaways will be the experiences we had on set. The work, the granular work that we were all focused on not just to our own parts but to the movie in total. There's a lot of twists and turns and things we're navigating [in the story]. We're proud to offer that to people."
Del Toro admits he was blown away by the work rate and effectiveness of director (and editor and cinematographer) Steven Soderbergh throughout the shoot. He assigned himself as one of the COVID-regulators, and del Toro thinks he did a terrific job of it.
He said: "He was also in charge of organizing the bubble to make sure no one got sick and he was extremely successful, no one got sick. We were able to start and finish the movie with no delays. That was amazing."
No Sudden Move features a lot of tense moments, none more so than one scene instigated by Kieran Culkin's character, Charley.
Holding a family hostage at their breakfast table, Culkin thinks the speed at which they had to shoot helped the tension. "What did help make things tense was we would shoot things really fast, we only shot for four five hours a day.
"We're all professional. Anything external [to build tension] no that's kind of horse s***. We know the material, we trust the script and we make these things happen."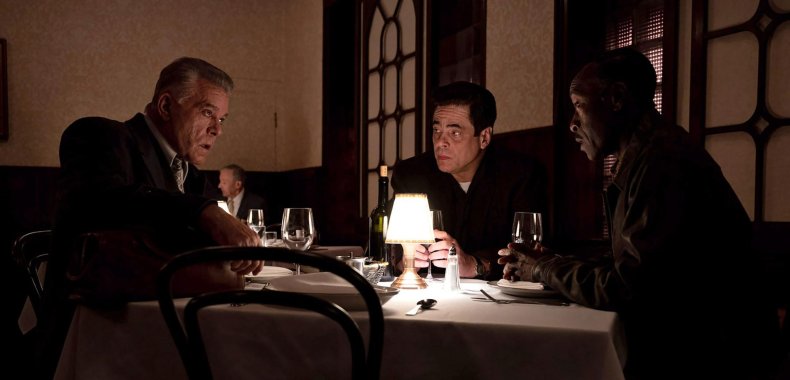 Amy Seimetz and Noah Jupe play the mother and son who are held hostage by Culkin, del Toro and Cheadle in one of the opening scenes. Their experience behind the scenes couldn't be more different than what we see on screen.
Seimetz said: "It was—I shouldn't say fun, fun is a relative term..."
Jupe interjects at this point: "We're not allowed to say fun but no it was really f****** fun. It was actually really fun."
Seimetz laughs and continues: "When I agreed to do it Steven [Soderbergh] did say 'great, you're going to have a lot of fun and there's going to be a lot of laughter' and he was right."
No Sudden Move is available to watch on HBO Max now.