'No Time to Die' Trailer Explained: Everything We Learned From the Bond 25 Promo
In the new trailer for Bond 25, aka No Time to Die, some classic elements are combined with exciting new developments for Daniel Craig's last outing as James Bond. The trailer features catchphrases, cars, and even a new take on the franchise's famous "gun barrel" sequence. It also reveals a new 00 agent—Nomi (Lashana Lynch)—widely rumoured to have taken on Bond's retired 007 codename.
Here's a breakdown of all the key moments and clues that can be gleaned from the No Time to Die trailer.
Bond's retirement and the new 007
As previously rumoured, No Time to Die sees Bond retired in Jamaica (perhaps in Ian Fleming's own former property there, Goldeneye), and having to return to MI6 for one last mission.
We see Felix Leiter (played by Jeffrey Wright since Casino Royale), Bond's long-standing ally in the CIA who appeared in the first Bond film Dr. No, tell him, "I need a favor, brother. You're the only one I trust for this." We then see Bond take the dust cover off of his Aston Martin, revealing the return of an iconic part of the world of 007.
Speaking of the codename, since Bond's retirement, his 007 designation has been given to someone else, with that person rumored to be Lashana Lynch's character. However, the trailer does not fully confirm this, and only reveals that she has had "00" status (a licence to kill) for two years, suggesting that was when Bond went into retirement.
It seems like Bond has been living a fairly quiet life since retirement, as we learn when Q (Ben Whishaw) says to him, "So you're not dead." The security guard at MI6 also does not recognise him, leading to a nice call back where he says his name is "Bond," only for the security guard to look blankly at him. "....James Bond," he has to clarify.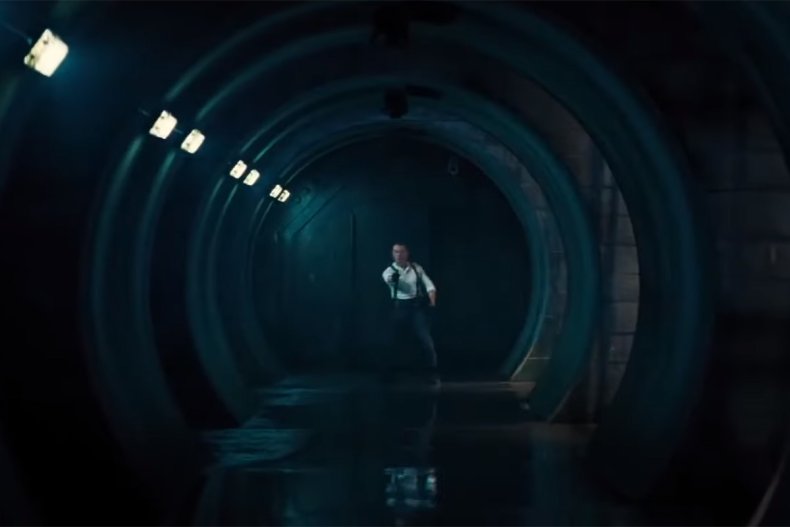 Though whatever mission Leiter has Bond on sees him team up with Nomi, their relationship seems a little different from the standard Bond and Bond girl dynamic, perhaps as a result of Phoebe Waller-Bridge's touches on the script after she was hired to round out the female characters.
We see Nomi tell Bond, "Stay in your lane. You get in my way, I will put a bullet in your knee... the one that works." This is a possible reference to Craig's own problem with his knee, which he reportedly needed surgery on after injuring it filming Spectre.
The concept of a retired James Bond has existed since 1967 and unofficial Bond spoof Casino Royale, which starred David Niven as an out-of-service "Sir James Bond."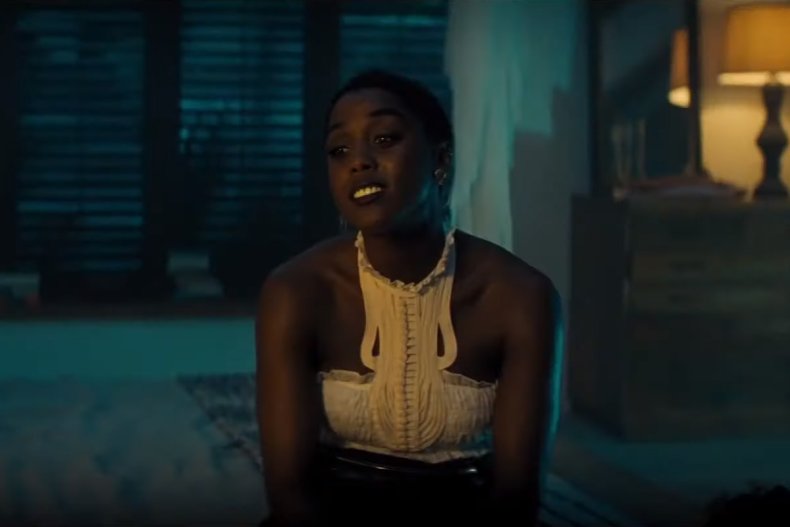 Ernst Stavro Blofeld
The No Time to Die trailer also confirmed the return of the Christolph Waltz incarnation of Bond's greatest nemesis, the cat-stroking inspiration for Austin Powers' Doctor Evil, Ernst Stavro Blofeld, played by Waltz in the last film, Spectre, but first appearing in fourth Bond film, Thunderball.
In Spectre, Blofeld received scarring to his left eye, which is still visible in No Time to Die. This visually makes Waltz the combination of the two most classic versions of Blofeld: Donald Pleasence, who played him bald and with a facial scar in You Only Live Twice, and Charles Gray, who took on the role after Blofeld underwent facial reconstruction surgery in Diamonds are Forever, and whose haircut in the role was almost identical to Waltz's.
In the trailer, he appears in a small box under MI6 custody. "He's the most valuable asset this country has," we see Bill Tanner (Rory Kinnear) tell Bond as he goes to speak to him. On the way to this, he meets Madeleine Swann (Lea Seydoux).
"James," we see Blofeld tell Bond, "you gave up everything for her. When her secret finds its way out, she'll be the death of you."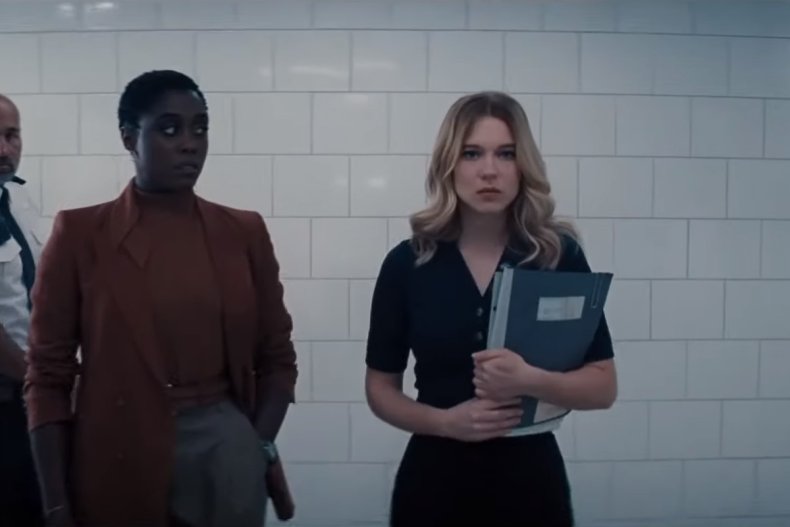 Madeleine Swann
Blofeld seems to be talking about Swann, who appeared in Spectre. Now it seems she is working as a Mindhunter-style psychologist on Blofeld, who Bond looks very surprised to see. Last time we saw her, she was driving off into the sunset with 007, so something has clearly happened to them in the interim.
What that is may be referenced in the opening of the trailer, which based on the rest of the promo seems to be a flashback to before the events of No Time to Die, which could possibly come from the cold open before whatever has been chosen as the theme song for this movie.
The pair are in the Aston Martin DB5 we last saw them in, driving away from a machine gunner on a motorbike. "Why would I betray you," we see her tell him, to which he replies, "We all have our secrets. We just haven't got to yours yet."
The next time we see him and the guy on the motorbike, the car and Madeleine are nowhere to be seen, and Bond is jumping off a bridge, suggesting that Bond is so surprised when she turns up later because he had assumed she had been shot to death.
Later in the trailer, we see them together in the same car, where in a nod to Goldfinger Bond flicks a switch and releases machine guns from the headlights. This seems like part of the same cold open, but equally could suggest the pair re-team up.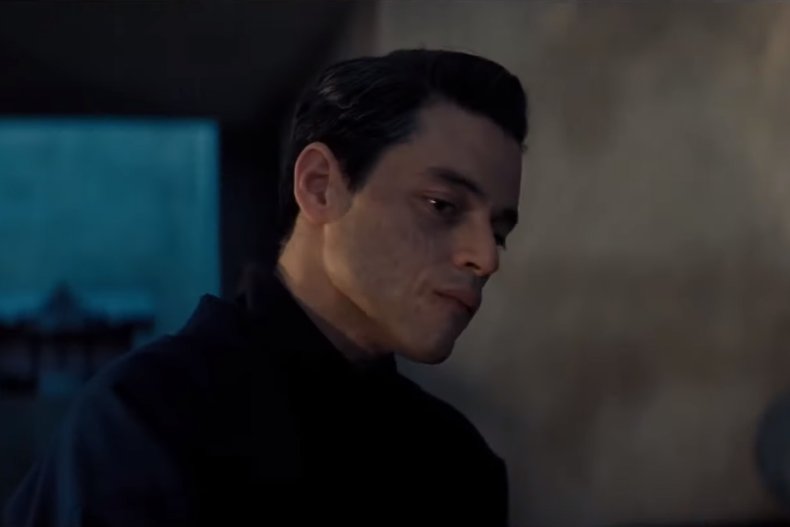 The new villain Rami Malek
The preview also gave us our first glimpse of Safin, the new villain played by Rami Malek. In a voiceover, we hear him say, "James Bond. Licence to kill. History of violence. I could be speaking to my own reflection. Only your skills die with your body, mine will survive long after I'm gone." Bond's reply suggests he is the latest in a long line of megalomaniacal Bond villain, saying "History doesn't take kindly to men who play God."
The trailer also features a villain with heavy scarring wearing a Phantom of the Opera-style half-mask, which we see in an earlier scene in the possession of Madeleine. Though Malek's mouth is slightly less recognisable without his large prosthetic Freddie Mercury teeth, this also seems to be Malek. This may mean that, like Blofeld before him, he had major plastic surgery as a result of a Bond attack, suggesting the mission may be more personal than it seems for either Bond or Madeleine, who is shown crying after she sees the mask.
Ana de Armas
The character we learn least about in the Bond 25 trailer is Paloma, played by Knives Out' star Ana de Armas. We see her in a black dress with two guns, but this adds nothing to what we saw in the teaser trailer released the day before the full trailer.
No Time to Die is released in cinemas in April 2020.