No, Trump Didn't Invent Loyalty Day. It's Been a Presidential Tradition Since Eisenhower
President Donald Trump's proclamation on Thursday marking May 1 as "Loyalty Day," drew confusion and criticism from some, but he didn't invent the holiday and is continuing a tradition that presidents on both sides of the aisle have maintained.
Originally celebrated as Americanization Day in 1921, the official holiday of Loyalty Day dates back to President Dwight Eisenhower. Congress first passed a joint resolution about Loyalty Day in 1955, but it wasn't until 1958, with the passage of a new joint resolution, that the day became an annual tradition.
Intended to be a day set aside for the "reaffirmation of loyalty to the United States of America and for the recognition of the heritage of American freedom," each president has used the proclamation to promote their own definition of loyalty and, at times, incorporate threats facing America.
In the first Loyalty Day Proclamation, Eisenhower wrote that a "prime requisite" for retaining America's freedom is "unswerving devotion to the liberties embodied in our Constitution."
However we choose to define loyalty, President Jimmy Carter said in 1977 that it must "dwell in our hearts as well as our minds." Instead of allowing loyalty to be a "leash" that keeps people from asking questions or searching for new ideas, Carter advocated for using loyalty to keep "us faithful to the ideals of individual dignity and worth for which so many Americans have fought and died for."
During the Cold War, President John F. Kennedy talked about the "forces of totalitarianism" and international forces that were attempting to "undermine and destroy our form of free government and our way of life."
In his first proclamation, President George W. Bush highlighted the September 11 terrorist attacks. Bush applauded the passengers on Flight 93, that gave their lives in fighting back against the hijackers, and the brave rescuers who died while saving others, an exemplary affirmation of "loyalty to their homeland."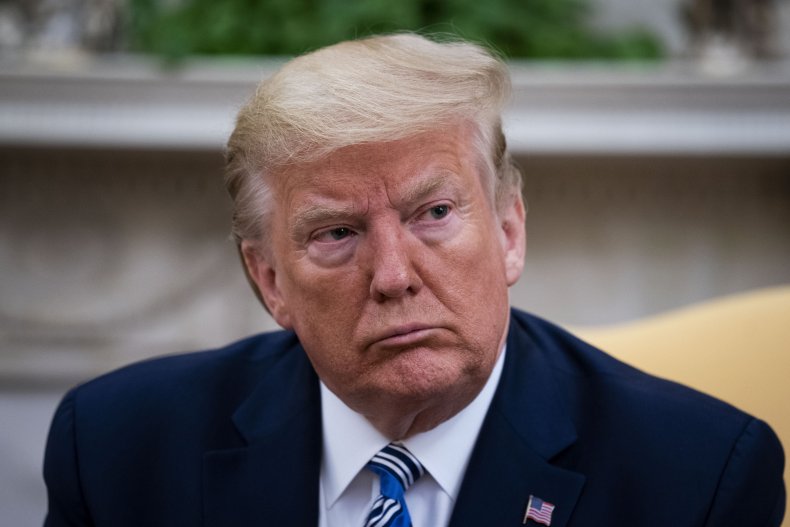 Both Presidents Ronald Reagan and Barack Obama used the proclamation to emphasize the diverse culture of America.
"While ours has always been a large and complicated democracy, full of differing views and boisterous debates, our history also makes clear that we are strongest when we find in our diversity a deeper, richer unity, stemming from an overarching belief in the possibilities our shared future holds," Obama wrote in his final proclamation in 2016.
Trump cited the threat of ISIS in his 2017 proclamation and this year, pointed to the "invisible enemy" America is fighting in the war against the new coronavirus outbreak.
On Thursday, the U.S. reported 1,046,022 cases of a new coronavirus and at least 61,288 people have died, according to a tracker maintained by Johns Hopkins University. Trump acknowledged in his proclamation that an army of people from varying industries are "doing everything in their power" to "heal the sick, find a cure and care for the needs of every American," even in the face of "grave risk" to themselves.
At a time when Americans nationwide are mourning their loved ones and anxious and fearful about what lies ahead, Trump wrote in the proclamation that we've also witnessed "extraordinary heroism and dedication." He wrote that Americans will emerge from this "challenging time stronger" and urged people to use May 1 as a moment of inspiration.
"All across our country, Americans are courageously fighting a daily battle against an invisible enemy," Trump wrote. "On this Loyalty Day, we recognize that as long as we take pride in our country, defend our great inheritance, and love our Nation, America will rise to every occasion and achieve a magnificent future."
Trump also asserted America to be the "most just and virtuous nation in the history of the world," in part because of the "nobility of the American way of life" and achievements of its citizens.
In declaring May 1 Loyalty Day, the president called on Americans to learn more about the "proud history of our nation."