'No Vax Passports': Anti-Vaccine Protesters Gather at 'Springsteen on Broadway' Reopening
A group of anti-vaccine protesters showed up to the opening night of Bruce Springsteen's "Springsteen on Broadway" Saturday, holding signs against the theater policy that required show attendees to have proof of vaccination by a WHO- or FDA-approved vaccine.
Protesters held signs reading messages including "no vax passports" and "Bruce Springsteen is for segregation on Broadway." The small group also shouted slogans such as "stop segregation" as attendees arrived for the show.
Photos and videos of the protesters were uploaded to social media.
Jujamcyn, the company that operates the theater, lists requirements for COVID-19 practices on its website. Attendees over the age of 16 must show proof of vaccination, except in the cases of "those who need reasonable accommodations due to a disability or sincerely held religious belief."
For those who are not vaccinated, proof of a recent negative COVID-19 test must be presented, as listed on the website; a negative antigen COVID-19 test taken within six hours of the performance start time; or a negative PCR COVID-19 test taken within 72 hours of the performance start time.
Additionally, attendees who are not vaccinated because of a disability or "sincerely held" religious belief and those under the age of 16 are required to wear masks at all times except when eating or drinking while seated.
A similar anti-vaccine protest occurred earlier this month outside the Agoura Hills club for a Foo Fighters concert, the Los Angeles Times reported. The theater had similar requirements for attendees to be fully vaccinated, leading to protesters calling the decision "segregation."
"Those of us who have healthy immune systems should be able to enjoy these freedoms just like anybody else," a protester told KCAL news.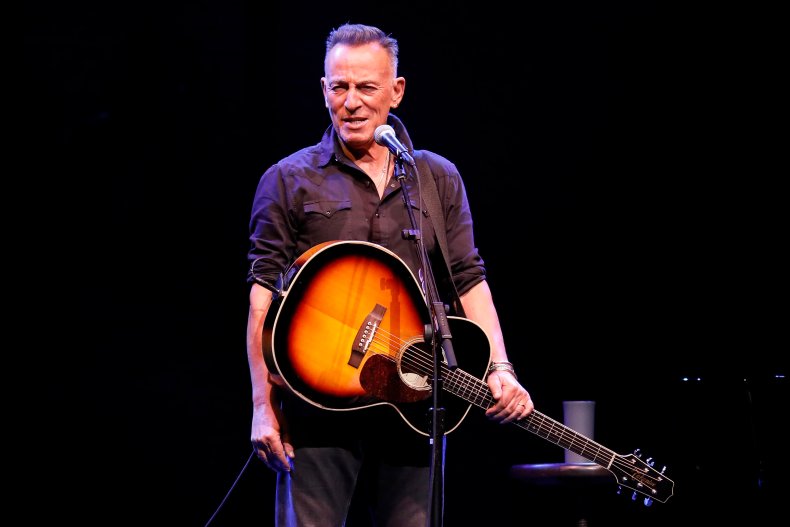 The limited run of "Springsteen on Broadway" opened on Saturday night and will have additional shows that run through Sept. 4. The show's original run included 236 sold-out performances throughout October 2017 to December 2018.
Springsteen on Broadway is based on Springsteen's autobiography Born to Run, and the show was adapted into a film and soundtrack album after the initial run.
"I loved doing Springsteen on Broadway and I'm thrilled to have been asked to reprise the show as part of the reopening of Broadway," Springsteen said in a press release published before the reopening.
Proceeds from the opening night will be donated to a group of local New York and New Jersey charities, including the Boys and Girls Club of Monmouth County, Food Bank for New York City, and the NJ Pandemic Relief Fund.
Newsweek, in partnership with NewsGuard, is dedicated to providing accurate and verifiable vaccine and health information. With NewsGuard's HealthGuard browser extension, users can verify if a website is a trustworthy source of health information. Visit the Newsweek VaxFacts website to learn more and to download the HealthGuard browser extension.