Pet owners are up in arms after a TikTok video showing the pet compartment on airplanes went viral online.
The video, posted by an employee at Vancouver Airport who goes by @djsugue on TikTok, revealed a cargo section designated for animals in crates. In the compartment, the crates are tied down with straps to ensure they do not move during the flight.
The video was in response to a comment left on a previous video asking, "can you show us where you put dog cages." The video, posted on October 3, has more than 6.9 million views and 7,600 comments.
"Here we are, everyone wanted to see where the dog goes," @djsugue said as he pointed his camera at the loaded baggage and turned to show a separate compartment for the animals.
"There it is, all strapped down," he said as he walked toward a dog in a crate.
But even though he mentioned the dogs are secured in the cargo area, a lot of users were horrified by the video.
"No way in hell I would ever put my dog, who is a family member, in this situation," one user commented.
"Please don't ever do this to your pets," another user wrote. "I flew once with my dog like this and I could hear screaming the whole time. It was traumatic for us both."
A lot of users in the comments also claimed to be flight attendants and ramp agents who said they would never fly their dog in the cargo area.
"As a ramp agent I can say anyone who ships their dog doesn't care about them at all," one commenter wrote.
Others mentioned the fact that the cargo area gets loud and cold during flights, which can be traumatizing for animals. Some commercial airlines have even reported deaths from animals suffering from heart failure, erratic breathing and attempting to escape their crates.
Some users were quick to mention that ramp agents at the airports do their best to ensure safety for everyone's pets. One user wrote that the animal area is heated and pressurized and that the lights are kept on throughout the flight.
"Not y'all trying to cancel this," another user commented. "As a ramp agent myself we love your pets and always make sure they're okay and safe."
In response to the comment, @djsugue replied with a video montage of some pets he was loading into the plane. "Yes to that," he wrote in the caption.
The Humane Society recommends weighing the risks before flying with your pet under the plane. Some "flat-faced" breeds such as Persian cats, bulldogs, and pugs are more vulnerable to oxygen deprivation leading to stroke due to their shorter nasal passages.
In 2020, the Bureau of Transportation Statistics reported six animal deaths and injuries to four animals resulting in 10 total incidents on commercial airlines. These numbers are down from 2019, which had six animal deaths and 19 total incidents.
The Humane Society also recommends flying pets in the cabin rather than the cargo area to lessen the potential risk, if possible.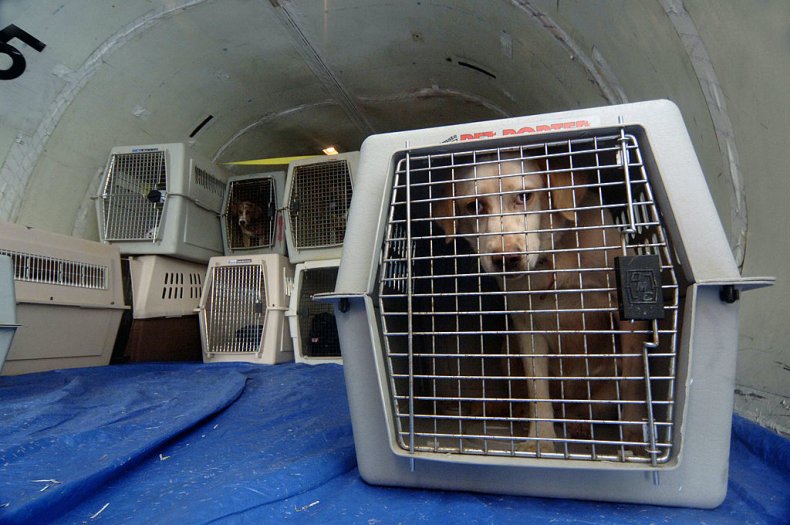 "While most animals flown in the cargo area of airplanes are fine, you should be aware that some animals are killed, injured or lost on commercial flights each year," the Humane Society said. "Excessively hot or cold temperatures, poor ventilation and rough handling are often to blame."
Some pet owners have even accused airlines of losing their pets. In August, Newsweek reported about a woman who said American Airlines lost her two cats.
The woman shared her experience on TikTok and received an outpouring of support. A couple of hours later the cats were located and returned to their owner.