NOAA Outlook Predicts a Green Christmas as December Is Expected to Be Warmer Than Average
Winter may be warmer than usual this year, according to the National Oceanic and Atmospheric Administration (NOAA) and its Climate Prediction Center. Its three-month outlook, covering October to December, doesn't call for any below-average temperatures anywhere in the United States. Portions of New Mexico, Colorado, Arizona and Utah could experience above-average temperatures.
Areas that are used to colder weather aren't in line to get it. According to the Weather Channel, the North Slope of Alaska, which is normally kept cold by Arctic ice, has more than a 50 percent chance of higher than normal temperatures.
This warming trend seems to be a continuation of how things have been the entire year. In the Brazos Valley of Texas, meteorologists have logged the warmest September on record.
NOAA's prediction mostly lines up with forecasts from another trusted weather news source, The Farmer's Almanac. That publication has been keeping track of the weather since 1818. The Almanac seems to forego modern meteorological science, using a system based on sunspots, tides and planetary positions.
For example, The Farmer's Almanac says winter will be warmer than normal in the southern region of the U.S. through October. NOAA agrees with that, especially in states further south, such as Florida. Of course, saying that it will be hot in Florida is usually a safe bet.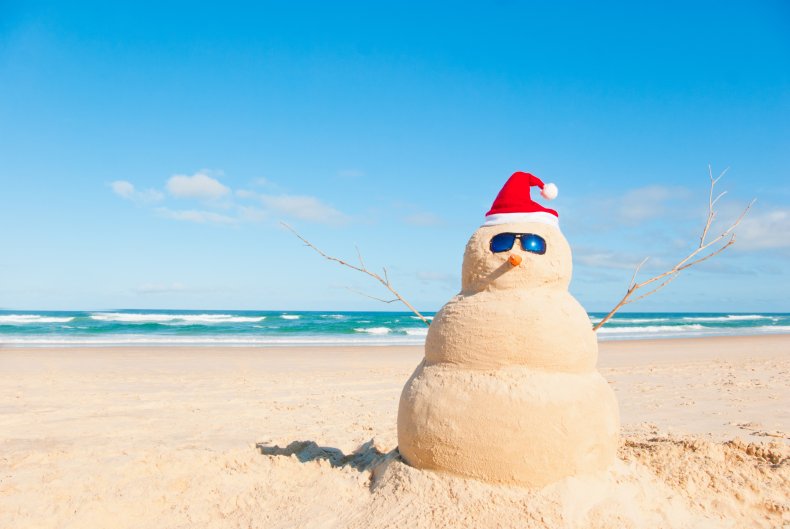 Predicting the weather has never been an exact science. The climate change phenomenon is making that job difficult for meteorologists and farmers alike. The Environmental Defense Fund says that, while climate change can't be blamed for every weather event, it may be kicking some weather patterns into overdrive. Longer droughts, stronger hurricanes and rising sea levels can all be related to man-made climate change.
This week has seen a number of worldwide climate strikes, led by 16-year-old activist Greta Thunberg. "People are suffering," she said in a recent speech in front of the United Nations. People are dying. Entire ecosystems are collapsing."
Critics of Thunberg's ideas have been vocal. Daily Wire contributor Elisha Krauss tweeted, "Environmental activists and her crappy parents have stolen her childhood, not capitalism and the UN."
And yet, there are those who are not positive climate change exists. In a 2016 interview between Donald Trump and the Washington Post editorial board, Trump claimed that he wasn't sold on the idea of man-made climate change. "I think there's a change in weather," Trump said. "I am not a great believer in man-made climate change. I'm not a great believer."
While proponents on both sides advance the climate change debate, one thing seems evident: Whether you choose to trust hard meteorological data or time-tested folklore, the weather isn't what it used to be.