Family Trapped by Hurricane Michael Spelled 'HELP' with Logs, NOAA Aerial Photos Show
Following the destructive arrival of Hurricane Michael over parts of Florida last week, those who left family, friends or homes behind were eager for any news of the conditions in the area after the storm had passed.
The National Oceanic and Atmospheric Administration has been conducting aerial imaging since October 11 of the areas the storm hit hardest and has been uploading those images online where they're available to anyone. Remote-sensing cameras on the King Air aircraft captured the images of the damage Michael caused.
That's how Amber Gee, who evacuated before Michael hit, found out that her family had actually stayed behind and needed help in Youngstown, Florida. She decided to check in on her grandma's property and in addition to seeing the condition of the home, she learned a lot more. She was able to use the aerial data to get a look at her grandmother's home where she noticed something spelled out in the grass, she told ABC News.
The word "HELP" was spelled out with logs from trees that had fallen during the incredibly strong storm. She knew her grandmother had evacuated but was unaware that her aunt and uncle had stayed at the house, and that it was her uncle who used the logs to spell out the call for rescue, ABC News reported.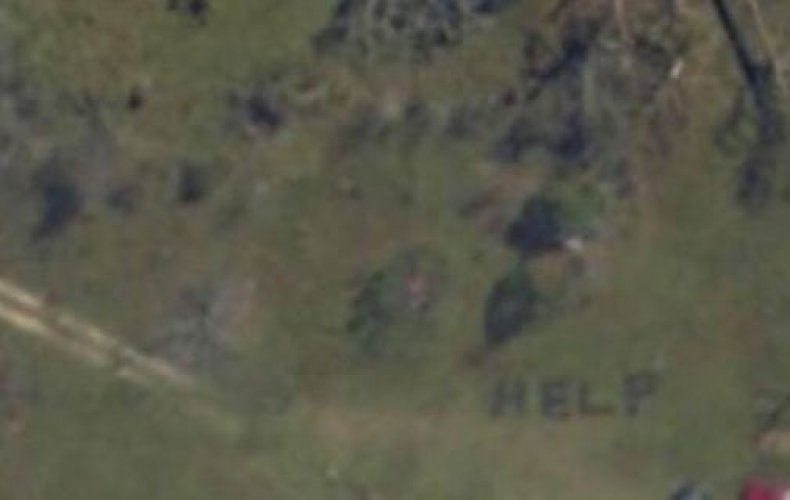 Gee then took action, she alerted the local authorities that there were people who needed help at the address and she uploaded the photo for the Bay County Emergency Service officials to see. The Bay County, Florida, Emergency Services posted to the photo to Facebook with a message about the efforts Gee had made.
"This is an incredible story of how people are working together in this situation. Someone from another county was using the mapping app to check property in rural Bay County and noticed the word "help" spelled out in the grass in logs. That person immediately contacted us and sent the picture and we dispatched needed assistance. #850Strong #WorkingAllHours," said the post accompanied by a photo of the signal.
Personnel from the Dade County Sheriff's Department were able to get to the property to rescue Gee's aunt and uncle, she told ABC News. She also said that the rescuers had to cut through a lot of other down trees to make the rescue.
NOAA conducts imagery response for various natural disasters with its Remote Sensing Division to help with emergency response and homeland security. Similar data to that available about Hurricane Michael has also been made available for other hurricanes this season as well.
Correction: NOAA aerial aircraft imaging was used to spot the HELP sign, not satellite imaging.