Noah Schnapp Not the First 'Stranger Things' Child Star to Cause Controversy
Noah Schnapp, one of the cast members of Stranger Things has come under for the alleged use of racist slurs.
The 15-year-old, who play Will Byers in the science fiction horror Netflix show, has denied using the n-word after a video of him rapping along to a song started circulating online.
The teen can be seen rapping along to Chris Brown and Lil Dicky's song "Freaky Friday" and the viral video has led to social media users using the #NoahSchnappIsOverParty hashtag to call out the young actor.
Schnapp has since denied using the slur and insisted he replaced it with the word "neighbor" while singing along in the video.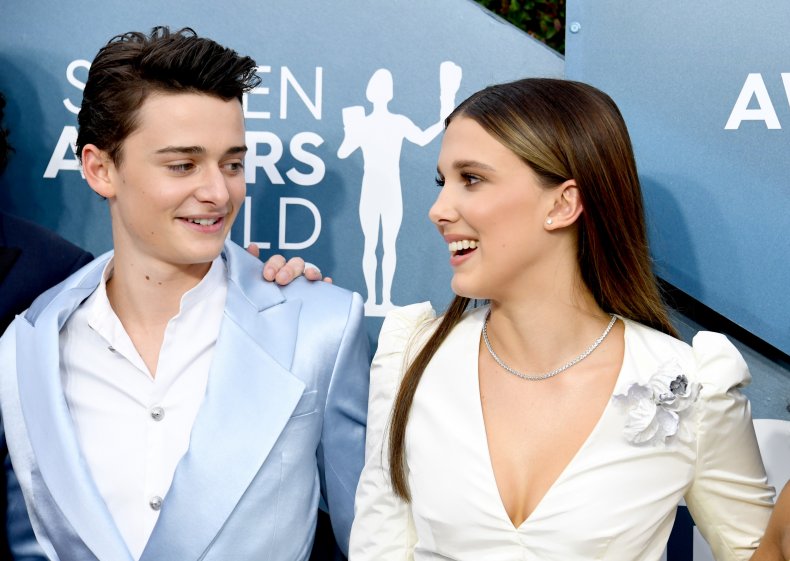 Taking to his Instagram story, he wrote: "Hi guys, recently a video from last summer has gotten out of me dancing and singing while singing the word 'neighbor' over the n word. i would truly never say the n word and i'm not the type of person.
"i genuinely have never used that word in my life. using the word 'neighbor' in that song was just something my camp friends and i did. i hope you all understand i could never even think about doing that. my friends also would never post a video, or support me, if i was saying a slur without hesitation."
He concluded: "i apologize for using a replacement word. it is not my place to use one and i should of kept my mouth shut. i understand why it is found offensive and i am so sorry."
Schnapp is not the only young cast member of Stranger Things to court controversy in recent times. Here is a profile of some of the other scandals.
Millie Bobby Brown
Coincidentally, Schnapp's co-star Millie Bobby Brown began trending online on the same day after an old video of her allegedly using a homophobic slur, the d-word, began doing the rounds on Twitter. The 16-year-old, who plays super-powered Eleven in the drama, was the subject of an absurd meme back in 2017 and 2018 where internet users depicted her as a homophobe.
The #TakeDownMillieBobbyBrown meme on Twitter, which featured pictures of Brown over homophobic statements, led to the start quitting the social media platform.
Brown also faced scrutiny in 2019 when she was forced to apologize for posting a fake skincare demo in which she put none of the product she was flogging on her skin, yet encouraged her millions of followers to go out and buy it.
After posting a video on her Instagram demonstrating how she uses Florence by Mills, a vegan skincare line for teenage girls, the actress was inundated with comments pointing out that she still had makeup on at the end of the video and that she was only pretending to use the products.
"I'm still learning the best way to share my routines as I get to know this space better—I'm not an expert," she wrote in an Instagram apology. "I thought doing a quick video replicating my personal process for that night was okay, but that's not what was conveyed."
The same year, she was also criticized for claiming Penn Badgley's serial killer and stalker character Joe on Netflix's YOU was "just in love."
Gaten Matarazzo
17-year-old Matarazzo, who plays Dustin in Stranger Things, also got flack in 2019 when he became the face of the short lived Netflix prank show Prank Encounters that tricked unemployed people into thinking they were starting a new job.
He later defended it, saying: "I just want to let everybody know that those who participated were fully aware it was going to be a one-day gig going in, nobody was promised a part-time or full-time job, and everybody was compensated."