Rising tensions between the Myanmar military and the country's civilian government have reached a new tipping point as the top government leaders in the country were detained. State counsellor Aung San Suu Kyi, who's a Nobel Peace Prize laureate, and President Win Myint were among senior officials detained early Monday morning.
This comes as lawmakers were set to meet Monday for the first time since last November's election whose results have been disputed by the opposing pro-military party. There were comments made that sounded like a coup would happen, but the army supposedly quelled those rumors on Saturday, saying they would abide by the law and protect the constitution.
Then, early Monday, top leaders were detained from the country's ruling party—the National League for Democracy (NLD).
"I want to tell our people not to respond rashly and I want them to act according to the law," said NLD spokesman Myo Nyunt, who told Reuters he has expectations that he, too, would be arrested.
Tensions have risen after recent elections that Myanmar's army called fraudulent, Reuters reported. That has created fears of a coup.
Phone lines have been down in the state capital of Naypyitaw, and the state-run TV station (MRTV) can't broadcast because of technical issues, according to MRTV's Facebook page. Internet is also reportedly out in the state capital, according to an Associated Press report.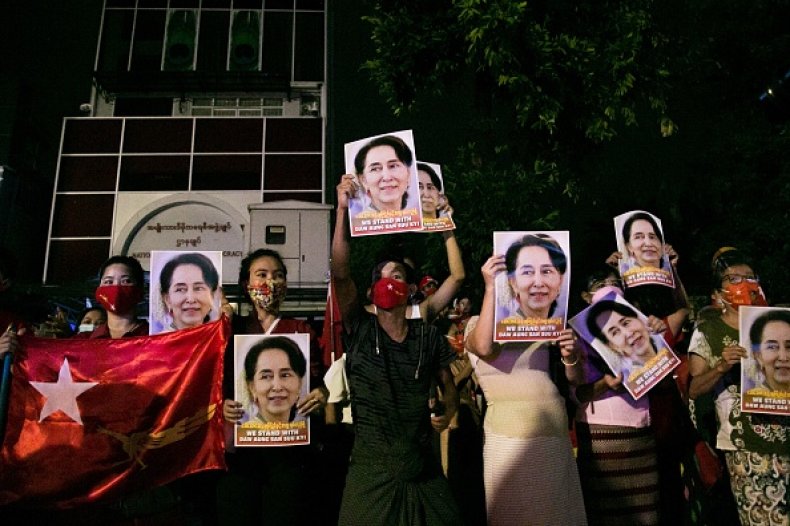 Suu Kyi, 75, was a 1991 Nobel Peace Prize laureate, and her popularity led her to a landslide victory in 2015. She also gained international notoriety for being on house arrest for several decades in a major struggle for democracy in the country.
Supporters of the NLD were confident she handily won another election last November, soundly defeating the pro-military party.
The military said just last weekend it would defend the country's constitution and act lawfully despite rising fears of a coup.
The military has alleged there was widespread voter fraud, but the country's election commission dismissed them as unfounded, saying there were too few errors in the election. The military, known as the Tatmadaw, could not provide proof of any fraud.
According to AP results, Suu Kyi won 396 of the 476 seats in Parliament, which is comprised of upper and lower houses.
The country's constitution states that the military holds 25 percent of the country's Parliament seats, per the military-drafted constitution from 2008.