Why Joe Biden Was Nominated For Nobel Peace Prize—His 'Calming Influence'
A member of the U.K. Parliament touting Democratic presidential candidate Joe Biden for a Nobel Peace Prize says the former vice president's "calming influence" amid unrest across the United States prompted his nomination.
Chris Bryant, a Labour politician who represents Rhondda in Wales, put forward Biden for the accolade on Monday.
Speaking to Newsweek, Bryant said he started to consider making a nomination around two weeks ago and said Biden's attitude towards situations in the U.S. were what spurred his action.
"In a situation where the U.S.A. seems to be on the verge of a civil war, Joe has been a very calming influence," he said.
Describing the U.S. as appearing to be a "sharply divided nation," he said Biden's positions throughout this time should be recognized.
"In the interests of the world, we want to recognize a man of peace," he said. "It matters to me that the United States of America is the United States of America, not the divided states of America."
Responding to questions potentially being asked on any past stances taken by Biden, Bryant said: "I don't suspect any winner has been perfect."
He said his choice to nominate Biden was influenced by "this moment."
Speaking to the Evening Standard newspaper about the nomination, Bryant said that "When others have resorted to violent solutions," Biden "has argued that the best force is the force of argument."
"Because guns can stop a heart but well-placed words can change many hearts, and many hearts can change a world," he said.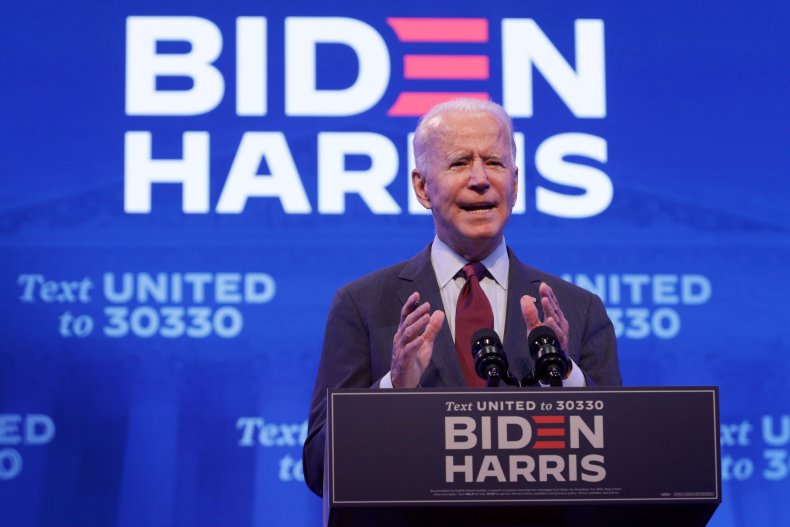 Newsweek has contacted the Biden campaign for comment on his nomination.
Biden joins Trump in being put into contention for the prize, who has received three nominations.
Several presidents have been given the accolade in the past, including Barack Obama to whom Biden was vice president.
Trump previously said he would be deserving of winning the award and might do "if they gave it out fairly."
Any person eligible to nominate can put any person or organization forward for the prize.
Members of national assemblies and national governments of sovereign states, as well as current heads of state are able to nominate, while university professors of history, social sciences, law, philosophy, theology and religion are also able to propose people for the prize.
Most people or organizations put forward do not make it onto the final shortlist from which a winner is chosen.
For the 2020 prize, which has not yet been announced, there were 318 nominations.