Nobel Peace Prize Could Be Stinging Rebuff to Brazilian President Bolsonaro if Indigenous Leader Wins
The Nobel committee is scheduled to announce the recipient of the 2019 Nobel Peace Prize on Friday, bestowing the honor on one person who meets its criteria. Environmental activist and indigenous Kayapo tribe leader Chief Raoni Metuktire is one of the favored nominees for the award for his work to protect the Amazon rainforest from deforestation.
If awarded, it will signal international support for Metuktire, who has been an outspoken activist against Brazilian leaders — including Brazilian President Jair Bolsonaro — who have been dismissive of the destruction plaguing the Amazon. As one of the Amazon's most outspoken environmentalists, Metuktire has faced criticism from the right-wing Bolsonaro, and a Nobel Peace Prize would offer a firm rebuttal to derogatory comments made by Bolsonaro about efforts by Metuktire and other indigenous leaders to defend the Amazon.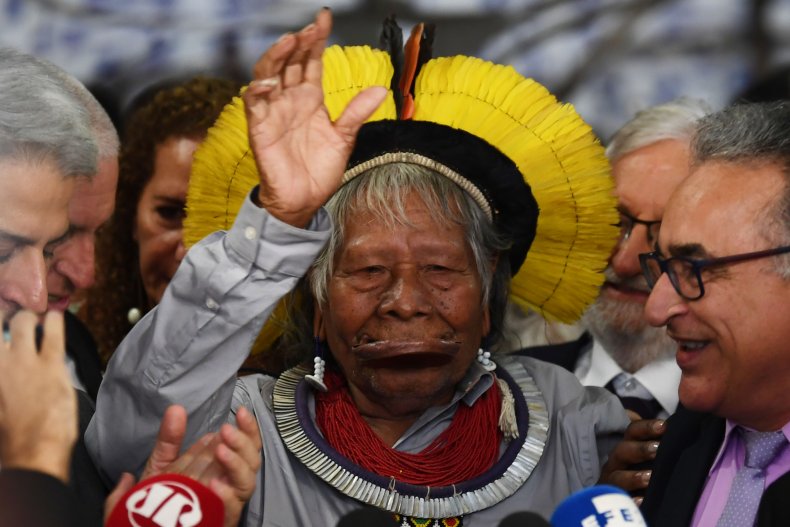 In an op-ed in The Guardian in September, Metuktire accused Bolsonaro of encouraging deforestation.
"President Bolsonaro of Brazil is encouraging the farm owners near our lands to clear the forest-and he is not doing anything to prevent them from invading our country," he wrote.
In an address to the UN General Assembly on September 24, Bolsonaro accused foreign governments of manipulating indigenous people and denied the scale of the Amazon fires.
"Unfortunately some people both inside and outside Brazil, supported by NGOs, have stubbornly insisted on treating and keeping our Indians as if they are real cavemen," he said. "Indigenous leaders like Chief Raoni are often used as pawns by foreign governments in their media war to advance their interests in the Amazon."
The 89-year old Nobel Prize nominee responded by saying, "Bolsonaro said I was not a leader, but it is he who is no leader and should go."
In 1978, Jean Pierre Dutilleux directed a documentary about Metuktire, which brought the chief into the international spotlight. Metuktire used his newfound fame to voice his concerns about the impact of deforestation on the Kayapo people. In 1989, Metuktire campaigned with British singer Sting to bring attention to deforestation in the Amazon. Metuktire met with French President Emmanuel Macron in August of 2019 to address the concerns of the Kayapo tribe and 62 Brazilian organizations of the effects of deforestation on the Amazon. The statement called on G-7 leaders to take action against Bolsonaro's policies that have allowed the destruction of the Amazon to worsen in 2019. A press release from International Rivers noted that Metuktire had more critical comments of Bolsonaro: "Bolsonaro is the main mentor of the problems that are happening in Brazil. Bolsonaro's position encourages famers to set the fires, because they feel supported by a head of state."
Metuktire is nominated alongside activist Greta Thunberg, New Zealand Prime Minister Jacinda Ardern, Ethiopian Prime Minister Abiy Ahmed, The UN High Commisioner for Refugees, and Reporters Without Borders.