Nobu's Restauranteur Enters the Hospitality Market with Nobu Hotel in Las Vegas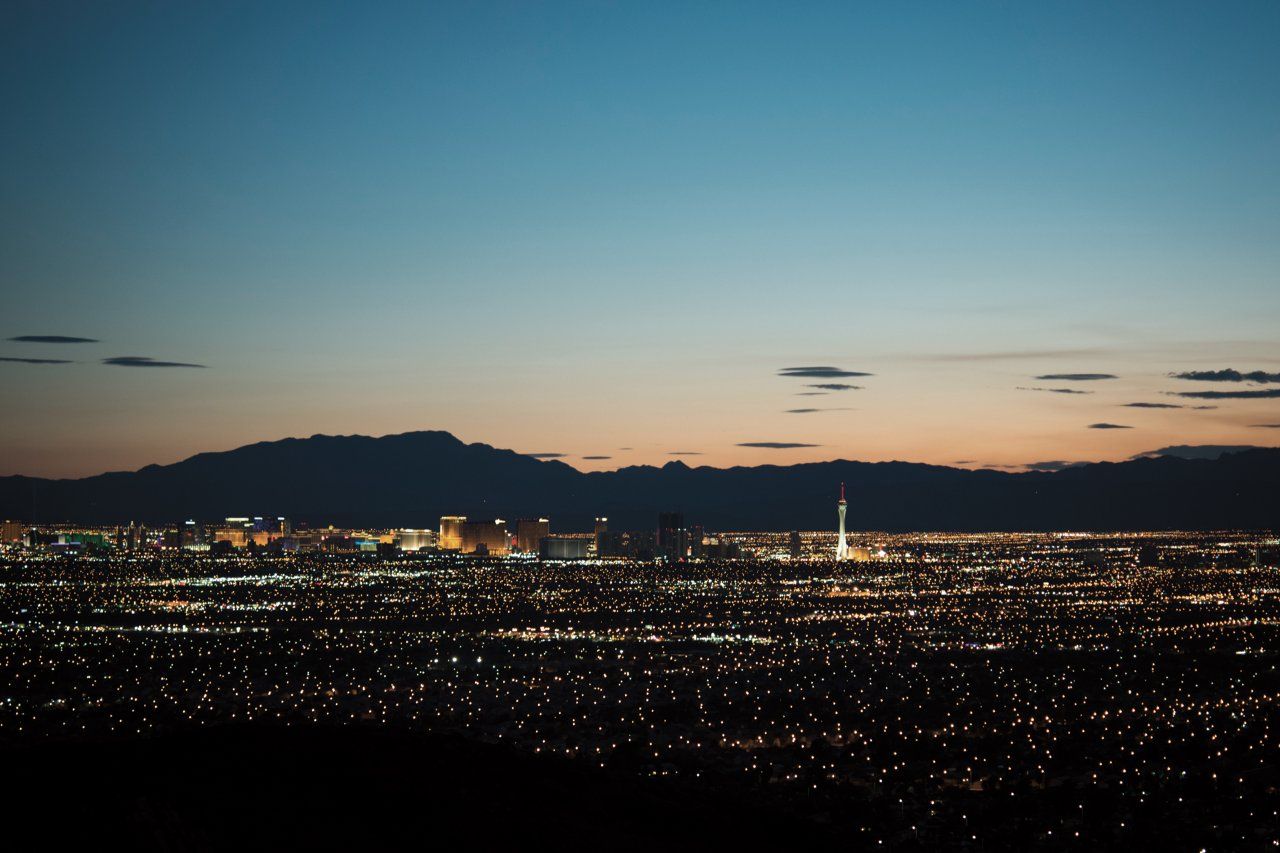 YOU'VE HEARD of his black cod with miso that'll make your eyes roll back into your head. Now Nobu Matsuhisa—the culinary legend who brought Japanese-Peruvian fusion to a well-heeled crowd with 25 restaurants around the world—is entering the hotelier game. Las Vegas's newest destination, the Nobu Hotel, is nestled inside Caesars Palace just steps away from a sleek, inviting new Nobu restaurant.
A chef's hotel? It's not as odd as it sounds. Like everything else found in Sin City, this is 100 percent natural.
Longtime Nobu restaurant partners Robert De Niro and film producer Meir Teper teamed up with the chef to develop Nobu Hotel in what was previously Caesars Palace's Centurion tower. The hotel's soft launch was in February, but its lavish Vegas-style grand opening party was thrown at the end of April. The entrance is so discreet, set a few steps below Nobu Way, that people not aware of its existence (and this included many guests staying in regular ol' Caesars when I visited in early April) would be surprised to discover Japanese minimalism inside opulent ancient Roman environs.
Because Las Vegas always goes big, seeking a boutique experience can seem like a fool's errand. But with only 181 rooms, Nobu promises some of the most personalized service on the strip. It's quiet and less crazed than its competitors. One nifty feature is the buttonless elevators; guests swipe their key cards and are whisked upward. Rooms are sparsely but luxuriously appointed. Thread counts are so high that sheets at home will feel like sandpaper. A deep stand-alone sink, black-tiled shower, and teak stool transform the bathroom into a Zen oasis.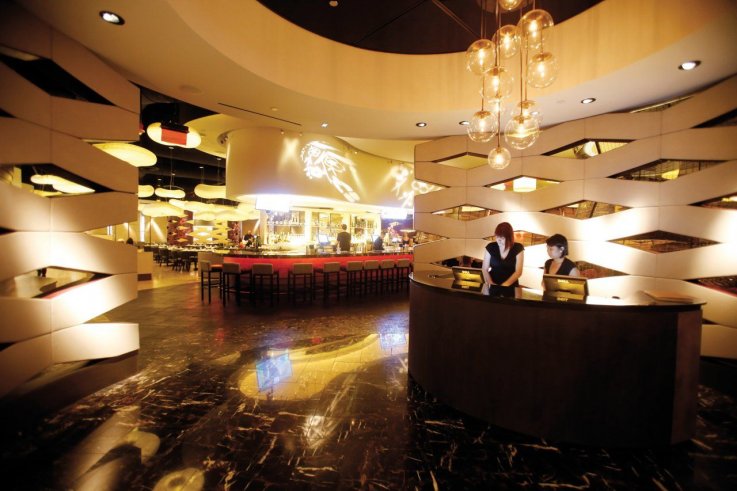 But let's get to the room service. The only thing better than ordering the legendary black cod with miso is eating it in bed at 2 a.m. In-room dining is one of the hotel's biggest draws, and from the lobster, tuna, king crab, and salmon tacos (delicious, though two small bites and each were gone) to a reimagined club sandwich that's sliced like a sushi roll (which will ruin all other versions for the rest of your life), the 24-hour menu, created by Nobu himself, doesn't disappoint.
Of course, Nobu isn't the first culinary master to check into the hospitality industry. Gordon Ramsay opened the York & Albany in London (just imagine that wake-up call); Ferran Adrià was the director of gastronomy at the El Bulli Hotel; French chef Alain Ducasse has two inns in Provence and another in Tuscany. But Nobu is notably different. The Nobu Hotel isn't just a dining destination—it's a lifestyle. And a global one at that: Nobu Hospitality plans to open more hotels, in Riyadh, London, and Bahrain.
Being a Nobu guest comes with a few perks, including an in-room green-tea-ceremony welcome (which, alas, wasn't offered during my stay), priority reservations at the restaurant, and, for those desirous to peek at the "untz-untz" goings-on of the dance floor, complimentary entrance to Caesars nightclub Pure. They're nice incentives since rates start at $249 a night for a standard room, and can top out at three times that for a suite complete with media room (though deals can be found midweek).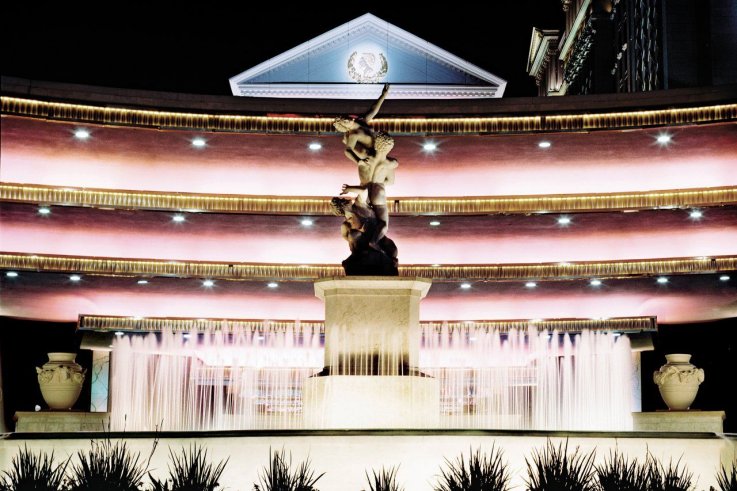 But the real draw is the restaurant. At 12,775 square feet, the new outpost is the largest Nobu in the world. The Japan-born chef's greatest hits are all here: yellowtail sashimi with jalapeño; Chilean sea bass; beef and chicken kushiyaki (translation: delicious food, skewered). The chef kindly went off-menu to create a dish featuring foie gras for my fellow diners from California, where the delicacy has been banned since 2012. Even the signature cocktail, the Cracked Basil, made with Nobu soju, Grand Marnier, basil, yuzu juice, simple syrup, and egg whites, is worthy of a round before switching to sake.
Competing for taste buds at Caesars are restaurants helmed by Bobby Flay, Guy Savoy, and Gordon Ramsay—not to mention the recently opened Bacchanal Buffet, an assembly line of wee croque madames, made-to-order tacos, mochi ice cream, and 500 other dishes that would take even the most gluttonous eater multiple visits to properly graze (not that I would know). But Nobu, like its sister restaurants set down in Malibu, Melbourne, and beyond, is aimed at more-special occasions. Expect to spend a couple hundred a person or go home hungry.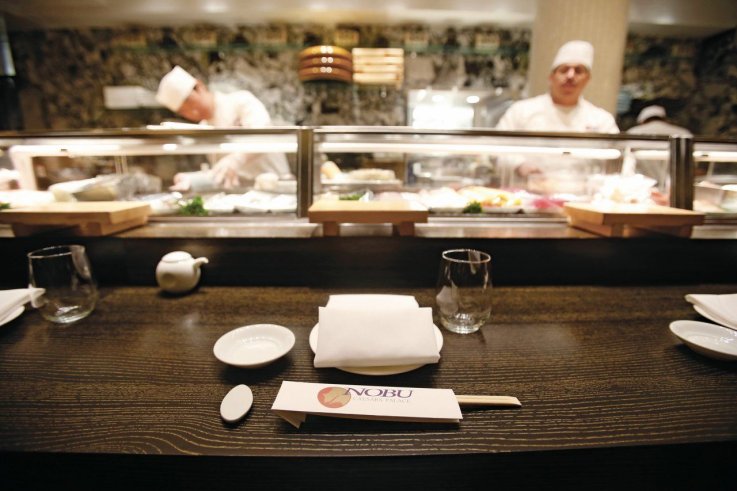 If you want to go full Nobu, Caesars QUA spa offers a number of "Nobu signature experiences," including a 90-minute Nagomi Ritual with foot bath, massage, and futuristic carboxitherapy facial, which promises to harness the power of CO2 to thwart aging for $400. Or there's a Balneo Mud Bath With Bamboo Scrub. I'm not ashamed to say these would sound more appealing if the treatments were edible.
So who's going to be checking in? Fans of the chef might want to add just the restaurant to their itineraries and skip the rest. But travelers who want the luxury of quietude without total solitude will love it. After all, you can leave your Zen den, head downstairs into the thick of the casino, and attempt to win enough for another night's stay. But guests at the Nobu Hotel probably aren't thinking about money; they're too busy trying to have their sake and drink it too.
Nobu's Restauranteur Enters the Hospitality Market with Nobu Hotel in Las Vegas | Culture