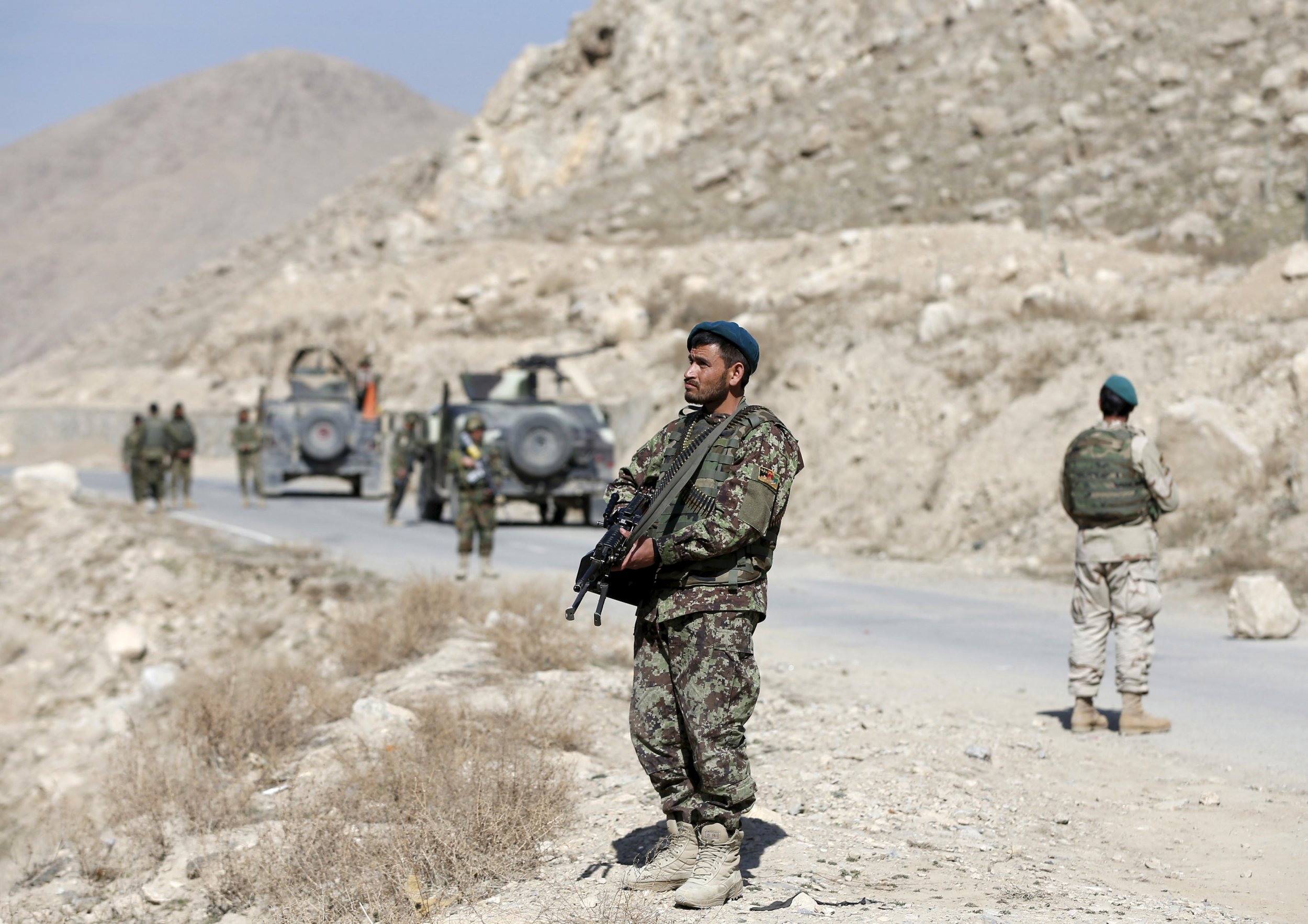 This article first appeared on The Daily Signal.
In July 2011, I left a decade-long career in the Air Force, which included combat tours in Iraq and Afghanistan as a special operations pilot.
I was 29 years old and set to begin studies at Northwestern University's Medill School of Journalism the following January.
Rather than idle away the intervening months, I had a plan—I would wander through India and Nepal in true Christopher McCandless style. My intent was to search for a new path in life as I wandered, pathless, through the Himalayas.
The trip lasted for several months, culminating in the ascent of a 20,300-foot-high mountain in Nepal called Island Peak.
In the early days of the journey, as I searched to find my footing in that nomadic life, I traveled through India's Kashmir region. I arrived in Srinagar, the region's capital, after a harrowing overnight jeep trek across the mountains from the city of Leh in the barren, earth-tone Himalayas of northwestern India's Ladakh region.
Srinagar sat on the marshy, subtropical shores of Dal Lake with forested, snow-capped mountains framing the horizon. Ornate wooden houseboats lined the quays, and the emerald green surface of the lake was cluttered with shikaras—small paddle boats somewhat equivalent in size and shape to Venice's gondolas.
Despite its beauty, the area was on edge then, as it remains today. Tensions simmered between the Indian government and an Islamic extremist movement fueled by militants infiltrating from Pakistan, including returned Taliban fighters from Afghanistan.
There had been a terrorist bombing in Delhi while I was in Kashmir, which spurred a military crackdown. The Indian army's presence was ubiquitous.
Squads of soldiers were out on patrol; one unlucky soul was usually in front waving a metal detector to find landmines and IEDs. Armored fighting vehicles were stationed around town at nearly every street corner, it seemed.
For a U.S. military veteran looking to distance himself from the wars in Iraq and Afghanistan, it was an unwelcomingly familiar environment in which to find myself.
The Necklace
One day in Srinagar, with little to do, I decided to buy a necklace as a souvenir for my girlfriend at the time. I went into town in search of a jewelry store.
I found a place just off Srinagar's "Broadway" boardwalk along the lakeshore. I went inside and browsed the shelves, looking for something beautiful.
Kashmir is famous for its gemstones, and the jewelry on display was of vivid colors, aquamarine blues and greens, swirled and dotted like the colored sky in "The Starry Night."
I chose a bracelet and took it to the counter to pay. The young man working—who owned the shop, I learned later—seemed about my age. He was slim, with dark hair and complexion, and a short, scruffy beard. He was wearing blue jeans and a white button-down shirt, and he smiled broadly as I approached.
I asked the bracelet's price, and he responded in flawless, British-accented English. After I paid, the young man asked what I was doing in Kashmir.
I replied in total earnestness. I'm not sure why, since, as I have described, there was a particular anti-Western edge to that place, but I explained how I had just left a career in the military and was on a journey to chart the course of the rest of my life.
The man, quietly and with a serious, focused expression, listened to me. And then, when I had finished talking, he poured us both a cup of tea and put out a plate of cookies.
"I was a soldier too, once," he said.
He looked at me with a calm expression of confidently extended suspense. He had put out that piece of information, waiting for my inevitable follow-on question, with resolute knowledge in the heavy consequence of his reply.
"Yes?" I replied. "Was it for the Indian army?"
"No," he answered. "I fought for the Taliban. In Afghanistan."
There was a heavy silence.
Our postures hardened, more from amazement at this unlikely situation than actual animosity. We two enemies—uncertain, then, whether former or current—considered each other.
"Who is the bracelet for?" he asked after a moment.
"My girlfriend."
"Is she in America?"
"Yes, we've been together for a few years."
"Why isn't she here with you?"
"She's in medical school and couldn't leave her studies."
"Ah, so she's smart. Don't lose that one."
At this we both smiled. Something was coming down between us; a question had been answered.
"Are you married?" I asked.
"Yes, and we have a daughter."
Young Men
Had we seen each other in the war, that man and I would have surely tried to kill each other. We were each other's enemies, and neither of us would have given it a second thought.
Yet, here we were. Two young men. Talking to each other as any two young men would.
I asked about his daughter, and what she was like. He told me how she liked to read and sing.
He said he walked her to where the school bus picked her up each morning. It was a guaranteed way to spend time with her each day, he said. He was afraid of not having enough time with her.
He wanted to know about Florida, where I had grown up. We didn't talk about the war, but the war wasn't an obstacle between us. It was, in fact, a unifying thing.
A shared experience, with all its inherent psychological baggage that only someone who has been in war could understand. We instantly and effortlessly understood each other.
He told me that after leaving Afghanistan he had made his way into Indian Kashmir to rejoin family living here. He left the war in search of a life in peace, tending to the beautiful things—love, family, career. I knew what it took to leave the war behind. So I already knew a lot about him.
The war was our bond, even if we had once been enemies. And truly, we still were. I had friends still fighting in Afghanistan, and the man likely had comrades among the Taliban, although I didn't ask.
He said he was now a Sufi Muslim and spoke disdainfully of Islamic extremism. He seemed to have renounced the Taliban's cause, although we didn't talk about that, either.
Enthusiastically, the young man told me about Kashmir. The various mountain hikes, how beautiful the high alpine meadows were in the summer, and how good the skiing was in the winter.
He seemed to have found a peaceful existence here, anchored in his love for his family and the beauty of the mountains.
War, as I would later discover as a conflict journalist, is never black and white. As a soldier, you try to see it that way, even if you know it's not true.
Thoughtfully considering your enemy's humanity, or the circumstances in life that led him or her to the opposing side of the battlefield, is a dangerous habit to get into. It belies your belief in absolutes—evil, the justice of your cause, your immunity from the moral consequences of killing.
To consider your enemy as a human being is to judge each act of violence in war as a singular event for which you must atone, no matter the overall justice of the conflict.
Killing in war is not typically personal, it is a blind thrust done into the ether of the conflict, propelled by reasons that have nothing to do with the character of the person you are trying to kill. The lives lost on the other side are attributable to the war, not you.
You don't think about the life stories of your enemies. On the screen inside the cockpit, glowing white blobs against a black background. Exploding, disintegrating, folding to the ground, disappearing into blinding white flashes. Dying.
But those aren't men like this one standing in front of you in the jewelry shop; they are the necessary braids woven into the tapestry of winning the war.
Now I was in the gray zone that either haunts or releases you after war—whether you leave it, or it ends. Although wars never truly end for those who fight them. Here I was, face to face with my enemy. A man I would have killed without hesitation. And the same for him toward me.
Yet, we were both veterans now, and able to share a cup of tea. We talked about the women we loved. I asked him about fatherhood, and he asked about my family back in America. We talked like two men who were in the first tentative exchanges of becoming friends.
Perhaps, as soldiers, the farther we get from the bullets and the bombs, the more we realize that the true enemy was the war itself. It was a monster we had collectively released, and it was the monster we were fighting against, not each other.
A Peace Deferred
It felt good, in a way, to be friendly to the young man in the jewelry shop. As if that expression of humanity was proof that such human sentiments still existed within me. Like my soul was a piece of metal that had been bent, but not too far to regain its original shape.
We acted toward each other like the war had never happened at all. But I wonder whether we could have been so easily friendly to each other if we had never been enemies.
I explained that my ultimate ambition on this trip was to disappear into the Himalayas for a while. There were things I needed to forget. He spoke in detail about the mountain trails in Kashmir, where he had gone for the same reasons.
He made me promise that I would come back one day to visit, even offering to let me stay at his home. I thanked him and promised I would return. I felt elated at our parting. But it didn't last.
About two years later, in 2013, I went back to Afghanistan as a journalist. I spent a day visiting my brother, Drew, who was deployed there as an Air Force officer at the time.
When I hugged my brother goodbye in the blacked out night due to the threat of Taliban rocket and mortar attacks, the war felt black and white again.
More than 15 years after the war began, American troops are still fighting and dying in Afghanistan. And more than five years after my journey through the Himalayas, I haven't returned to Kashmir.
Although I hope to, one day. I know what's waiting for me there.
Nolan Peterson, a former special operations pilot and a combat veteran of Iraq and Afghanistan, is The Daily Signal's foreign correspondent based in Ukraine.