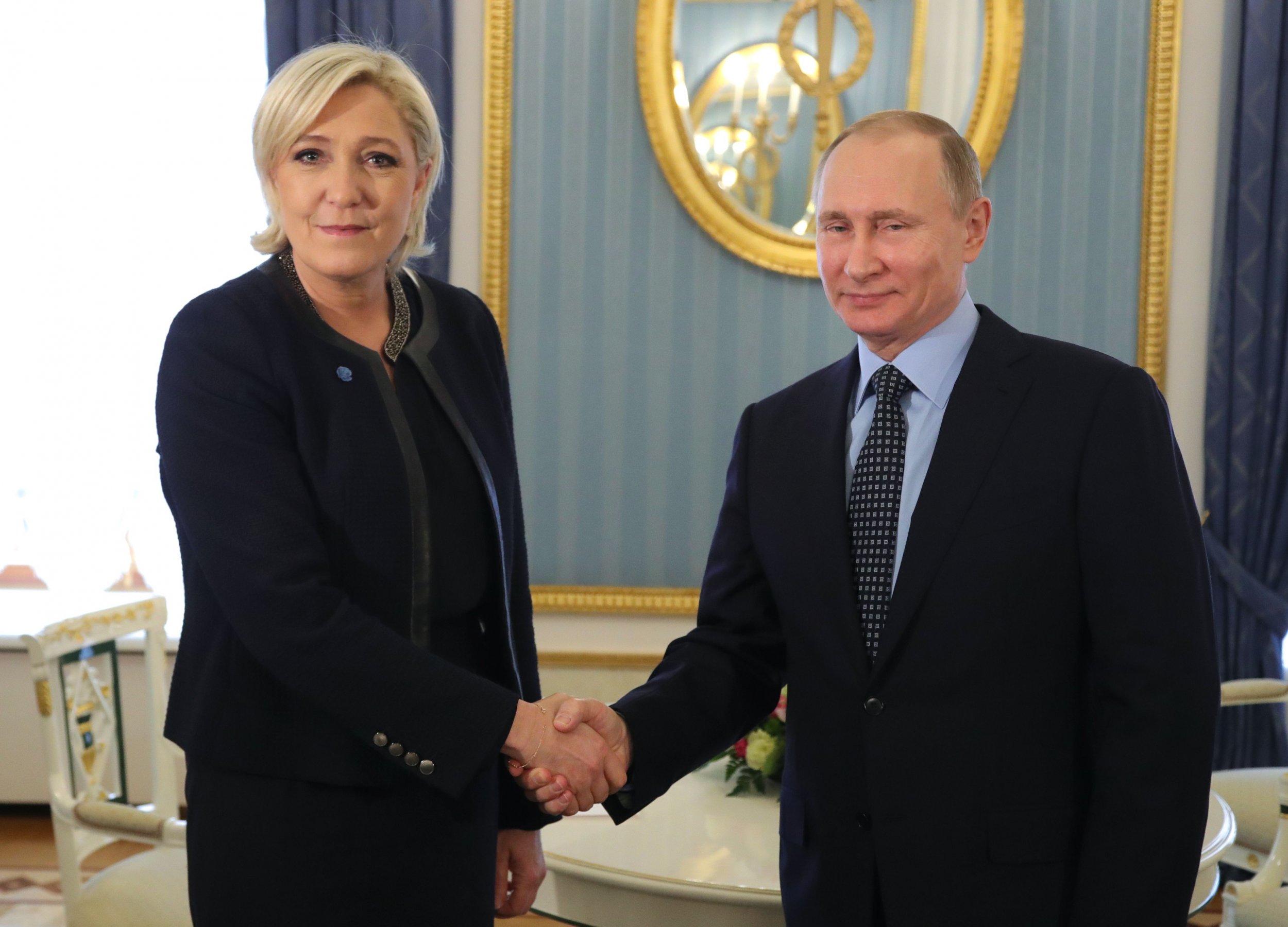 This article first appeared on The Daily Signal.
On the battlefields of eastern Ukraine, former French special operations troops and French foreign legionnaires have fought on opposite sides of the war, joining the ranks of both pro-Ukrainian volunteer battalions as well as Russia's proxy separatist army.
Meanwhile, on the battlefields of Syria and Iraq, about 700 French citizens remain among ISIS's ranks, including about 300 women and dozens of minors. In the skies overhead, French warplanes bomb ISIS targets almost every day, having conducted about 1,200 airstrikes on ISIS targets in Iraq and Syria since September 2014, according to France's Ministry of Defense.
French civilians and soldiers are on opposing sides of Europe's two biggest security challenges—Islamist terrorism and Russian revanchism. Similarly, when French voters go to the polls for the second, decisive round in their country's presidential election on May 7, they will choose between two candidates who hold diametrically opposing national security platforms—centrist Emmanuel Macron and the far-right National Front party's Marine Le Pen.
Le Pen represents the National Front, a far-right, anti-EU, anti-immigration party with financial backing from Moscow. She favors France's departure from the European Union and possibly NATO, and wants to lift sanctions on Moscow for its proxy war in Ukraine. Her counter-terrorism proposals include curbs on immigration and revoking citizenship for French nationals with ties to terrorist groups.
Macron, France's former economy minister, is running his first political campaign and is without the backing of a major party. The 39-year-old front-runner embraces France's traditional role in legacy European institutions like the EU and NATO.
To combat terrorism, Macron's plan includes rehabilitation centers for French jihadists, as well as law enforcement and intelligence-sharing reforms.
May 7 represents an existential fork in the road for the French Republic, both at home and in its national security policy. But the election is about more than just France. Europe's future is also at a crossroads.
From its Atlantic shoreline to its eastern limits on the Eurasian steppe, Europe is threatened on multiple fronts by myriad crises that are pulling apart the Continent's social fabric from within, and have raised the specter of a war with Russia.
Far-left and far-right nationalist parties, many funded by Moscow, are serious contenders in national elections, and are pushing for their respective countries to withdraw from the European Union.
Russia has invaded Ukraine and has pursued a revanchist military policy across Eastern Europe. Souring relations with Turkey could resume a flood of refugees into Europe from war-torn countries in the Middle East and North Africa. Jews are fleeing for Israel at an historic rate due to an increase in anti-Semitic incidents. And battle-hardened Islamist militants are returning home from Syria and Iraq to launch attacks, and recruit new followers, in their adopted European homelands.
A snapshot of events over the span of one week from April 18 to 25 underscore Europe's myriad, interwoven crises.
In Turkey on April 18, voters narrowly approved a referendum that dramatically expanded President Recep Erdogan's executive powers, setting the NATO member country, and EU candidate, on a path to dictatorship.
After a failed coup last year, Turkish authorities have arrested 40,000 people, including more than 2,700 judges and about 200 journalists. The post-coup roundups drew condemnations from the European Union, sparking tit-for-tat diplomatic jabs.
For the European Union, deteriorating relations with Turkey come at a price—Ankara's perpetual trump card in any spat remains its ability to reopen the spigot of refugees from Syria and other embattled countries. That flood of refugees has had dramatic social consequences for Europe, reshaping its political order.
Since 2014, anti-immigration nationalistic parties have gained followers in countries across Europe, including the United Kingdom, Germany, Greece, Denmark, Austria, Finland, Spain, the Netherlands, Switzerland and Serbia.
In France, the National Front's anti-immigration, anti-EU platform is resonating among voters. In 2014, the party scored its first nationwide election victory.
At an April 17 rally in Paris, Le Pen pledged to suspend all legal immigration of non-EU citizens and slap a 10 percent tax on all businesses that hire foreigners. "I will protect you," Le Pen said at the rally. "My first measure as president will be to reinstate France's borders."
She added, "With the serious terror threat that weighs on us, we have to be able to control who enters to be able to expel those who represent a danger."
In Germany, where more than 2 million asylum seekers from war-torn countries in the Middle East and North Africa have entered since 2015, the refugee crisis and an attendant rise in crime and terrorism will be a key issue for German Chancellor Angela Merkel's re-election campaign this year.
The number of crimes committed by migrants in Germany jumped by 52.7 percent in 2016, according to German police statistics reported by The Wall Street Journal on Tuesday. And in 2016, Germany was hit by seven terrorist attacks that left 22 people dead and 122 wounded, according to news reports.
On April 20, two days after the Turkish referendum, as French presidential candidates were on TV for a live debate, an Islamist militant gunned down and killed a French police officer on the Champs-Elysees in Paris.
It was the latest in a series of deadly terrorist attacks that have kept France in a state of national emergency since January 2015, when Islamist terrorists stormed the offices of the French satirical newspaper Charlie Hebdo, murdering 11.
In the past two years, a series of Islamist terror attacks, most linked to ISIS, have killed 240 people in France. The majority of the attackers were French-born citizens, who, in most cases, were radicalized in prison.
Le Pen has advocated sweeping domestic changes to combat terrorism. She wants to strip citizenship from all dual national French citizens with ties to "jihadist networks," expel all foreigners linked to Islamist fundamentalism, shut down all mosques linked to extremism, and carry out a nationwide crackdown on "hate preachers" in French mosques.
Also included in her campaign platform is a proposal to "place in preventive detention all French citizens in contact with foreign organizations suspected of acts of hostility or aggression against France."
Macron called Le Pen's proposals "demagoguery."
To combat the terrorist threat, Macron has offered a more measured, prescriptive approach than his rival. His proposals include hiring 10,000 additional French police officers and gendarmes over five years (Le Pen has proposed adding 15,000), the formation of an interagency task force to combat the Islamic State threat, as well as a centralized European intelligence-sharing network.
Macron has also proposed creating rehabilitation centers for radicalized French citizens returning from embattled regions in the Middle East—to show them that "another life is possible after a life of radicalization or jihadism."
"This threat, this imponderable problem, is part of our daily lives for the years to come," Macron said after the April 20 Champs-Elysees attack.
On April 23, Le Pen and Macron advanced to the second round of France's presidential contest, setting up an upheaval of the established political order in France on May 7. Both of France's traditional parties, the Socialists and the conservative Les Républicains, have been shut out of the presidential runoff.
Most polls predict a Macron victory on May 7. Yet, last year's Brexit vote in the United Kingdom and the election of U.S. President Donald Trump have underscored a contemporary, worldwide penchant for poll-defying election results.
The National Front has been a longtime outlier in French politics, best known for the controversial Nazi-sympathizing, anti-immigrant missives of its founder, Jean-Marie Le Pen—Marine Le Pen's estranged father.
Yet, as early as 2002, Jean-Marie Le Pen, who was the National Front's leader at the time, stunned the French establishment with a second-place showing in that year's presidential election.
In 2011, Marine Le Pen took over the National Front's reigns from her father, and has since tried to rehabilitate the party's image. Three years later, the National Front won mayoral elections in 12 cities and finished first with about 25 percent of the vote for France's European Parliament election. It was the first nationwide election victory since the party's founding in 1973.
And in December 2016, just weeks after terrorist attacks in Paris killed 130 people, the National Front won the first round of France's regional elections, taking 28 percent of the overall vote.
"The terrorist attacks have played an important role in Le Pen's rise to a serious candidate," Marcel Van Herpen, director of the Cicero Foundation, a Dutch think tank that specializes in Russian and European affairs, told The Daily Signal in an earlier interview. "They confirmed the already existing idea that migrants from Muslim countries are dangerous and are a threat to the French identity. They also confirm the idea that the European Union … is not the solution, but only a part of the problem."
On Monday April 24, Ivanka Trump commemorated Holocaust Remembrance Day in Berlin with Merkel, the German chancellor. The annual commemoration came at a precarious moment for European Jews.
In Germany, reported anti-Semitic attacks have doubled from 2015 to 2016, according to the Israeli Diaspora Ministry. In 2016, the United Kingdom registered the sharpest rise in anti-Semitic incidents among all countries worldwide, according to a Tel Aviv University report.
In France, Jews have been fleeing for Israel at a rate unseen since the Jewish state's founding in 1948.
In 2012, an Islamist extremist killed four people in an attack on a Jewish school in Toulouse. The next year, the number of Jews leaving France for Israel jumped by 72 percent from 1,917 to 3,293.
In 2014, the number more than doubled again to 7,086. And after a jihadist attacked a Jewish kosher market in January 2015, killing four, the number of French Jews emigrating to Israel that year doubled yet again to about 15,000.
About 5,000 Jews left France for Israel in 2016.
"Once again, young Jewish boys are afraid to wear yarmulkes on the streets of Paris, Budapest, London, and even Berlin," Ronald S. Lauder, president of the World Jewish Congress, said at the 70th anniversary of the liberation of the Auschwitz-Birkenau extermination camp in January 2015.
Le Pen has drawn criticism for remarks in which she suggested that France's Nazi-collaborating Vichy government during World War II was not responsible for rounding up tens of thousands of French Jews and sending them to Nazi death camps.
In July 1942, French police corralled 13,000 Jews, including 4,000 children, at the Vel d'Hiv velodrome in Paris before they were sent to concentration camps.
"I don't think France is responsible for the Vel d'Hiv," Le Pen told French broadcaster LCI in April, adding that the Vichy government "was not France."
Overall, during the occupation from 1940 to 1944, France's collaborationist Vichy government helped German authorities deport about 78,000 French Jews to death camps.
In a surprise move on Tuesday April 25, the U.S. Air Force deployed two of its newest fifth-generation fighter jets, the F-35, and approximately 20 airmen to Ämari Air Base, Estonia—less than 150 miles west of the Russian border.
The move comes as NATO repositions troops and military hardware on its eastern flank as a hedge against Russian military aggression.
"The introduction of the newest fighter to Europe, with its state-of-the-art systems will help the alliance maintain the fundamental sovereign rights of all nations," Estonian Defense Minister Margus Tsahkna said, according to news reports.
The war in Ukraine has rattled many Eastern European countries, and spurred them to prepare for war with Russia. After more than three years, and despite multiple cease-fires, Europe's only ongoing land war has not ended. Ukrainian military forces are fighting against a combined force of pro-Russian separatists and Russian regulars along a 250-mile-long front line in Ukraine's embattled eastern Donbas region.
Today, the war in Ukraine is limited and static, mostly fought at a distance from trenches and ad hoc forts with artillery, rockets, and snipers. More than 10,000 Ukrainians have so far died in the conflict.
Behind the front lines in Ukraine, Russia has waged a "hybrid" war of cyberattacks and propaganda—a modern take on a Soviet military strategy called "Deep Battle."
Russia's hybrid warfare playbook, honed in Ukraine, is now being put to work to undermine Western democracies. And, according to news reports, has targeted the Macron campaign through propaganda and cyberattacks.
Due to the Russian threat, Eastern Europe has become the most rapidly militarizing region on earth. Since 2014, Ukraine (which is not a member of NATO) has rebuilt its military into the second-largest standing army in Europe, comprising more than 250,000 active troops—only Russia's is bigger.
The Baltic countries of Latvia and Lithuania, both NATO members, have had the two fastest-growing military budgets in the world since 2014, according to IHS Jane's. Poland, also a NATO member, has doubled its military spending since 2006.
NATO has plans to send four 1,000-troop-strong battalions eastward; one for each of the three Baltic countries, and one for Poland. Additionally, one of the core tasks of NATO's Very High Readiness Joint Task Force, which comprises about 5,000 troops, is to "respond to emerging security challenges posed by Russia," according to a statement on the alliance's website.
The U.S. has about 35,000 military personnel in Europe. Recently, the U.S. Army deployed an additional heavy brigade to Poland, comprising about 3,500 troops and 87 tanks, as well as a unit of 500 troops to Romania. The U.S. also has troops in Ukraine conducting a training mission.
Moscow has called NATO's eastern buildup a threat to Russian national security, and has accordingly repositioned missiles and bombers to its western outposts in Crimea and the Kaliningrad exclave.
"The alliance's expansion is disrupting a balance of forces in the region and increasing the risks of military incidents," Gen. Valery Gerasimov, chief of Russia's General Staff, said on Wednesday, according to TASS.
On Wednesday April 26, French officials announced the results of a declassified investigation which concluded that Syrian President Bashar Assad "undoubtedly" used sarin gas in a deadly attack in Idlib province on April 4.
The Syrian chemical weapons attack killed at least 70, including children, and spurred a retaliatory U.S. cruise missile strike on a Syrian air base where Russian forces were deployed in support of the Assad regime.
"There's no doubt that sarin was used. There is also no doubt about the responsibility of the Syrian regime," the French Foreign Ministry said in a tweet.
Russian officials promptly rebuked the French investigation's findings, claiming it proved nothing.
"The Kremlin and President [Vladimir] Putin still believe that conducting an impartial international investigation is the only way to find out the truth," Russian presidential spokesman Dmitry Peskov told reporters in Moscow on Wednesday, according to TASS.
The National Front has received financial backing from Moscow, and Le Pen is an avowed ally of Putin, as well as an apologist for Russia's 2014 seizure of Crimea and ongoing proxy war in Ukraine, as well as the Kremlin's military operation in Syria.
Le Pen has been critical to the U.S. retaliatory cruise missile strike. Echoing Moscow's line of thinking, she claimed not enough information existed to pin the chemical weapons attack on Assad's forces.
"What happened is terrible, yes, and I bitterly condemn the gas attack, but could we not wait to hear the results of an international inquiry?" Le Pen said, according to French news reports.
For his part, Macron said if elected president he would "neutralize" Assad's chemical weapons stockpiles. And vis-a-vis Russia, Macron wants to maintain punitive EU sanctions against Russia until the Kremlin fully complies with the Minsk II cease-fire.
"Vladimir Putin's Russia is pursuing a dangerous foreign policy that does not hesitate to disregard international law," Macron's campaign said in a statement on its website.
Nolan Peterson, a former special operations pilot and a combat veteran of Iraq and Afghanistan, is The Daily Signal's foreign correspondent based in Ukraine.