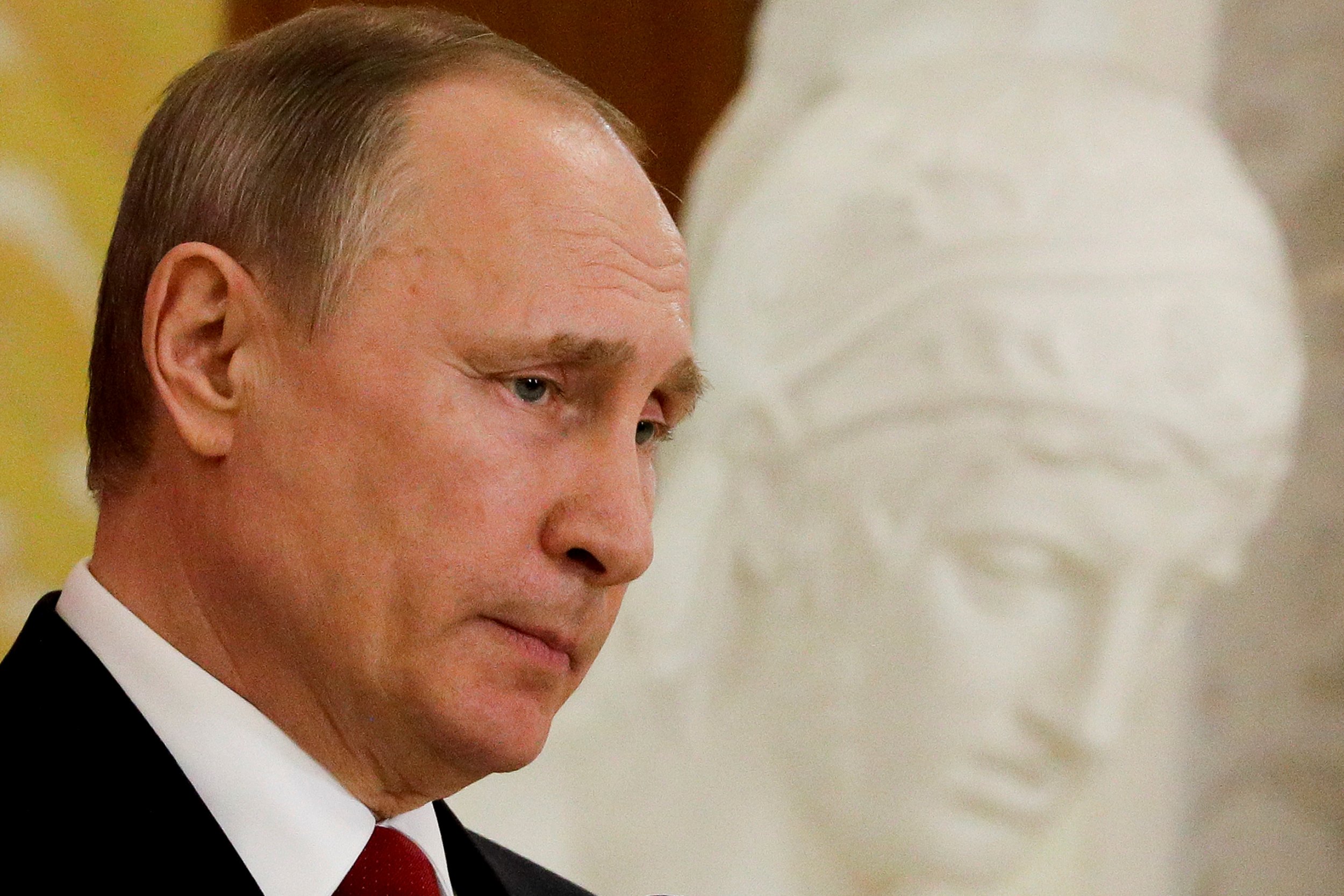 This article first appeared on The Daily Signal.
Last Thursday was a bad day for the Kremlin.
In the span of a few hours, Russia's two foreign policy mantelpieces—its military adventures in Ukraine and Syria—were both dealt body blows.
One came from a United States cruise missile attack on a Syrian regime air base where Russian military forces were deployed. The strike was in retaliation for a deadly Syrian chemical weapons attack against civilians on Tuesday, in which the U.S. said Russia was complicit.
"I think that [Russian President Vladimir] Putin had expected anything, except the American attack on the Syrian air base," Marcel Van Herpen, director of the Cicero Foundation, a Dutch think tank that specializes in Russian and European affairs, told The Daily Signal.
"By a prompt military response [U.S. President Donald] Trump has sent the message that he would not let himself be pushed around," Van Herpen said.
Meanwhile, in Brussels on Thursday, only hours before U.S. cruise missiles were inbound to Syria, the European Union dealt Russia another setback when the economic bloc approved a measure granting Ukrainians visa-free travel, a move that Russia and its proxies have long opposed.
The European Parliament voted 521 to 75 in favor of the measure, which is likely to go into effect by June. In a televised national address on Thursday, Ukrainian President Petro Poroshenko called the vote "a symbol of Ukraine's belonging to a common European civilization."
The war in Ukraine hit its third anniversary on Thursday. In his address, Poroshenko cast the EU vote as a Ukrainian victory in its ongoing conflict against the "Russian aggressor."
"Low bow to glorious Ukrainian warriors who defend not only Ukraine's territorial integrity and European choice, but also the entire system of values of the Old World in the struggle against the Russian aggressor," Poroshenko said.
Combo Punch
On Thursday, the U.S. military launched a barrage of 59 Tomahawk cruise missiles at a Syrian air base. The facility, jointly used by Russian forces, was the launch point for a chemical weapons attack on Tuesday that killed more than 100 people, including children, U.S. officials said.
"[Syrian President Bashar Assad] choked out the lives of helpless men, women and children," Trump said Thursday from his family estate in Palm Beach, Florida. "It is in this vital national security interest of the United States to prevent and deter the spread and use of deadly chemical weapons."
Syria denied using chemical weapons. And Russian officials have offered another version of events, claiming that a Syrian regime airstrike hit a "terrorist" chemical weapons depot, which then spread deadly gas, causing casualties.
"Syrian aviation carried out an airstrike on the eastern outskirts of Khan Sheikhun, targeting a major ammunition storage facility of terrorists and a cluster of military hardware," Major General Igor Konashenkov, a Russian Defense Ministry spokesman, said Wednesday, according to the Russian news agency TASS.
"We assure that this information is completely unbiased and true," Konashenkov added, according to the report.
Related: Nolan Peterson: The trench war being waged on Europe's doorstep
Speaking to reporters Thursday evening following the U.S. strikes, U.S. Secretary of State Rex Tillerson rebuked Russia's version of events and laid blame on both the Kremlin and the Assad regime for Tuesday's chemical weapons attack.
"Either Russia has been complicit or Russia has been simply incompetent," Tillerson said, according to news reports.
"I think it does demonstrate that President Trump is willing to act when governments and government actors cross the line," Tillerson said. "It's clear that President Trump made that statement to the world tonight."
A civil war has raged in Syria for six years, killing about 400,000 people, according to United Nations estimates.
Identity Crisis
Altogether, Thursday's events signal a rebuke of Russia's attempts to influence outcomes in Syria and Ukraine with military force.
Putin now faces two significant foreign policy setbacks while he cracks down on the fallout from recent anti-corruption protests across Russia, as well as Monday's terrorist attack on the St. Petersburg metro, which killed 14.
The question now, according to some experts, is what the Russian leader's next play will be.
"How will Putin react? It is a difficult situation for Putin, because the ally he thought to have in the White House has rather quickly turned into an adept of realpolitik," Van Herpen said. "An additional factor is that Putin's own trump card, his unpredictability, can now also be found in the White House."
For years, Russian state media has cast the U.S. as the vanguard of a Western, liberal world order that is morally debased, ideologically hypocritical and pushy—and a threat to Russia.
Related: Nolan Peterson: How Putin uses fake news to wage war on Ukraine
As a result, the Russian people's admiration for Putin largely depends on the strongman persona he has cultivated through state media. However, with new leadership in the White House, Putin's penchant for military aggression abroad to shore up his domestic popularity may need a rethinking, Van Herpen said.
"New military adventures, for instance in the Baltic region or in Ukraine, have become more risky for the Kremlin, because with Trump things could quickly spiral out of control," Van Herpen said. "The positive outcome of Trump's action is therefore rather a more cautious Russian foreign policy. For the time being…"
For his part, Putin said the U.S. strikes on Syria were an act of "aggression against a sovereign state in violation of the norms of international law under a far-fetched pretext."
The Russian president also said the strikes "dealt a serious blow to Russian-U.S. relations."
On Friday, according to news reports, a Russian warship entered the eastern Mediterranean in the direction of the two U.S. Navy destroyers that launched Thursday's cruise missile barrage.
As military tensions heat up between the U.S. and Russia, NATO made a strong statement of solidarity with Ukraine on Friday.
"A democratic and prosperous Ukraine is the best response to Russia's aggressive actions," NATO Deputy Secretary-General Rose Gottemoeller wrote on Twitter Friday.
Nolan Peterson, a former special operations pilot and a combat veteran of Iraq and Afghanistan, is The Daily Signal's foreign correspondent based in Ukraine.