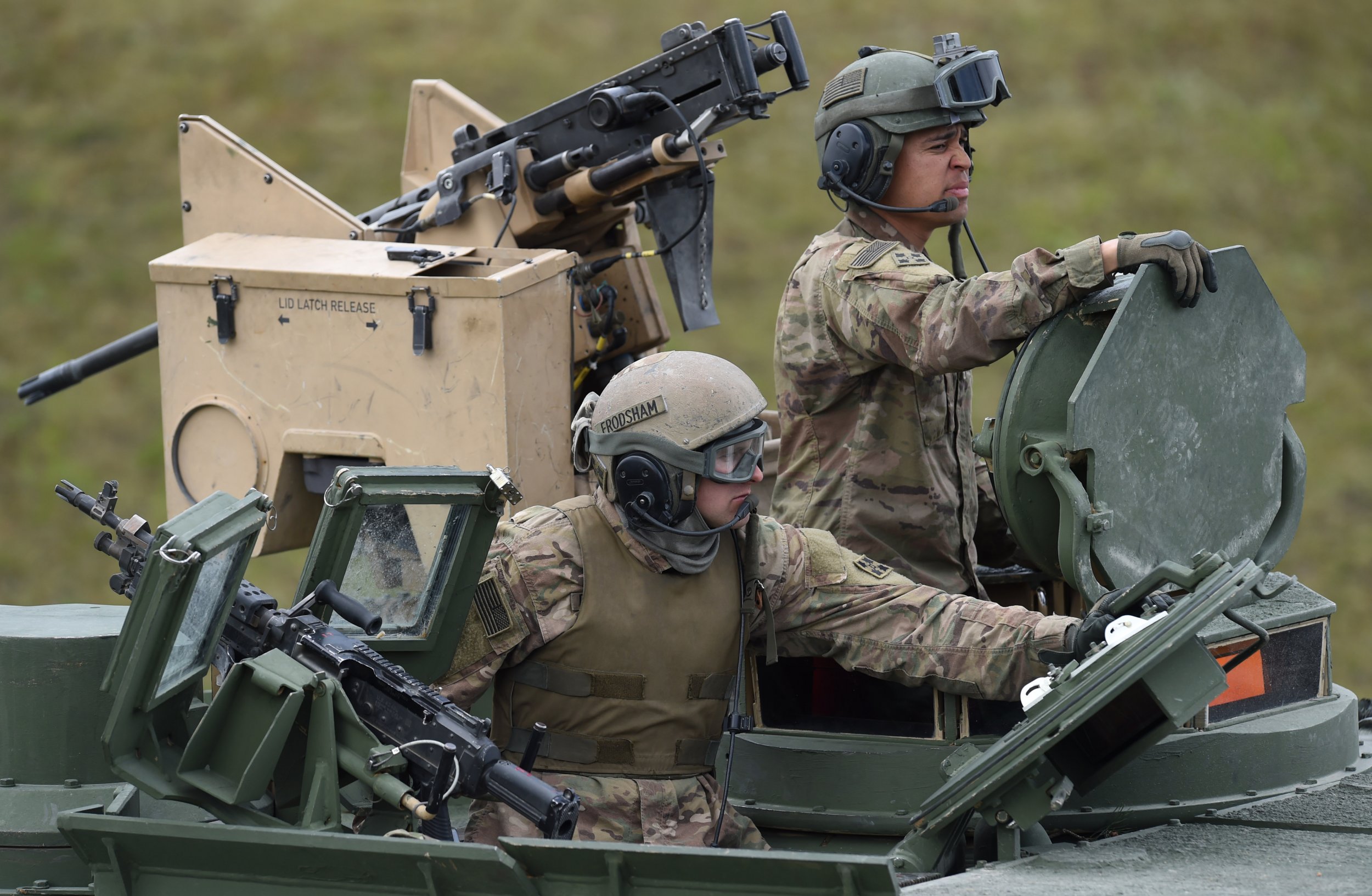 This article first appeared on The Daily Signal.
Kiev, Ukraine—On Tuesday, President Donald Trump presented a budget request to Congress that would boost spending for an Obama-era buildup of U.S. military forces in Europe meant to deter Russia from military provocations and show NATO and its European partners that the U.S. is committed to their defense.
"Such a request is more reassuring for American allies and partners in Europe like Ukraine than mere declarations from senior Trump administration officials," Mykola Bielieskov, an analyst with the Institute of World Policy, a Ukrainian think tank, told The Daily Signal.
The Obama administration announced the European Reassurance Initiative, or ERI, in June 2014, three months after Russia illegally annexed Ukraine's Crimean Peninsula and launched military operations in eastern Ukraine. The program called for a buildup of U.S. military forces and equipment in Eastern and Central Europe, as well as rotating military exercises throughout the region.
Trump's 2018 budget calls for a $1.4 billion increase in ERI funds—a 41 percent increase over the $3.4 billion tagged in 2017 by the Obama administration. The move, which U.S. military forces in Europe praised, sent a reassuring message to both NATO's eastern flank as well as countries throughout Eastern Europe that see Russia as an existential threat and are looking for U.S. protection.
"From the Polish perspective, the deployment of U.S. troops to Poland and Baltic states means a real deterrence since it increases the probability of the U.S. forces engagement in case of potential aggression from Russia," Daniel Szeligowski, senior research fellow at the Polish Institute of International Affairs, told The Daily Signal.
"The more combat-ready U.S. troops there are, the higher such a probability is," Szeligowski said.
In Ukraine, Trump's budget proposal sent a reassuring message to a country that has been in a proxy war with Russia since April 2014 that has, so far, killed about 10,000 people.
"Kiev is especially pleased as $150 million might be allocated to train, equip and reform Ukraine armed forces if [Trump's] budget is approved," Bielieskov said.
Bielieskov added that Trump's proposed budget "is the best possible proof that security of Central and Eastern Europe continues to be one of the major priorities for the Donald J. Trump administration despite previous contradictory statements."
U.S. military forces in Europe also hailed the proposed boost in spending to defend Europe from Russia.
"As we continue to address the dynamic security environment in Europe, [European Reassurance Initiative] funding increases our joint capabilities to deter and defend against Russian aggression," Gen. Curtis Scaparrotti, commander of U.S. European Command, said in an emailed statement to journalists on Wednesday.
The Russian Ministry of Foreign Affairs did not respond to a request for comment.
In Trump's $4.1 trillion 2018 budget, overall U.S. defense spending is slated to increase by 10.1 percent—from $521.8 billion in 2017 to a proposed $574.5 billion in 2018.
Doubling Down
During a joint press conference with the Polish president on June 3, 2014, President Barack Obama said the European Reassurance Initiative was a "powerful demonstration of America's unshakeable commitment to our NATO allies."
"The United States will pre-position more equipment in Europe," Obama said in 2014. "We will be expanding our exercises and training with allies to increase the readiness of our forces. We'll increase the number of American personnel—Army and Air Force units—continuously rotating through allied countries in Central and Eastern Europe. And we will be stepping up our partnerships with friends like Ukraine, Moldova, and Georgia as they provide for their own defense."
Totaling roughly $1 billion in 2014, the ERI was meant to be temporary. However, Russia's military brinkmanship in Eastern Europe and its ongoing proxy war in Ukraine have kept the program alive and growing.
Obama's last budget in 2017 quadrupled ERI funding from $789 million to more than $3.4 billion, including $335 million in non-lethal military aid for Ukraine. That year, Congress also appropriated $75 million as part of a combined State Department and Defense Department fund to train Ukrainian forces.
Today, about 7,000 U.S. military personnel are deployed throughout Europe on a rotational basis under the ERI's umbrella. Yet, the number of U.S. personnel permanently based in Europe has not increased, according to U.S. European Command.
The U.S. has about 35,000 total military personnel in Europe. Recently, the U.S. Army deployed an additional heavy brigade to Poland, comprising about 3,500 troops and 87 tanks, as well as a unit of 500 troops to Romania. The U.S. military also has personnel in Ukraine conducting a training mission.
"These significant investments will further galvanize U.S. support to the collective defense of our NATO allies, as well as bolster the security and capacity of our U.S. partners," Scaparrotti said.
Up North
This week, U.S. F-15 fighters and KC-135 aerial refueling tankers are deployed on the northern edge of Europe as part of a biennial military exercise in a region that has become a hotbed of tension with Russia.
The exercise, called Arctic Challenge, began on May 22 and lasts until June 2 and is being hosted by Norway, Sweden and Finland—of which Norway is the only NATO country.
The exercise underscores a constant drumbeat of temporary deployments and military exercises undertaken by U.S. military forces across Europe since 2014, which, while not always specifically advertised as a message of deterrence to Russia, have nonetheless been interpreted that way by Moscow more often than not. The temporary deployment of U.S. Marines to Norway this year, for example, drew sharp condemnation from the Kremlin.
"The scenarios are generic in nature, to solve an ill-defined problem in the air," Lt. Col. Jason Zumwalt, 493rd Fighter Squadron commander, told The Daily Signal in a telephone interview from the Arctic Challenge exercise on Tuesday.
Zumwalt said Arctic Challenge, which comprises more than 100 military aircraft from 11 countries, is not intended to simulate a conflict with Russia.
"We're not looking at any specific threats," Zumwalt said. "Yesterday's mission was defending an area from attack by a superior force—to protect a region of sky from enemy incursion."
The exercise is taking place totally within the airspace confines of the three Nordic host countries—two of which, Norway and Finland, share land borders with Russia. Yet Zumwalt said the risk would be "very low" for an unintended encounter between U.S. and Russian warplanes.
"Our pilots are professionals and they're trained in what to do if they're intercepted," the U.S. fighter squadron commander said.
Tripwire
Trump's budget request to extend and expand the European Reassurance Initiative highlights how the Russian threat to NATO and its European partners has not dimmed in the intervening years.
Since 2014, Russia has aggressively tested NATO's air defenses in Eastern Europe and the Arctic with warplane flybys while simultaneously building up its military hardware in places like the Kaliningrad exclave and Crimea.
As a result, the security situation in Eastern Europe has been upheaved. Due to the Russian threat, the Baltic countries of Latvia and Lithuania, both NATO members, have had the two fastest-growing military budgets in the world since 2014, according to IHS Jane's. And Poland, also a NATO member, has doubled its military spending since 2006.
At the NATO summit in July 2016 in Warsaw, Poland, alliance leaders announced the planned deployment of four 1,000-troop-strong combat battalions to Poland, Estonia, Latvia, and Lithuania on a rotational basis.
NATO also fields a Very High Readiness Joint Task Force, comprising about 5,000 troops, which is tasked to "respond to emerging security challenges posed by Russia," according to a statement on the alliance's website.
The deployments are considered "tripwire forces" by many military experts, presumably meant to deter Russia from an attack due to the risk of spurring a massive NATO response to defend its forward units.
"The U.S. rotating armored brigade combat teams currently scattered across Eastern Europe can hardly really deter Russia from starting an overt war against one of NATO's members—it's more of a guarantee that such violations of international law would trigger a massive U.S. and allied response," Bielieskov, the Ukrainian analyst, said.
"Given U.S. nuclear, as well as conventional, capabilities, the risk of potential conflict escalation is high enough so as not to allow any aggressor to achieve its political goals," Szeligowski, the Polish senior research fellow, said. "That, in the end, should influence any calculations made by third parties, especially Russia."
Meanwhile, in Ukraine
The war in eastern Ukraine—Europe's only ongoing land war—has not ended.
Ukrainian forces have been at war against a combined force of pro-Russian separatists and Russian regulars since April 2014.
Despite a February 2015 cease-fire, artillery and rocket attacks still occur daily, as well as small arms gun battles. Soldiers in opposing camps are hunkered down in trenches and in fortified positions along a static 250-mile-long front line in the Donbas, Ukraine's embattled southeastern territory on the border with Russia.
Civilians and soldiers continue to die on both sides of the front lines. About a third of the conflict's 10,000 deaths happened after the cease-fire went into effect. And about 1.7 million people remain displaced by the conflict.
According to U.S. and Ukrainian officials, Russia continues to feed the conflict with troops, weapons, and money. The Kremlin says it's not involved in the war.
To defend itself against Russia, Ukraine has since 2014 rebuilt its once-hobbled military into the second-largest standing army in Europe, comprising about 250,000 active-duty personnel. With about 1 million active troops, and more than 2 million in its reserves, Russia has the only military in Europe bigger than Ukraine's.
"In the end, general increased U.S. presence in Eastern Europe can indirectly assist Ukraine in its war with Russia as it would force Moscow to take into account new U.S. deployments and ease pressure in the Donbas and around the Ukrainian-Russian border," Bielieskov said.
He added: "So the next logical step after increasing the ERI budget should be making the U.S. presence in Eastern Europe permanent, plus increasing the number of brigades in the region."
Nolan Peterson, a former special operations pilot and a combat veteran of Iraq and Afghanistan, is The Daily Signal's foreign correspondent based in Ukraine.