Nolan Peterson: Ukrainians Hunker Down for a Long War with Russia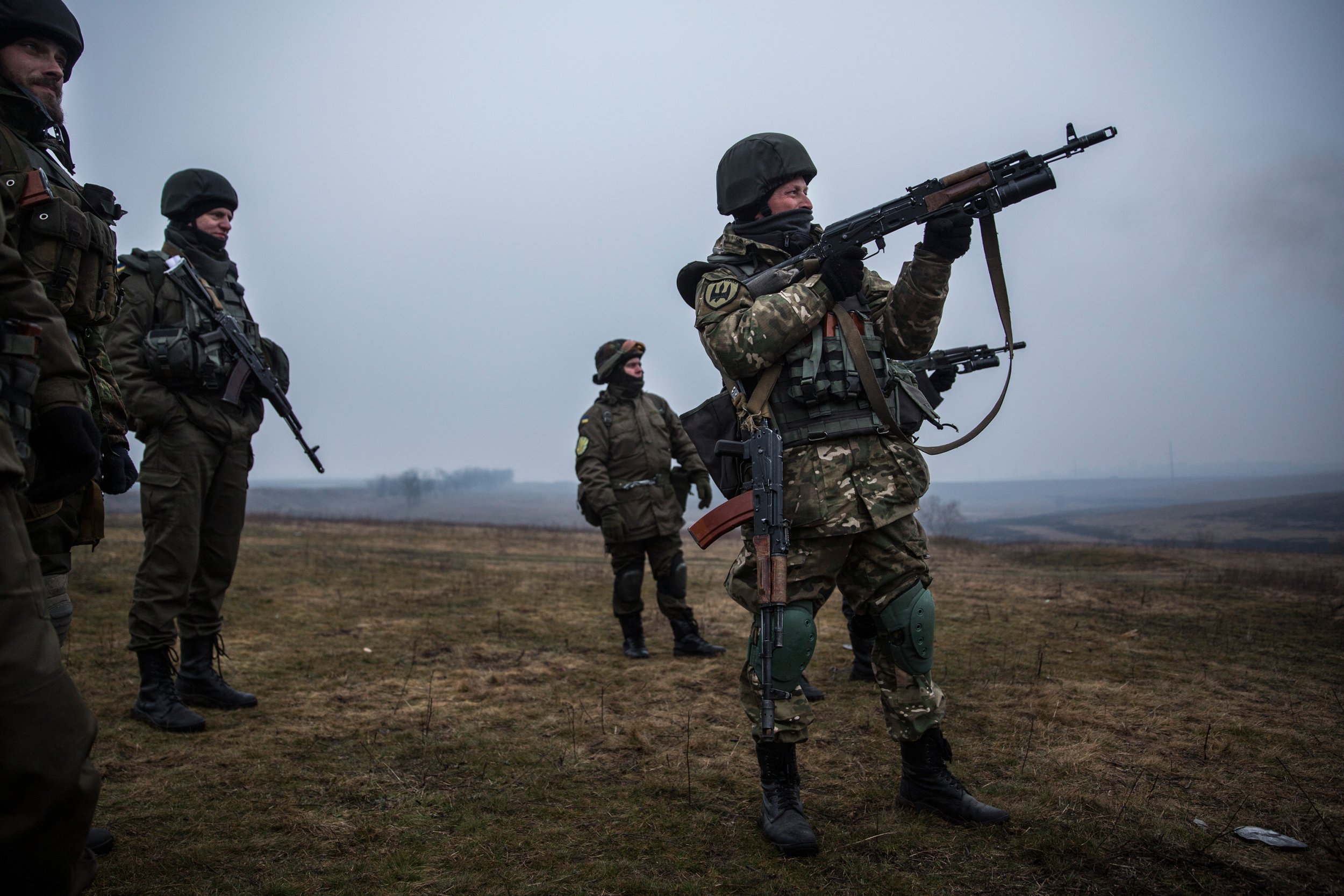 This article first appeared on the Daily Signal.
A Russian bank in the historic heart of Kiev, Ukraine's capital, has become the epicenter of an escalating crisis that has Ukrainians doubting whether a political solution is still possible to end a three-year-old war against a combined force of pro-Russian separatists and Russian regulars.
On March 13, protestors built a wall of cinder blocks and laid sandbags and barbed wire to seal off a branch of the Russian state-owned Sberbank located just blocks from the Golden Gate, the site of the main gate to Kiev's medieval fortifications.
By Friday, the protesters—who comprised university students, political activists, and military veterans—had been camping out in front of the immured bank for five days.
The bank was covered in spray-painted graffiti and plastered with hundreds of signs, which said in Ukrainian: "Attention. This is the aggressor country's bank. It will be closed. Immediately take back your money."
"It's an action to block Russia's influence in our economy and politics," 20-year-old protester Ivan Pogolskiy told The Daily Signal.
"We have a war with Russia, but we have a Russian bank open in Kiev," Pogolskiy, who is an engineering student at Ukraine's National Aviation University, said. "That's impossible. I can't understand that."
The protesters belonged to National Corpus, a political party offshoot of a volunteer paramilitary unit called the Azov Battalion. In 2015, the Azov Battalion, which played a key role in some the war's heaviest battles, was incorporated into Ukraine's National Guard.
Pedestrians, heading to and from the nearby metro station entrance, streamed past the entombed Russian bank on Friday afternoon during rush hour. The protesters lounged on beanbag chairs under tents, or stood in clusters talking among each other. Patriotic Ukrainian rock music blared from a stereo, and a fire burned inside of a metal oil drum, around which some protesters sat to keep warm.
Related: Nolan Peterson: Is this how World War III starts?
Some of the protestors had on blue windbreakers emblazoned with the National Corpus logo in yellow. Others wore all black, and a few were in military fatigues. The mood was like that of a festival, or a campout among university students. There was no alcohol. And unfazed passers-by frequently stopped to snap photos, or to ask what all this was about.
"I don't hate all of Russians," Pogolskiy said. "But this bank is one thing Russia is using to destroy our country. They use our money to equip their army."
Sberbank is majority-owned by the Russian Federation's Central Bank. Consequently, for the protesters—many of whom are in their early 20s and know friends or acquaintances who have died in the war—the notion that Ukrainian money could be circulated back to Russia's coffers to finance military operations in Ukraine is particularly offensive.
"It's a war against Russia, it's not a civil war," 21-year-old protester Dimitriy Davydenko, a university marketing student, told The Daily Signal.
So far, the war has killed about 10,000 Ukrainians and displaced roughly 1.7 million people from their homes. Asked if a political solution to the conflict was still possible, Davydenko said, "The war will only end by the army."
"We are human, and we want to end the war peacefully, through politics," Pogolskiy said. "It's our lives, and our friends' lives. But I don't trust our politicians to solve this problem peacefully. You must understand that our politicians have destroyed this country for the past 20 years. You can't trust them."
No Way Out
Russia is taking steps to make the two breakaway separatist republics in the Donbas—Ukraine's embattled southeastern territory on the Russian border—economically independent from Ukraine.
This marks a turnaround in Russian policy. For years, the Kremlin has pushed Kiev to accept the separatist republics as semi-autonomous territories, which would have voting rights in Ukraine's parliament.
Also, as part of the February 2015 cease-fire deal that Russia helped broker in the Belarusian capital of Minsk, Ukraine is supposed to adopt a constitutional amendment to decentralize power away from Kiev.
Kiev has not yet followed through on the decentralization measures, claiming that to give the separatist territories a vote in Ukraine's parliament would amount to giving Moscow a vote in Ukraine's affairs.
Ditching ties to Russia in favor of the European Union was a cornerstone of Ukraine's 2014 revolution, after all.
Ukrainian lawmakers say free and fair elections in the separatist territories are not possible until Russia withdraws its troops from Ukrainian territory, and Ukraine regains total control of its border with Russia in the Donbas.
Russia, for its part, insists that a peaceful end to the conflict cannot be reached until Ukraine adopts the constitutional amendment to decentralize power and allows elections in the Donbas.
According to Ukraine's military, NATO and multiple independent civilian intelligence groups, Russia has about 3,000 to 5,000 military personnel operating inside the separatist territories. Those Russian troops command and control separatist military forces, and also actively participate in the fighting, the groups say.
The Kremlin denies Russian troops are operating in Ukraine under its orders, or that Russia is a party to the conflict. Russia has, however, been a party to negotiations for both of the war's cease-fires.
Poking the Bear
Russia and Ukraine are engaged in a tit-for-tat exchange of economic jabs, which threaten to paint both sides into a corner from which a political resolution to the conflict is no longer possible.
"After three years of war, the Russians are hardening their stance towards Ukraine," Brian Bonner, chief editor of the English-language Kiev Post newspaper, wrote in a March 3 editorial.
"Without a stronger response from the West and Ukraine's leaders, Ukraine stands to forever lose parts of the eastern Donbas now under Russian-separatist control," Bonner continued.
For weeks, Ukrainian political activists and volunteer battalion soldiers have maintained a rail blockade in eastern Ukraine, cutting off the shipment of goods from the separatist territories into the rest of the country, including coal deliveries. One of the groups participating in the rail blockade is National Corpus, the group behind this week's Sberbank protest in Kiev.
The blocked coal shipments spurred an energy crisis in February that led lawmakers in Kiev to declare a national state of emergency. Ukrainian Prime Minister Volodymyr Groysman warned of "destructive processes in the national economy" due to the blockade.
Retaliating against the rail blockade in February, separatist leaders nationalized a bevy of Ukrainian businesses operating in the Donbas, including some belonging to Ukraine's richest oligarch, Rinat Akhmetov.
According to Bloomberg, Akhmetov's net worth has dropped by about $1 billion due to the seizures, from $4.52 billion on February 16 to $3.37 billion on March 16.
According to Ukrainian news reports, a group of Russian oligarchs has taken control of the seized Ukrainian businesses in the Donbas, including a Ukrainian businessman who fled to Russia after the 2014 revolution named Serhiy Kurchenko.
Kurchenko is a political ally of Viktor Yanukovych, the deposed Ukrainian president who fled to Russia in February 2014 following his ouster after months of pro-European street protests in Kiev.
Referring to the recent business seizures in the Donbas, Ukrainian President Petro Poroshenko said during a Thursday TV interview: "Whatever you call it, expropriation, nationalization, confiscation, or simply the seizure of Ukrainian enterprises, handing them over to Russian oligarchs or those who had fled from Ukraine, like Kurchenko, now illegally owners of these companies, destroyed Ukraine in the Donbas."
As a response to the business seizures in the Donbas, this week Ukraine announced a total blockade of all goods from the separatist territories. The move will likely result in a net 1.3 percent loss in Ukraine's gross domestic product in 2017, according to some Ukrainian economists. That will offset about half of Ukraine's predicted 2.3 percent GDP growth this year.
According to a March 1 report from the State Statistics Service of Ukraine, Russia was Ukraine's top foreign investor in 2016, accounting for 37.8 percent of Ukraine's overall $4.4 billion in foreign direct investment.
The share of Ukrainian exports going to Russia, however, are now at 8 percent, down from 36 percent before the war, according to Ukrainian news reports.
Drip Drip Drip
Russia has recently cinched the separatist territories into its economic orbit, breaking from years of stiff-arming the breakaway republics' attempts to forge closer ties with the Russian Federation.
The areas under separatist control are adopting the Russian ruble as their national currency. And the Kremlin announced in February that Russia will recognize passports from the Donetsk People's Republic and the Luhansk People's Republic, the two breakaway territories in eastern Ukraine also known as the DNR and LNR, respectively.
South Ossetia, a Russian-backed separatist territory in Georgia, has also recently recognized the DNR and LNR, providing the two territories a potential entree into the Russian-led Eurasian Customs Union trading bloc.
Russia has, so far, failed to recognize the separatist republics in eastern Ukraine. But through South Ossetia's recognition, the two territories have found a potential trade lifeline outside of Kiev's influence.
Yet, for now, it appears Russia is set on ratcheting up pressure on Kiev, rather than dealing a knockout punch.
On Friday, Kremlin spokesman Dmitry Peskov denied that Russia had any plans to absorb the separatist republics into the Russian Federation.
"We don't believe any eventual arguments are possible in this context," Peskov said, according to Ukrainian news reports. "Russia has been and remains interested in a predictable and prosperous Ukraine existing near its borders. So far, unfortunately, the country is still far from that."
A Real War
For now, both sides of the conflict are in a pickle.
Ukraine cannot escalate the war by launching a decisive offensive to take back the separatist territories without drawing international condemnation for ditching the cease-fire. Such a move would also likely provoke a large-scale Russian military intervention, which Ukraine's armed forces are not capable of repelling.
If, however, Kiev backs down from the conflict, it could ignite violent domestic unrest at the hands of disaffected political activists, military veterans and active-duty troops, who say they have paid too a high a price over three years of war to accept anything other than unconditional Ukrainian control over the separatist territories.
For Russia, any escalation of the conflict by sending in massive amounts of weaponry to support the separatists, or by involving its air power or other weapons such as cruise missiles to the conflict, would expose the Kremlin's direct involvement in the war.
Meanwhile, on March 17, Ukraine's military reported that two of its troops died and eight were wounded due to enemy fire during the previous 24 hours in eastern Ukraine.
The combined Russian-separatist attacks on Ukrainian positions comprised infantry fighting vehicles, 120 mm and 122 mm mortars, grenade launchers and small arms, the Ukrainian military said.
"The war in the Donbas is a real war," Pogolskiy, the 20-year-old engineering student and protester said. "It's crazy. Some of my family lives in Russia and they think me and my two little sisters are all Nazis, and we want to destroy imperial Russia. But it's not true. The war in the Donbas broke my life. I have many friends who died. But it's not the time to talk about that yet."
Nolan Peterson, a former special operations pilot and a combat veteran of Iraq and Afghanistan, is The Daily Signal's foreign correspondent based in Ukraine.