'Harry Potter and the Cursed Child': This Is Why J.K. Rowling Loves Black Hermione—Noma Dumezweni
Updated | For 15 years, Emma Watson was the face of Hermione Granger, the Muggle-born witch and best friend to everyone's favorite boy wizard, Harry Potter. Cast in the role at the age of 9, Watson starred (and grew up) in eight adaptations of J.K. Rowling's hugely popular fantasy series. Five years after she left the role, Rowling brought Hermione back, this time to the stage, in Harry Potter and the Cursed Child, which opened on the West End in 2016 and, last week, on Broadway.
The play, which picks up where the "Nineteen Years Later" epilogue in Harry Potter and the Deathly Hallows left off, finds the thee friends—Harry, Hermione and Ron—all grown up. Hermione and Ron are now married, with two Hogwarts students; in a fun reveal that guarantees applause from an audience of Potter fans, she is also the Minister for Magic.
The adult Hermione is played by Noma Dumezweni, a British actress who won an Olivier Award (the British Tony) for her role in A Raisin in the Sun in 2006, and another for playing Hermione. Born to South African parents, Dumezweni perfectly captures the spirit of the character: passionate, irritatingly smart, a little frazzled, a lot commanding. She is also black. When casting was announced in December 2015, some unfortunate fans objected. Rowling came to Dumezweni's defense, tweeting, "Brown eyes, frizzy hair and very clever. White skin was never specified. Rowling loves black Hermione."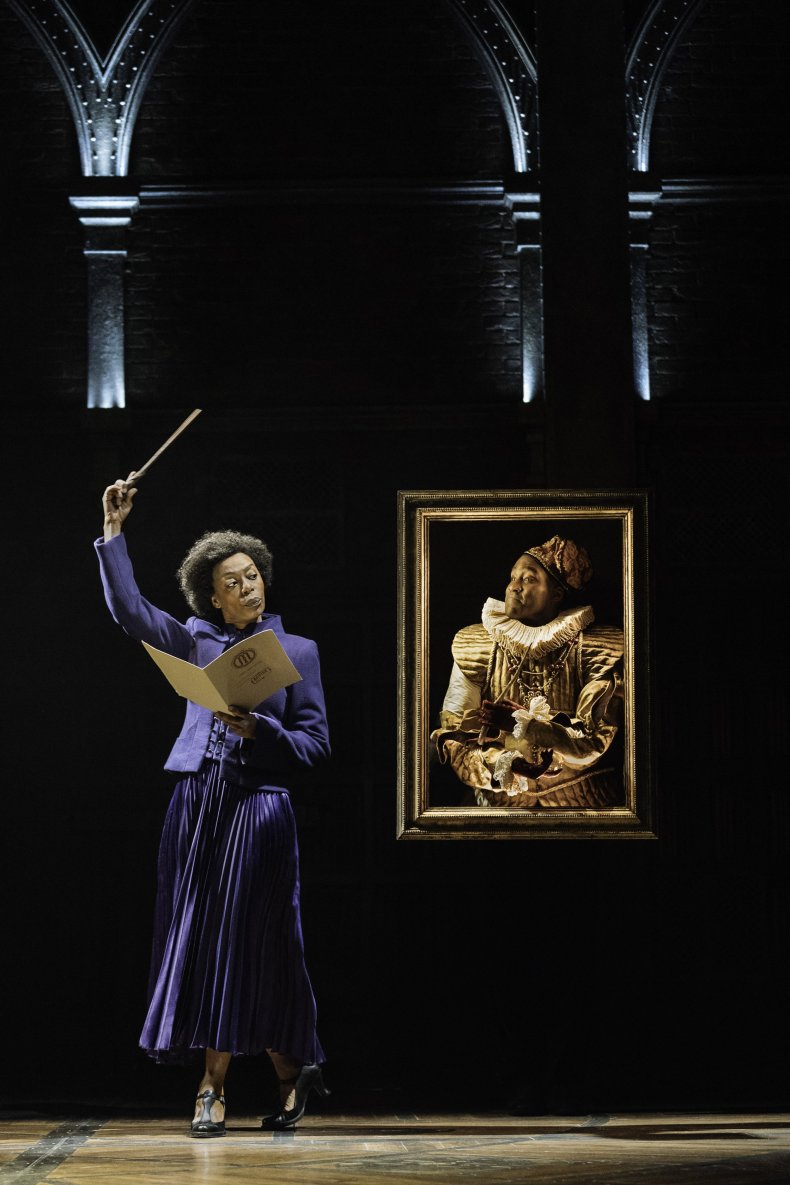 The script for the play, which runs five-plus hours (it's broken into parts one and two), received backlash as well, after it was published the same day the play opened. Potter fans can be as irritating as, well, Hermione. But as it turns out, the script is very different from the live performance, and critics were overwhelmingly charmed by the superb cast, the ambitious production and the rich story, which finds Harry Potter—now Head of Magical Law Enforcement and married to Ron's sister Ginny—father to a son who is failing miserably at Hogwarts. His unlikely ally? Scorpius Malfoy, son of Draco. Other than that, our lips are sealed: #KeepTheSecret.
Dumezweni spoke to Newsweek about her Broadway debut and playing a beloved character. She also agreed to a game of Potter trivia.
A lot of fans, myself included, found the show to be very different from the script, published by Scholastic.
You've got to see it, because it's made for the theatrical stage. When the script came out, it was like, "Oh my goodness!"
Were you surprised by the passion of that backlash?
Yes, but I also absolutely get it. You're waiting for this book and then it's not quite Jo [Rowling]. But it is Jo. I saw a tweet the other day that said, "Oh [Cursed Child] is absolutely not canon at all, but I will come and see it." [People] have a reaction without knowing anything about what this is. That's the way the world is at the moment, and I get frustrated by that because there's no room to negotiate or to debate about what's happening. What's lacking from those people, to me, is their imagination. They're not used to reading a script, but that's what we [as actors] do—we go, "What are the possibilities?"
You've said you were a fan of the books before you got this role. Who was your favorite character?
As a woman, you can't help but be drawn to the female hero—we see ourselves in her, we understand her. Hermione's amazing; she's all these human things that anyone who's going to change the world needs to be. I've always said that the three friends—Ron, Harry and Hermione—are outsiders who found their tribe.
How did you get into the head of Hermione?
She's a working woman, I'm a working woman. She has a family relationship, I'm a single mum. It's all about how you negotiate relationships around you. And ultimately it's a play about the new generation—it's not about [the older generation] anymore—but we still have great skills to share and lessons to teach.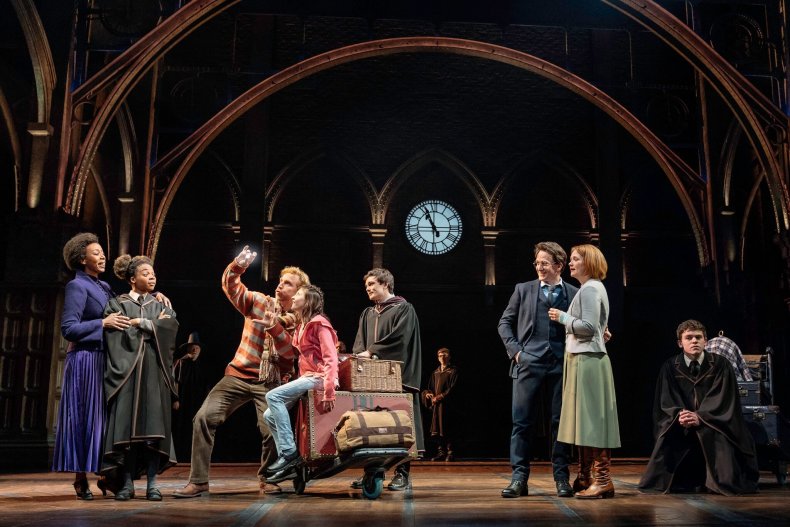 Do you see a difference between British and American audiences?
Both are absolute love, but American audiences are very passionate. Or maybe the British audiences are a bit shy. But we do get our feedback immediately, and I love that when I'm on stage. I can't say too much because I'm supposed to #KeepTheSecret, but do you remember in Part Two, that moment, that big reveal? You always hear the audience go [makes gasping noise]. I love that! I love hearing that; I love it, love it.
Some Harry Potter fans did, unfortunately, object to a person of color playing Hermione, but so many more were happy about it. What does that mean to you?
To have people say to me, "Thank you, I get to see myself, or the possibility of myself, up there [on stage]." All we can do is enjoy what we do, and hopefully that will start a conversation. Representation is very important in this day and age. I get to do that in this production, so how lucky am I?
Would you indulge in a little Harry Potter trivia?
Go on, I'm not very good at it, but go on.
What's Hermione's middle name?
Jean.
Yes! Name Hermione's first boyfriend.
I can't remember. Viktor! No, it wasn't Viktor…
Yes, you're right!
OK, good, because that's the only boyfriend I could think of. He wasn't really a boyfriend, was he? It was more about the dance. But boyfriend?
What animal does Hermione conjure to attack Ron in the sixth book, after she catches him kissing another girl?
[Gasps] Oh, this is bad. I can't remember. It's been about three years since I read the book.
It's birds. What is the acronym of the civil rights organization that Hermione establishes in her fourth year?
Speeeeeew! S-P-E-W, but I'm gonna say "speeeew."
Do you remember what S.P.E.W. stands for?
Societal Protection of… Elves… Worldwide? No?
Almost. It's Society for the Promotion of Elfish Welfare.
How is that different from my answer? [Laughs.]
Correction: An earlier version of this story misspelled Noma Dumezweni's name in the headline.