Non-Binary, Gender X Driver's Licenses, Passports Gaining Popularity
It's not unusual to have to pull out a driver's license, passport or identification card to prove identity. For a small group of people, the gender indicated on the documentation is incorrect due to the perception that their sex does not match their gender identity.
There is growing advocacy for accurate and consistent gender markers on identity documents that would allow non-binary persons, who identify as neither male nor female, to gain access to public spaces and resources in the same manner cisgender persons do.
This means governments could allow an "X" identifier in addition to the traditional "M" for male and "F" for female on official documentation.
In the U.S., driver's license policies differ by state. Twenty-two states and Washington D.C. allow people to use the "X" identifier.
According to data analysis by Jerry, an automotive insurance agency, this means more than half a million Americans who identify as non-binary — 46 percent of the 1.2 million population — live in a state that does not allow the "X" marker on a driver's licenses.
"Most jurisdictions across the U.S. do not have explicit laws in place preventing gender equity for non-binary individuals (with few exceptions of 'trans bans' in more conservative jurisdictions, but again, this is rare),"Dr. Nicole M. Elias, associate professor and founding co-director of the Initiative for Gender Equity in the Public Sector at John Jay College, The City University of New York told Newsweek.
"Instead, it is a question of what legislation needs to be adopted to be more inclusive of nonbinary individuals. Adopting gender equity legislation or gender inclusive policy that explicitly acknowledges different groups (in this case nonbinary individuals) is only a first step. Cultures, attitudes, and beliefs likewise need to change beyond the legislation, itself."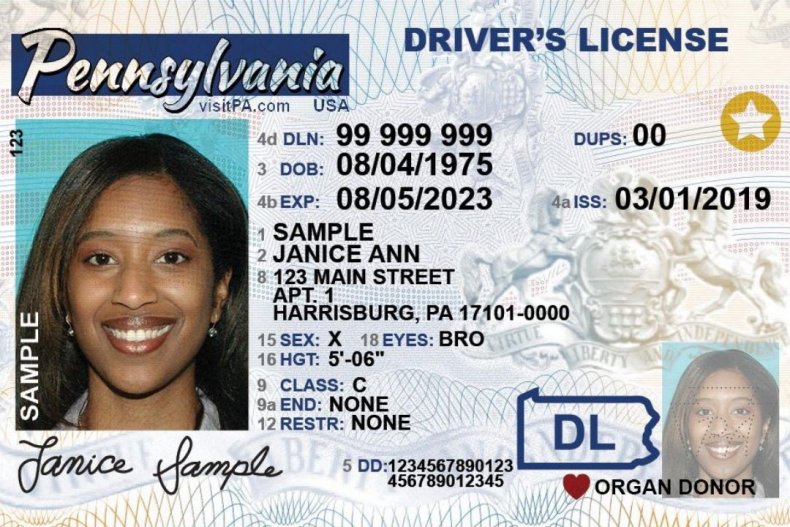 The majority of states that allow "X" markers are in the Northeastern and Western U.S., which is home to the more non-binary people than the rest of the county, according to the Jerry study.
In states where the "X" is an option on driver's licenses, it has been chosen by a growing number of residents.
In 2019 the Baltimore Sun reported data that showed over 100 Maryland residents had gotten an "X" marker on their driver's license in the first month that the option was available.
The Jerry data analysis found that Oregon's number of driver's licenses with an "X" has increased every year since it became an option in 2017. By the end of that year 701 individuals had licenses with the mark, a number that jumped to 1,782 and 2,828 in 2018 and 2019, respectively.
The second-largest non-binary population resides in the South, where only four of 17 states allow an "X" marker on government documents.
Although the numbers show an upward trend in "X" marker licenses, there is still a significant portion of the population who are not making the change. This could be in part due to the amount of non-binary persons living in poverty.
According to the National Center for Transgender Equality, burdensome requirements and prohibitive costs prevent the majority of transgender individuals from obtaining accurate identity documents.
A June 2021 Williams Institute study found that 68 percent of nonbinary people — about 816,000 persons — are living in relative poverty.
Replacement driver's licenses range in price with most under $100.
The processes by which an individual can change the gender marker on their driver's license and/or birth certificate to accurately reflect their gender identity is governed by state laws and administrative policies that often include intrusive and what are perceived to be outdated requirements, such as proof of sex reassignment surgery and court orders
In contrast, in the majority of the states that allow the "X" marker, the process of changing a gender marker is rather simple. The person who wishes to change their identifier must fill out a gender change form and no doctor's note is required.
States that do not permit the "X" designation generally have legislative and judicial roadblocks preventing the implementation. Some states have made it harder to gain the designation despite allowing it to occur.
Illinois's bicameral legislature passed a bill in 2020 to implement gender-neutral markers but due to third-party card-printing obstacles, the designation may not be available until 2024.
Utah residents can change the gender marker on their driver's license to "X" as long as they also have an "X" marker on their birth certificate or passport. According to a report by NBC in 2019, only two birth certificates had been issued with the "X".
​​At least 15 countries have already allowed people to changed their gender to be legally identified as non-binary on their passport, including Argentina, Austria, Australia, Canada, Colombia, Denmark, Germany, Iceland, Ireland, Malta, the Netherlands, New Zealand, Pakistan, India and Nepal.
The U.S. Department of State announced on Oct. 27 that it had issued the first U.S. passport with an "X" gender mark. The new option is expected to be more widely used starting early 2022.
"The Department of State including a nonbinary marker is very encouraging, because this will likely create a trickle-down effect to the states. Key challenges for states are: understanding nonbinary identity, but also formulating inclusive practices for making the 'X' marker accessible," Elias said.
Correction 12/02/21, 4:55 p.m. ET: This article was updated to remove the incorrectly listed price of a replacement license that changes a person's sex identity in Virginia. The cost is $20, not $89.