World Cup Fans From China, Africa Use Visa-Free Travel to Seek Asylum in Finland
Five people used their World Cup fan ID to gain entry to Finland and request asylum, the Finnish border said on Wednesday.
Match ticket holders for the 2018 World Cup have been allowed to visit Russia without a visa. From there, they can travel across the host country's land border with Finland, a nation in the European Union's Schengen zone, which permits movement across borders without passport checks.
The five people who crossed the border to ask for asylum were Nigerian, Moroccan and Chinese nationals. Marko Saareks, the Finnish border guard's head of security and risk analysis, told Reuters the Nigerian individual arrived in Finland with a falsified Brazilian passport on Friday. Two days later, three Moroccan men passed into the country.
Reuters reported that the government was looking into each case for potential immigration offenses.
The journey taken by the asylum seekers was not a brief one. "They had walked for 12 hours and managed to cross the territorial border," Ville Mihl, the border guard's head investigator, told Reuters.
Additional attempts of people trying to gain access to Europe using their World Cup fan identity papers have also been reported by authorities. An unnamed Russian police source also said that 10 people from African and Asian nations who had purchased World Cup tickets were prevented from entering Finland and Norway. The source additionally stated that two Moroccans were being tried after they were found in Murmansk, a city near Russia's border with Norway.
In a separate incident, Anton Bychkovsky, the Belarusian border guard's press secretary, said that four Moroccans with World Cup documents were stopped while trying to enter Poland on Friday.
"We had been prepared for this as we (knew) that one can enter Russia without a visa. But it was a surprise that it started right at the beginning of the tournament," Saareks told Reuters.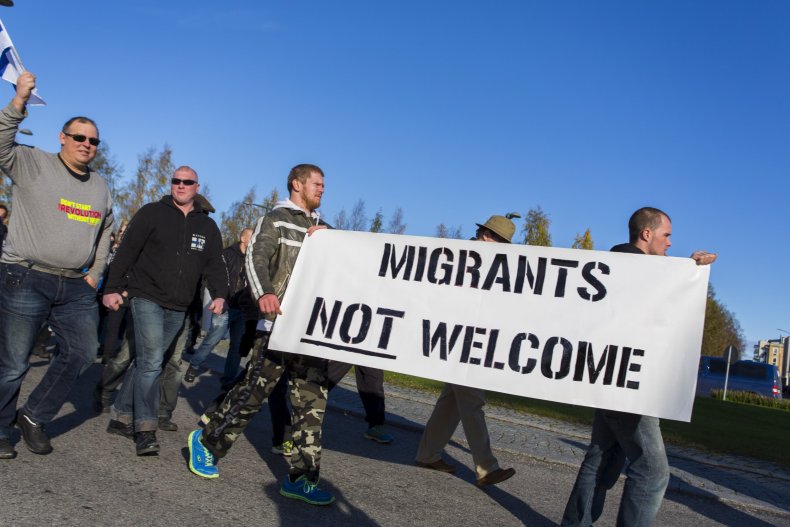 Anti-immigrant sentiment has risen across the EU since 2015, when 1.26 million people applied for asylum there. That year, Finland witnessed an 822 percent increase in the number of people applying for refuge. In 2016, 27,274 foreign citizens moved to the Scandinavian nation.
Finland has not responded with the same amount of anti-immigrant backlash seen in some other European countries. Still, a court felt there was an "urgent social need" to ban the Nordic Resistance Movement (PVL) neo-Nazi organization last year because it has "spread hate speech and incited violence" against ethnic groups.