Non-Texans Caught Looting in Texas to Be Federally Prosecuted, Gov. Abbott Says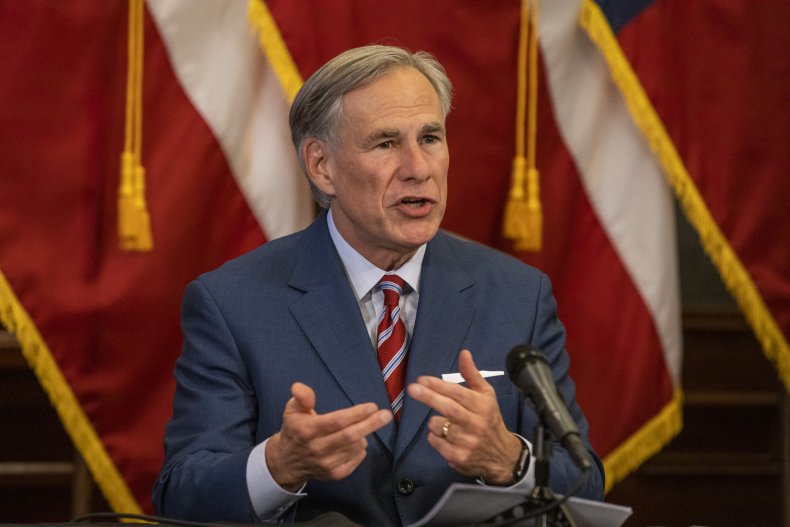 Texas Governor Greg Abbott announced Monday that anyone from out of state arrested for "engaging in looting, violence or other destructive acts" during protests over the death of George Floyd will be federally prosecuted.
Abbott said that Texas authorities will work federal prosecutors and law enforcement to "aggressively identify crimes that violate federal law." Four U.S. Attorneys joined in the announcement, which promised to transfer non-Texas residents charged with the offenses to federal custody.
"Texans must be able to exercise their First Amendment rights without fear of having agitators, including those coming from out-of-state, hijack their peaceful protest," Abbott said in a joint statement with the U.S. Attorneys. "Today's announcement will ensure there are harsh consequences for those breaking the law and that they will be prosecuted to the fullest extent of the law."
Protests centered on Floyd, a black man who died on May 25 after being pinned to the ground by the knee of a white police officer in Minneapolis, have raged throughout the country since video of the death emerged one day later.
Heated demonstrations have taken place in major cities across Texas, including Dallas, Houston, Austin and San Antonio. Incidences of violence and looting have been reported and hundreds of protesters were arrested in multiple locations, many of which were under curfew in response to the protests.
The protests prompted the Republican governor to declare a state of disaster for Texas on Sunday, legally allowing federal agents to arrest and apprehend protesters deemed in violation of the law by serving as "Texas peace officers."
"Violence against others and the destruction of property is unacceptable and counterproductive," Abbott said. "As protests have turned violent in various areas across the state, it is crucial that we maintain order, uphold public safety and protect against property damage or loss."
Shortly after making the announcement, Abbott said that FBI tactical teams were being deployed to counter protesters, along with troopers from the Texas Department of Public Safety and additional troops from the Texas National Guard.
President Donald Trump decried property damage and urged state leaders to use aggressive tactics and "dominate" protesters during a call with governors on Monday. The president said most of the governors were "weak," while insisting that protests are being driven by the "radical left" and "people that figure they can get free stuff" by looting.
"You're making a mistake because you're making yourselves look like fools," Trump told the governors, based on an audio recording of the call obtained by Newsweek. "You have to dominate, if you don't dominate, you're wasting your time. They're going to run over you, you're going to look like a bunch of jerks. You have to dominate."
During a press conference later in the day, the president vowed to deploy the military to states with governors who failed to sufficiently "dominate the streets" with troops from the National Guard.
Newsweek reached out to Abbott's office for additional comment. This article will be updated with any response.