Noname Responds to J Cole With New Track 'Song 33' And Fans Eat It Up
Noname has an official response to J. Cole: "When George was beggin' for his mother, saying he couldn't breathe/You thought to write about me?"
The lyrics are among many of the eloquent verses the Chicago rapper unleashed on her newest track, "Song 33," released on Thursday. Noname shared the link to the song on Twitter in addition to a screengrab of the thought-provoking lyrics.
Fans instantly speculated that the "he" the 28-year-old referred to in the song was Cole, who had only two days before, subliminally criticized Noname on his own single, "Snow on Tha Bluff." Unlike her hip-hop counterpart, Noname kept the jabs aimed at Cole to a minimum and instead used the track to condemn societal patriarchy and harp on the racial injustices plaguing black Americans, which she has long argued should be at the forefront of everyone's attention right now.
In fact, it was Noname's recent tweets about rappers remaining silent on social media in the midst of civil unrest that spawned across the country in light of the death of George Floyd, an unarmed black man who was killed by a white police officer in Minnesota in May, that essentially sparked the lyrical feud between the up-and-coming rapper and award-winning Cole.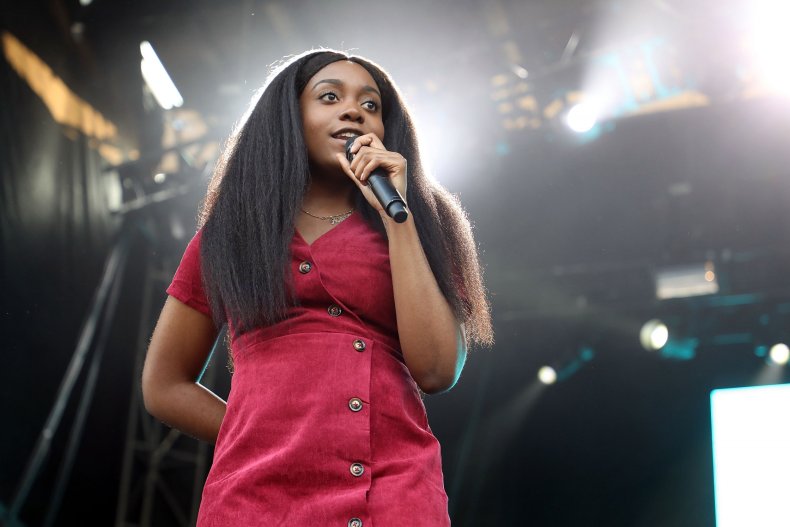 "Yo, but little did I know all my readin' would be a bother/It's trans women bein' murdered and this is all he can off? And this is all y'all receive?/Distracting from the convo with organizers/They talkin' abolishin' the police," Noname raps.
Unlike Cole who was met with cancel culture and upset fans accusing him of misogyny for his lambasting of Noname on his recent single release, fans were eager to praise Noname for her 70-second lyrical conquest.
"This is how you criticize someone without attacking or disrespecting them," one Twitter user wrote on Friday.
Other's applauded Noname for sticking to her progressive activism as opposed to lacing the song with cheap shots.
"Whew. @noname said we have actual things to worry about like Black women being killed and many of us being SILENT. But I guess egos are hurt. That patriarchy is going to get us killed," one fan tweeted.
Another wrote: "The real difference to me between Noname's track vs Cole's is, as expected, she's demonstrating an awareness of the movement we're in, in this moment. It actually just makes his song even more disappointing."
Cole faced backlash following the release of his single, "Snow on Tha Bluff," on Tuesday for seemingly scolding a woman—whose identity he did not reveal on the track—for her criticism of people's "favorite rappers" failure to use their platforms to address the racial movements currently taking place.
Although he wouldn't address who he was referring to in his diss, the North Carolina rapper later issued a statement praising Noname for the social and racial awareness she has delivered through her music and on social media.
"Follow @nnoname. I love and honor her as a leader in these times. She has done and is doing the reading and the listening and the learning on the path that she truly believes is the correct one for our people. Meanwhile a n***a like me just be rapping," he tweeted on Wednesday, adding, "I haven't done a lot of reading and I don't feel well equipped as a leader in these times. But I do a lot of thinking. And I appreciate her and others like her because they challenge my beliefs and I feel that in these times that's important."
See a few more reactions to Noname's new song below.