Representative Marjorie Taylor Greene backs removing Representative Liz Cheney from her House GOP leadership position, but she's not sure whom she wants to replace her because the people she had in mind don't want the job.
Greene was a leading force in the first attempt to remove Cheney as the House Republican Conference chair, and she has reaffirmed her support for the move. However, Greene isn't sold on Representative Elise Stefanik, former President Donald Trump's pick as Cheney's replacement. Ahead of Wednesday's expected vote, Greene advocated a pause on filling the position.
"I don't believe in a choice being made before an action is being taken," Greene told Steve Bannon on his podcast War Room: Pandemic. "We don't need a chair tomorrow."
When pushed as to whom she wants to see replace Cheney, the Georgia Republican told Bannon she couldn't supply any names because everyone she's asked to take over the role "said they don't wanna do it." She pointed to their refusals as evidence that Republicans "need time" to pick a replacement and agreed with Bannon that a month is a good time frame to find someone new.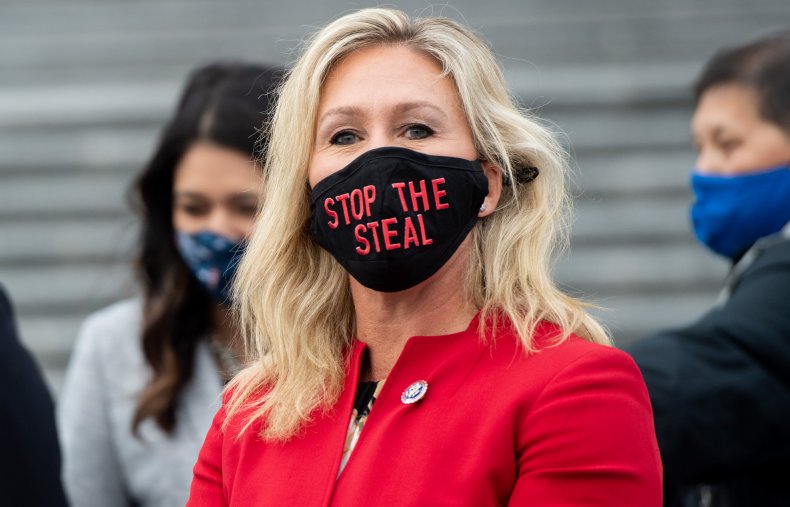 Cheney, a Wyoming Republican, faced significant backlash after she put the onus on Trump for the January 6 Capitol riot and voted in favor of impeaching him. Far from apologizing for her vote, Cheney has doubled down and continued her criticism of the former president for continuing to push the baseless claim that the presidential election was "stolen" from him.
Trump, in turn, criticized Cheney for being a RINO (Republican in name only) and a "warmonger" who has lost support. On Monday, he reaffirmed his support for Stefanik as Cheney's replacement, saying the New York Republican is a "gifted communicator" with "intelligence." He also called the expected vote a "massive opportunity."
"We need someone in Leadership who has experience flipping districts from Blue to Red as we approach the important 2022 midterms, and that's Elise! She knows how to win, which is what we need!" Trump said.
Often recognized as one of the most bipartisan members of Congress, Stefanik voted against Trump's tax cuts in 2017, and Greene criticized her for being a Democrat. Over time, Stefanik moved firmly into a seat on the "Trump train" and defended him vigorously during his first impeachment trial. After the January 6 riot, she objected to the Electoral College results in Pennsylvania.
Greene acknowledged that Trump is "grateful" for Stefanik but said she prefers having "choices" in who replaces Cheney.
While Greene and other House Republicans who voted in favor of ousting Cheney were defeated in February, the tide seems to have turned this time. Prominent Republicans such as House Minority Leader Kevin McCarthy have switched their support to Stefanik.
Greene told Bannon she was glad the Republican leadership was "catching up" to where she was on Cheney in February.
Newsweek reached out to Greene for comment but did not receive a response in time for publication.