RAICES Offers Trump Administration $20m to Pay Separated Family Bonds
A Texas-based non-profit organization has offered to pay $20 million in bail bonds to reunite around 2,500 separated migrant families.
The Refugee and Immigrant Center for Education and Legal Services (RAICES) raised the funds via donations. It took a check to the White House in order to hand it over to the Trump administration.
RAICES said the money will be used to cover the bonds for families who have been separated at the U.S.-Mexico border. The bonds cost between $5,000 and $10,000, on average.
The move comes after the Trump administration said it will not be able to comply with the court-ordered deadline to reunite all children under the age of five with their families who were separated as part of the now-suspended "zero tolerance" immigration policy by July 10.
The administration has also been ordered to reunite children aged between five and 17 by July 26.
"Millions of people across the world have donated over $20 million to RAICES and their message is clear, there is zero tolerance for the separation of families," RAICES spokeswoman Jennifer K. Falcon said.
"Yesterday's [July 10] ruling in support of the Flores settlement demonstrates that the administration continues to disregard international and domestic laws while ignoring due process."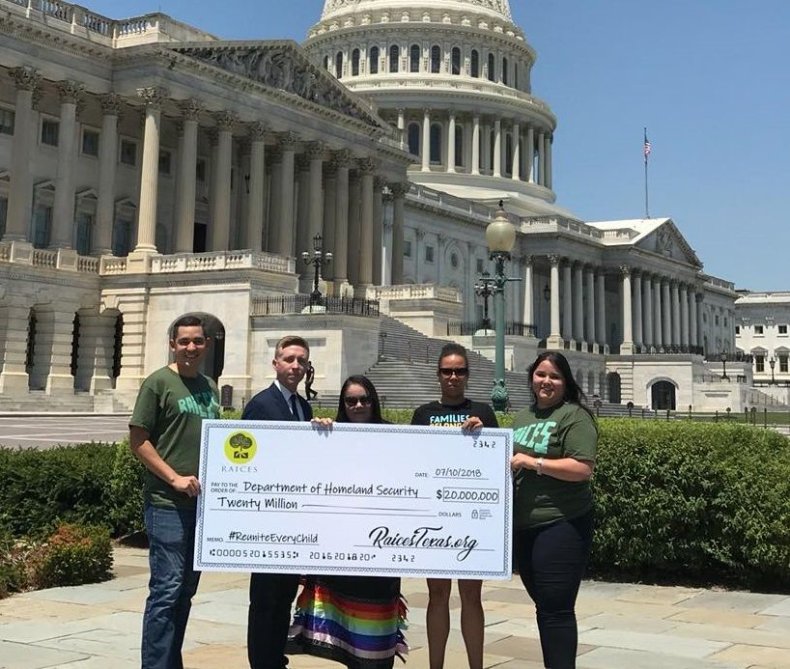 Texas Congressman Joaquin Castro, who—along with Senator Bernie Sanders—took part in a press conference on Capital Hill announcing the $20 million offer, described the failure to reunite families as a "human rights abuse."
"We've been told that the Administration could only reunite 54 of the 102 children who were expected to be reunited today," Castro said. "As of yesterday only two of these 102 children have actually been reunited.
"If the government cannot reunite just these 102 children, it's inconceivable that they will reunite the nearly 2,900 by the end of the month, as ordered by the court."
"All over this country, the American people are outraged that we have an administration whose cruelty has stopped to the level of literally tearing little children out of the arms of their mothers and their fathers," Sanders added. "This is clearly not what this country is about.
"This cruelty reaches a visceral level which we have not seen in this country."
It has been three weeks since President Donald Trump signed an executive order stopping the separation of families at the border.
Lee Gelernt, deputy director of the ACLU's Immigrants' Rights Project, is among many who've criticized the government for failing to reunite the families.
"The court could not have been clearer that business as usual is not acceptable," he said. "The Trump administration must get these children and parents reunited."