Noose Found in Garage of Bubba Wallace, NASCAR's Only Black Driver
The driver who advocated for the eradication of the Confederate flag at NASCAR races found a noose hanging inside his garage area at the Talladega Superspeedway, NASCAR reported Sunday night.
The Geico 500 in Alabama on Sunday was sent into a weather delay, and then postponed until Monday. Then on Sunday night, the racing circuit announced the revelation.
"Late this afternoon, NASCAR was made aware that a noose was found in the garage stall of the 43 team," NASCAR said in a statement. "We are angry and outraged, and cannot state strongly enough how seriously we take this heinous act. We have launched an immediate investigation, and will do everything we can to identify the person(s) responsible and eliminate them from the sport.
"As we have stated unequivocally, there is no place for racism in NASCAR, and this act only strengthens our resolve to make the sport open and welcoming to all."
This comes on the heels of NASCAR not only banning the Confederate flag at all of its properties and events, but also relaxing its policy of requiring all teams to stand for the national anthem.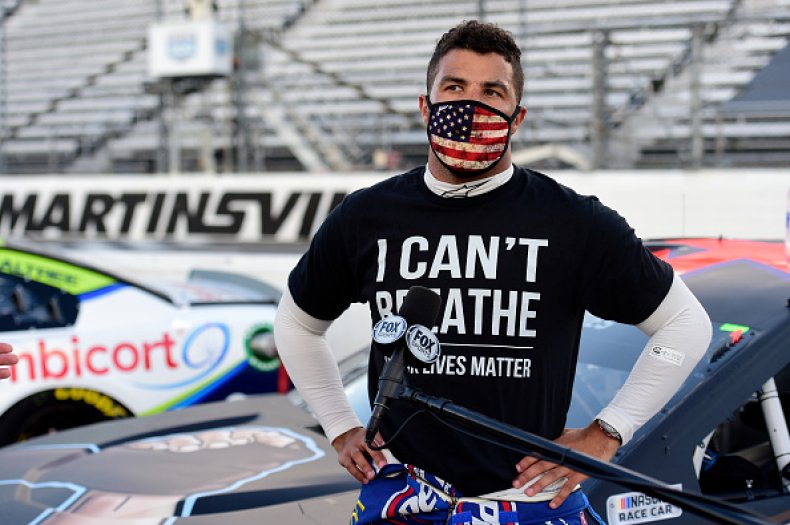 Bubba Wallace asked NASCAR to ban Confederate flags from its venues. Then on June 10, NASCAR declared that all tracks would forbid the flag. NASCAR issued this message:
"The presence of the confederate flag at NASCAR events runs contrary to our commitment to providing a welcoming and inclusive environment for all fans, our competitors and our industry. Bringing people together around a love for racing and the community that it creates is what makes our fans and sport special. The display of the confederate flag will be prohibited from all NASCAR events and properties."
NASCAR's decision came following the police-involved death of George Floyd in Minneapolis on May 25. The incident sparked protests all over the country, and it forced sports leagues to reexamine their policies on protests during the national anthem as well as the Confederate flag at auto races.
Just earlier in the day, NASCAR's anti-Confederate flag policy had already been challenged or compromised as a small plane flew above the Talladega Superspeedway in Alabama on Sunday with a large Confederate flag and the words "Defund NASCAR."
The aircraft flew over the speedway prior to Sunday's Geico 500, which is part of NASCAR's restart to the season because of the novel coronavirus.
NASCAR has already become a pioneer in sports getting started again after coronavirus brought the sports world to a screeching halt in March. NASCAR held races beginning in mid-May with events in Darlington and Charlotte, but with no fans in attendance. Then, the racing league relaxed its policy that required all teams and its members to stand for the national anthem.