Nooses Found at Mississippi Capitol Day Before Racially Charged Senate Runoff Election
Nooses hanging from trees at the Mississippi Capitol were found on Monday, the Mississippi Clarion-Ledger reported.
Chuck McIntosh, director of communications for the Mississippi Department of Finance and Administration, told the Clarion-Ledger that someone called WLBT between 7:30 and 8 a.m. Monday and told the news station to report to the south lawn of the Capitol in Jackson, Mississippi. Several hate signs were posted on the lawn, according to the station.
McIntosh told the newspaper that the reporter from WLBT called the Capitol Police and that the nooses and signs were removed from the lawn. Surveillance video was being reviewed, and Capitol Police were on patrol inside and on the grounds, the Clarion-Ledger said.
Newsweek reached out to Capitol Police for more information on the incident but did not hear back in time for publication.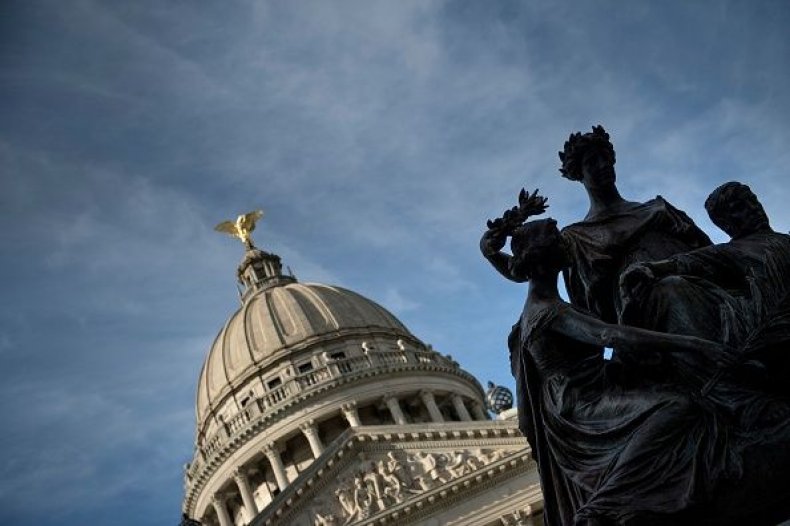 The incident came just a day before Mississippi runoff election between Democrat Mike Espy and Republican Cindy Hyde-Smith. The race gained national attention after Hyde-Smith was caught on camera talking to a supporter about a hanging. The Donald Trump–endorsed candidate told the supporter that "if he invited me to a public hanging, I'd be in the front row."
Since the video emerged, companies and organizations have asked for their donations back. Major League Baseball asked for its $5,000 contribution back from Hyde-Smith following her comment.
"The contribution was made in connection with an event that MLB lobbyists were asked to attend," the league said in a statement, according to The Daily Beast. "MLB has requested that the contribution be returned."
It also came out that Hyde-Smith went to a segregated school and sent her daughter to one. In 2007, the Republican candidate pushed for a revisionist review of the Civil War when she was the state's senator.
On Sunday, photos showed Hyde-Smith posing with Confederate artifacts from 2014. The four photos, which were posted to her Facebook account, were of Hyde-Smith posing with different Confederate artifacts, such as rifles, soldiers' hats and documents with the caption "Mississippi history at its best!"
Trump is traveling to Tupelo and Biloxi in Mississippi to attend rallies for Hyde-Smith. Trump praised the Republican on Sunday, callling her an "outstanding person."
"I will be in Gulfport and Tupelo, Mississippi, on Monday night doing two Rallies for Senator Hyde-Smith, who has a very important Election on Tuesday," Trump wrote on Twitter on Sunday. "She is an outstanding person who is strong on the Border, Crime, Military, our great Vets, Healthcare & the 2nd A. Needed in D.C," he wrote.