Nora Ephron's Last Act: Lucky Guy Hits Broadway with Tom Hanks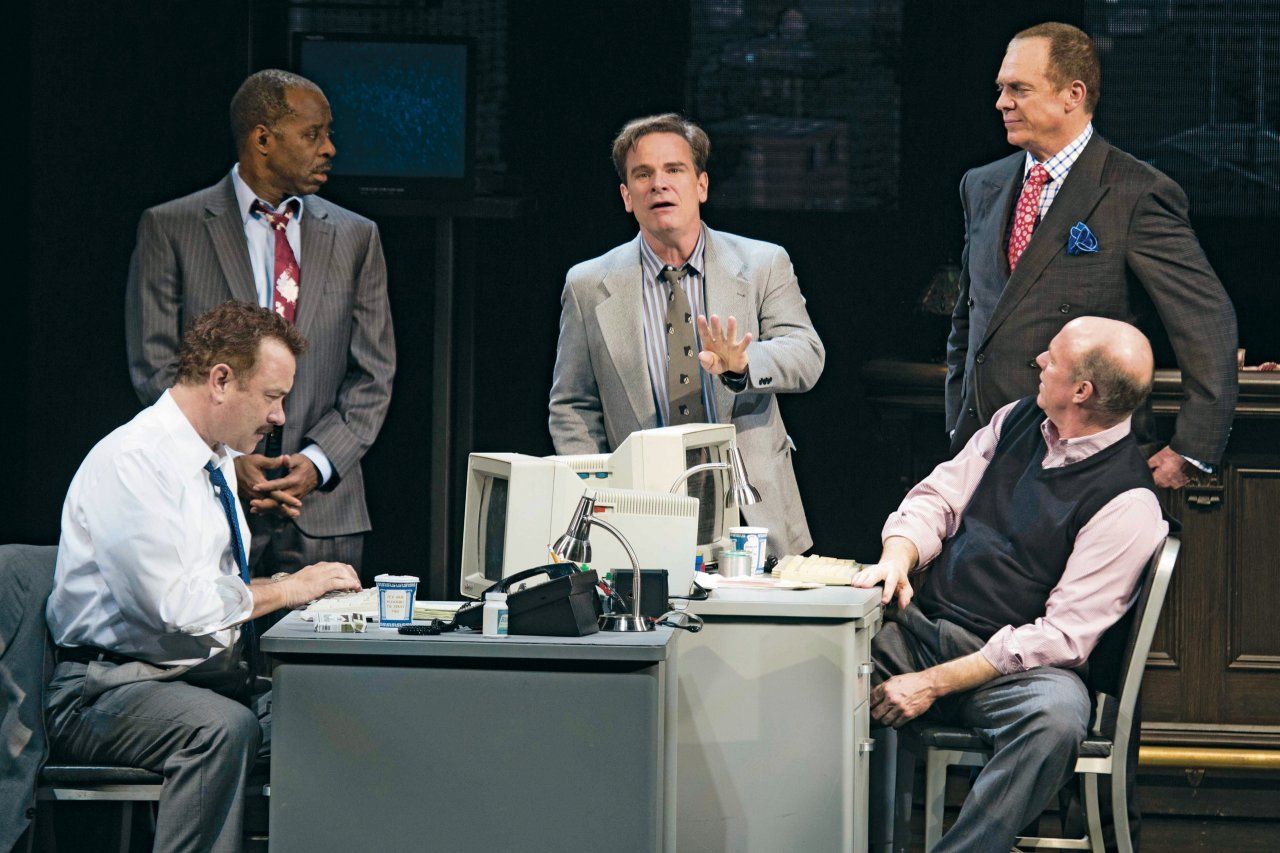 There he was up on stage, Mike McAlary, brought back to life by Tom Hanks with uncanny accuracy, a moustache making him even look like the New York newspaper columnist who fought a losing battle with cancer as he won a Pulitzer Prize in 1998 for breaking one of a series of police scandals.
Another actor was playing Police Officer Brian O'Regan, who shot himself back in 1986 rather than go to jail on corruption charges. A third actor was playing me, the only one of the three alive to sit in a theater and marvel at the wild improbability that O'Regan's meeting with us in a Rockaway diner on a stormy night nearly three decades ago was now being re-created on Broadway in the play Lucky Guy.
I might have marveled aloud to the playwright—the celebrated essayist, author, screenwriter, and movie director Nora Ephron—but she herself had died just last June.
Ephron also had cancer, though I am told she had been drawn to the McAlary story before she fell ill. She sent me an early draft of the play several years ago and asked for my thoughts. My first one was, Why had she written it?
I knew she had started out as a reporter with the New York Post. I also knew from her subsequent work that, along with being hugely talented and bright and funny, she was a romantic.
To Ephron, being a shoe-leather newspaper guy in New York was a rollicking, hard-charging, this-round's-on-me romance that was fading into nostalgia just as McAlary hit the scene in the 1980s. He was hardly alone in wanting to be the next Jimmy Breslin, who was to New York columnists what Babe Ruth was to the New York Yankees.
Breslin had once been proclaimed "a stationhouse genius." He was from, and of, the city, and he made everyday life bigger than you imagined, magnifying himself along with it. He became "Jimmy Breslin," the one and only, who wrote about people often overlooked. He was the guy who had famously covered President Kennedy's funeral by interviewing the gravedigger. A whole generation of aspiring columnists, particularly of the Irish-American persuasion, spoke of "the gravedigger column."
But first, McAlary had to get a city column, and that seemed a long way off when he arrived from his native New Hampshire to work for New York Newsday, which was once termed a "tabloid in a tutu." The paper was an effort by Long Island–based Newsday to venture into the New York City newspaper market, which had long been dominated by the New York Daily News.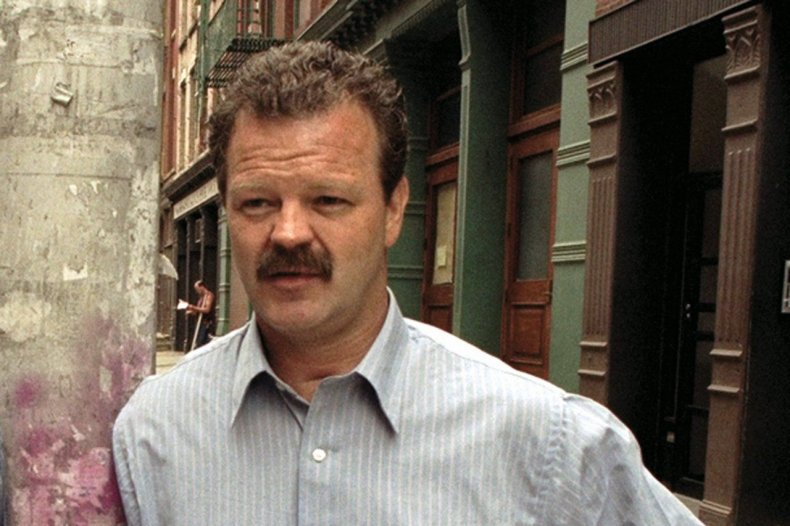 The News was the voice of working New Yorkers, the inscription over the door to its headquarters drawn from the famous saying, "God must have loved the common people, He made so many of them." It was a paper for people whose lives were directly affected by the day-to-day events it covered. And, until it lost a sense of itself, it was dedicated to the notion that a tabloid had to be smarter, not dumber, than a broadsheet. The New York Times was dismissed by one of the News's more illustrious rewrite men as "a small English-language daily headquartered on Manhattan's west side." The other tabloid, the New York Post of Ephron's time there, was of a liberal bent and seemed hardly a rival.
Then, in 1976, Rupert Murdoch bought the Post and changed everything. He made it a morning paper and a tabloid in the British sense. The new Post's immediate goal was just to sell papers by manipulating rather than enlightening the customers, no differently than if it were selling widgets. The ultimate aim was to advance the interests of Rupert Murdoch. The inscription over this paper's door might as well have said, "God must know media moguls are special, He made so few of them."
New York being New York, the Post was and remains a huge money loser. An enduring mystery is why the News started viewing it as a serious rival. It was like Muhammad Ali getting into a bar fight; all it did was elevate the other guy. Even more mysterious is why the News began further elevating the Post by copying it. The result was that the News enabled Murdoch to acquire the influence he never could have attained by just trying to peddle papers by the British model.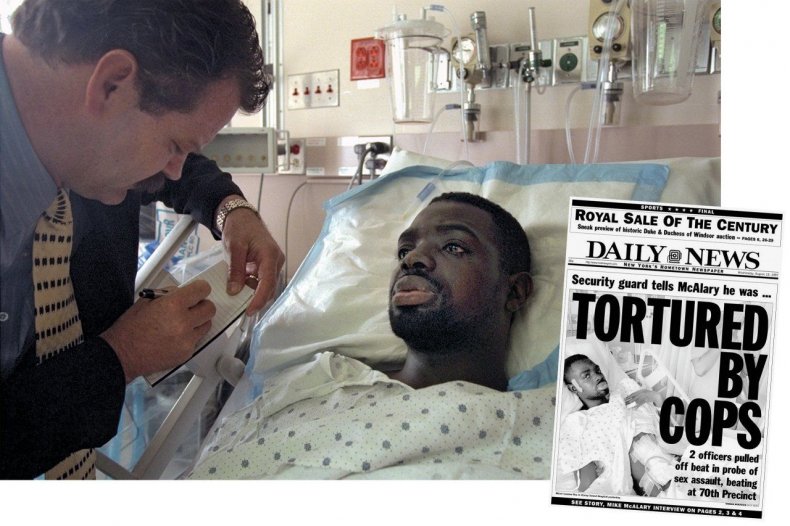 With the News sucker-punching itself and the Post losing millions, New York Newsday entered the fray, and with it came young McAlary, fresh out of Syracuse University. He married the wonderful Alice at St. Patrick's Cathedral as if he were already a big shot. You had to admire his audacity.
McAlary made his first step toward getting a column and actually becoming a big shot with the assistance of a profoundly crooked cop named Henry Winter, who had been nabbed by the Brooklyn district attorney's office and turned into an informant. Winter was apparently seeking to feel less like a rat in a trap when he began telephoning McAlary, then delighting at the D.A.'s consternation as details of the investigation hit the front page.
Winter was a great informant for both the D.A. and McAlary because he was also the ringleader and prime instigator of a whole crew of crooked cops in Brooklyn's 77th Precinct. Where he had once prodded other cops into joining him in crimes, he now got them to incriminate themselves on tape. Those he ensnared included Brian O'Regan, who was less a thief than a follower by nature and was filled with a desperate need to explain himself the night before he was due to surrender on multiple felony charges. He set up a meeting with McAlary, who asked me to come with him. I was then writing a novel and working at New York magazine between stints as a Daily News columnist.
The guy who would later be played by Hanks and the guy who would later be played by Peter Scolari sat down in the Ram's Horn Diner on Beach 116th Street for four hours with the cop who would later be played by Brian Dykstra. The moment that I most clearly remember was when O'Regan looked across the table at us with reddened blue eyes and asked in a raspy voice, "You tell me why I did this."
He had already largely answered his own question, describing how, at a time when the city was witnessing nearly 2,000 murders a year and should have been putting its best cops in a high-crime area such as the 77th Precinct, the NYPD had instead used it as a dumping ground for misfits and boss fighters and cops not quite crooked enough to fire, thereby signaling surrender and indifference. O'Regan was one of the unfortunates who had just happened to be assigned there after the death of his father caused him to give up a job as a cop in Florida that he had taken after being laid off from the NYPD. He said he had been blissfully content down south and had been collecting thank-you letters from grateful citizens he had helped, but then had to move back New York to take care of his mother. He had rejoined the NYPD and landed in what he termed a sewer.
"I can't swim in a sewer, can you?" he asked.
But all that was not in the play, for Lucky Guy was about McAlary, not O'Regan. Ephron does have McAlary describe how O'Regan offered us his uniform when the meeting ended and we walked with him out to his car, but it would have been too complicated to say that it had been the Florida uniform shirt he had worn when he was so happy.
Ephron was very kind to McAlary and myself in not underscoring that we should have recognized that giving things way is a classic prelude to suicide. Had we been as street smart as we imagined ourselves to be, we would have grabbed him and called for help instead letting him just drive off into the rain and shoot himself.
The detail I remember is that among the mementos O'Regan sealed in a cardboard box before taking his own life, rather than face charges of robbing drug dealers, was a birthday card he had received from his grandfather years before. It still contained the $10 bill that had been tucked inside.
That also was not in the play, again because this was not the story of O'Regan or even of New York in the bad old days. It was the McAlary story, and O'Regan was important because his death and the funeral that followed, along with the accompanying scandal, provided big moments that made the guy who reported them nearly as big as his ambitions. McAlary was the one to get the vacated spot when Breslin left the Daily News for New York Newsday.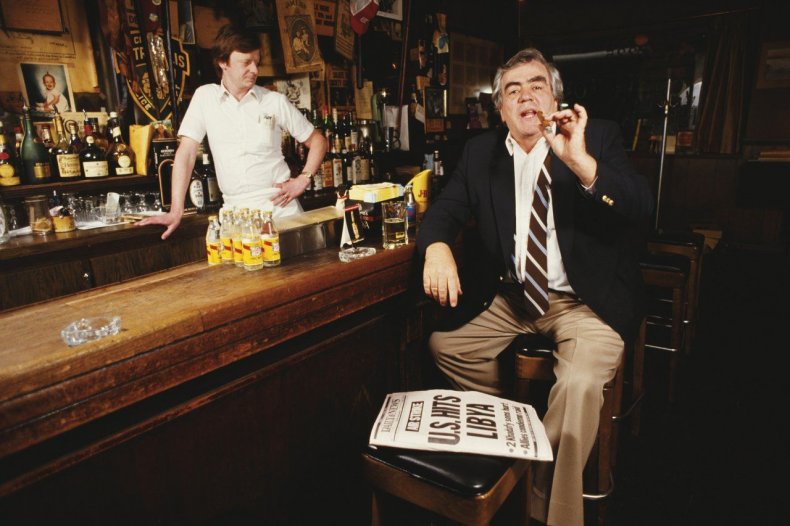 McAlary would have done fine as McAlary, but he was so blindly infatuated with Breslin as to copy some of his idol's writing mannerisms and claim them as his own, even though the truth was apparent to everyone save perhaps himself. Or maybe it just did not matter, so long as he could be a Breslin on the page the way Hanks was now a McAlary on the stage. McAlary embraced it as a role and felt it his own, just as an actor might.
As the play depicts, his "Breslin-itis" reached an unseemly extreme when some hangers-on nudged him into attacking his idol in print. The guy who wanted so desperately to be a big name lowered himself to name-calling.
By that time, McAlary had gone to the Post for a huge sum brokered by Eddie Hayes, a former Bronx homicide prosecutor, who had appeared first in my column, then served as the model for the lawyer in Tom Wolfe's Bonfire of the Vanities (the book is dedicated to him) and now was McAlary's attorney-agent. McAlary subsequently returned to the News only to announce he was returning to the Post, for ever bigger sums.
Then came the night of McAlary's car accident. I have always figured that McAlary must have been checking his messages on his cellphone. I drove his wife, Alice, to the hospital and noted that nobody wanted to look at her when we arrived at the emergency room. This is never a good sign.
He survived, but his injuries were so severe that he had to concentrate on becoming Mike McAlary again. He did so with the untiring assistance and determination of a wife who was always wonderfully genuine and had never wanted him to be anybody but himself.
Daily News owner Mort Zuckerman had visited McAlary at the hospital whereas the owner of the Post had not. McAlary remained at the News, and a police commander who was looking to help him columnwise gave him a tip about a rape case that proved to be wrong. The resulting furor led McAlary to figure that some physical ailments he began experiencing were just the result of stress. They proved to be symptoms of advancing cancer.
On a day when he had just received chemotherapy, McAlary got a telephone tip about a Brooklyn man, Abner Louima, who had been sodomized in a stationhouse bathroom. McAlary went on the story at his wife's urging and stayed on it, winning the Pulitzer Prize shortly before his death.
He also won the admiration of Ephron, who became all the more determined to get Lucky Guy produced after she herself became ill with cancer. Her son, Jacob Bernstein, has said that she came to view McAlary as a role model not so much for how to live as for how to die.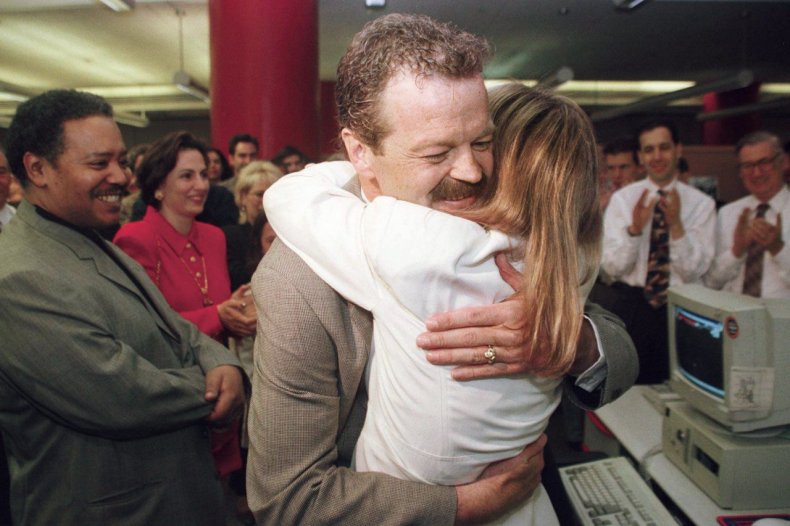 Hanks had played fictional characters swept up in romantic love in Ephron's Sleepless in Seattle and You've Got Mail. He now signed up to play on stage a real-life character who was able to make his luck, even as his luck was running out. Hanks is so true to the actual character that when Alice saw a rehearsal, she is said to have told a producer, "That's Mike!"
I have to figure that Hanks's willingness to undertake this very different role and the energy he brings to the performance are a testament to Ephron, who was herself a role model for both how to live and how to die. The posthumous production of Lucky Guy, along with the rest of her work, make her also a role model for how to live on after death.
Much of her writing is animated by the larger romance of the City of New York. It could be said that Lucky Guy has an added act that commences after the curtain comes up and the audience leaves the theater, dispersing into a Times Square that was the domain of thieves and drug dealers and pimps back in the time when McAlary was writing of corrupt cops. It is now a realm of families and tourists.
The person most responsible for the transformation was NYPD Deputy Commissioner Jack Maple, who also died much too young of cancer. Maple was the Babe Ruth of cops, and at his funeral Rudolph Giuliani credited him with having made New York the safest big city in America. Maple himself would have credited all the good cops who proved ever ready to risk their lives for the sake of others.
As I left the previews of Lucky Guy a little amazed from seeing Hanks play McAlary and still haunted by the memory of Brian O'Regan gazing across the table with those reddened eyes, I passed a young cop who stood on post in the transformed Times Square. His eyes were clear and bright and confident. Here was the gaze of somebody on a winning team that was keeping crime across the city at historic lows, even in the 77th Precinct.
Later in the week, I paid Breslin a visit at his apartment just uptown from the theater district. He lamented the state of newspapers, but he was not ready to say the romance was over; it was just different. He knew there was a whole new generation of guys—and gals—looking to make their luck in digital outlets that were so different from newspapers except for in the most important ways.
"They're young and they're looking for things to write about," he said of the up-and-coming reporters. "What more do you need than that? They have two feet and two eyes."
He paused.
"I'm not sure how much they drink."