NORAD Santa Tracker Brings Some Holiday Normalcy to Even 70-Year-Olds During Pandemic
In a year that's been defined by cancellations and other disappointments, children and adults alike can find a bit of holiday normalcy by carrying on the tradition of calling the North American Aerospace Defense Command (NORAD) to find out when Santa is coming to town.
Nine months into the pandemic, the coronavirus has affected every aspect of life—closing businesses, separating families and friends, and moving kids into virtual classrooms. In its 65th year, NORAD's Santa Tracker had to make adjustments to its operations, as well limiting the number of people on the team dedicated to tracking Mr. Claus. But there was never any talk about canceling the long-standing tradition.
"It's been a tough year for everyone, and tracking Santa gives people some normalcy," Lieutenant General Kirk Pierce, commander of the Continental U.S. NORAD Command Region, told Newsweek. "When you're growing up there are certain things you remember, and it's become a tradition for many people. And if someone hasn't done it before, it may mean more next year."
A happy accident, NORAD's Santa Tracker began in 1955 when a young child unknowingly dialed the unlisted phone number for the Continental Air Defense Command's Operations Center thinking she was calling Santa Claus. After realizing what was going on, Air Force Colonel Harry Shoup, who fielded the call, assured the child that CONAD would make sure Santa made it safely around the world.
The duty of keeping tabs on Santa during his journey and relaying that information to inquiring minds was transferred to NORAD when it was formed in 1958. Decades later, volunteers still gather in Colorado Springs, Colorado, each Christmas Eve to field calls from some of the youngest believers and even those over 70 years old.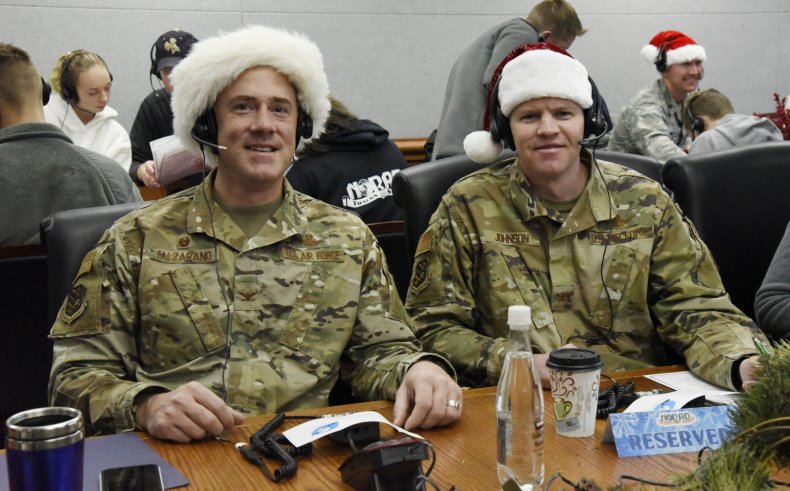 Pierce and his family took on the responsibility from 2017 until last year. While calling NORAD is seemingly intended for a young clientele, he said one in five of his calls come from adults. Finding out that people continue the tradition well into adulthood was surprising, he added.
The oldest person he spoke to was in his mid-70s. "I asked if it was him relaying information for kids, and he said, 'Nope, I just call because it's a holiday tradition,'" Pierce said.
The most memorable conversation he had was with a girl in England whom he suspected was about 7 or 8. She represented the third generation in her family to call NORAD on Christmas Eve to check up on St. Nick, and she had a favor to ask of Pierce: Call Santa.
For three minutes or so, she rattled off a list of grievances against her brother that were "small things," like being bad to the dog or mean to her, "but to her they were big." So she needed Pierce to inform Santa that her brother, who was likely about 4 or 5, deserved to get "a lump of coal or nothing."
The little girl held firm to her belief that her brother was on the naughty list, despite interjections from her grandparents that she was just joking.
"Then, at the end of the call, her brother gets on the phone and pitch-perfectly says, 'None of that's true,'" Pierce said. "You're wearing headsets when you take a call, but I wish I could have put it on speakerphone."
Limiting the number of people in the call center means callers may receive an automated message about Santa's whereabouts, but they also have the opportunity to track him on NORAD's website and mobile apps. NORAD has had to work through COVID-19 challenges since the start of the pandemic, because tracking Santa isn't its only mission, although it's the most well-known one.
"It's kind of like the All-Star Game. We just want to make sure that on Christmas Eve everything comes off without a hitch, so kids can have some normalcy and a bit of Christmas," Pierce said. "And hopefully we'll all turn the corner soon."