NORAD Santa Tracker Is Made for Kids, but It Can Also Be a Christmas Eve Gift for Parents: 'The Phone Hit the Floor'
Children may be the primary client for the North American Aerospace Defense Command's (NORAD) Santa tracker, but when it comes to getting them "nestled all snug in their beds," parents have found it to be quite helpful.
"Being a parent myself, the power of Santa is pretty strong and being able to share that joy with kids and families around the world is pretty unique," Canadian Army Major Andrew Hennessy of NORAD's public affairs told Newsweek.
For more than 60 years, NORAD has served as Santa Claus' official guide as he travels around the globe on Christmas Eve. In 1955, a misprinted phone number in a newspaper caused a child to call NORAD's predecessor in an effort to get in touch with Santa. U.S. Air Force Colonel Harry Shoup embraced the child's request, assuring him he was Santa, and although the tradition may have been born out of an accident, NORAD continues it today, approaching it with the same level of commitment as the missions they conduct all of the other 364 days of the year.
The Christmas Eve task, though, is their "most well-known mission," according to Hennessy, and is one that requires the help of some 1,500 volunteers. Manning their telephones, volunteers work in two-hour shifts and inform kids of Santa's schedule. The most important reply any volunteer can give a child, Hennessy said, is when Santa is set to arrive to make sure they're in bed.
As most children know, this fly-by-night operation is no "fly-by-night" operation and receiving gifts from Santa requires them to be asleep when he arrives, but excitement about Christmas morning can prove that to be a daunting task. In Hennessy's experience, having information about his whereabouts can be a motivating factor to get kids into bed.
"I've delivered that message and heard the phone hit the floor," Hennessy told Newsweek. "A parent will pick up the phone and say, 'Can I call back tomorrow? They haven't ever gone to bed that easy.'"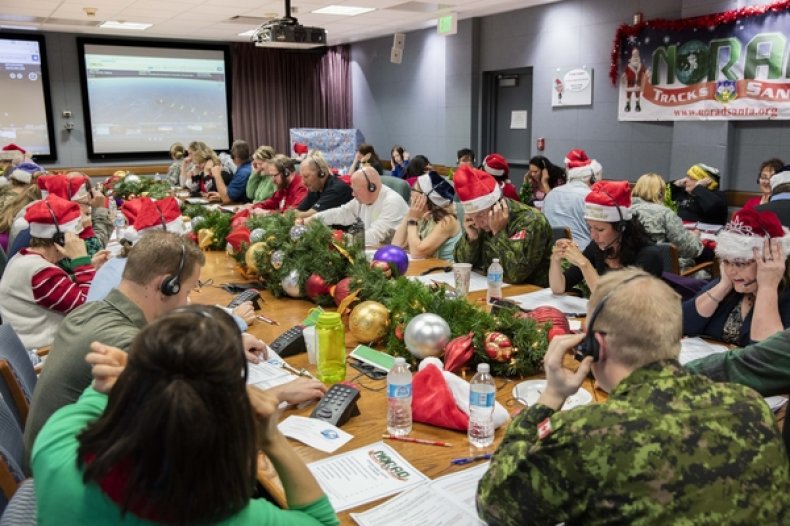 As anyone who's ever had a child look up at them with wide eyes, ready to ask a question, knows, kids can be unpredictable. "You never know what they're going to say or ask," Hennessy told Newsweek, and volunteers are armed with information about how to respond in case they get an odd question.
Beginning at 4 a.m. MST on Christmas Eve, kids can start tracking Santa by calling 1-877-HI-NORAD, just as those first kids did in 1955. In 2018, volunteers fielded more than 137,000 calls.
While the mission remains unchanged since it first began decades ago, the advancement of technology has given kids even more ways to follow Santa's route. Along with calling, they can also email noradtrackssanta@outlook.com, follow along via the official NORAD Tracks Santa social media accounts or ask their Amazon Alexa. Traveling on Christmas Eve? Just press the blue OnStar button in the car and kids can learn where Santa is headed next.
Years before Hennessy started tracking St. Nick, he was a little kid who asked NORAD when Santa would be at his house, not unlike the ones he now speaks to on the phone. He's far from the only adult at NORAD's headquarters in Colorado Springs, Colorado, on Christmas Eve who has childhood memories of tracking Santa and he told Newsweek being on the other side of the program is "really enjoyable." "I'll keep these memories for sure," Hennessy said.
It may not have been where Hennessy thought his time in the Canadian Army would have landed him, but being in a position of power with Santa certainly has it perks.
"I won't lie, I've probably used my standing with Santa once or twice in conversations with my daughter about who's on the naughty list and nice list," Hennessy explained.