"There will no longer be" a Nord Stream 2 pipeline if Russia invades Ukraine, President Joe Biden said during a Monday press conference.
The announcement comes amid rising tensions in the region, with Russia mobilizing thousands of troops at the border with Ukraine. Biden and German Chancellor Olaf Scholz met at the White House to discuss the crisis, the Associated Press reported.
The pipeline, owned by Russian energy company Gazprom, would double the capacity of the Nord 1 pipeline and heat about 26 million homes in Germany, according to Al-Jazeera. However, Nord 2 would bypass Ukraine, costing it the $2 billion Russia pays to send gas through its land with Nord 1.
As a result, Ukraine and Poland are opposed to Nord 2, while Germany, which uses Russian gas to cover half of its energy needs, is more torn on the issue, with Al-Jazeera reporting there has been in-fighting in Germany's new government.
Germany has not canceled the Nord 2 project, but it is delayed until at least the second half of this year, Reuters reported.
According to AP, White House Press Secretary Jen Psaki did not give details on whether German officials said they would shut off the pipeline, though Scholz told German reporters before his meeting with Biden that "there will be a very high price if Ukraine is attacked militarily. And we are preparing for this very precisely and have been talking about the details for a long time."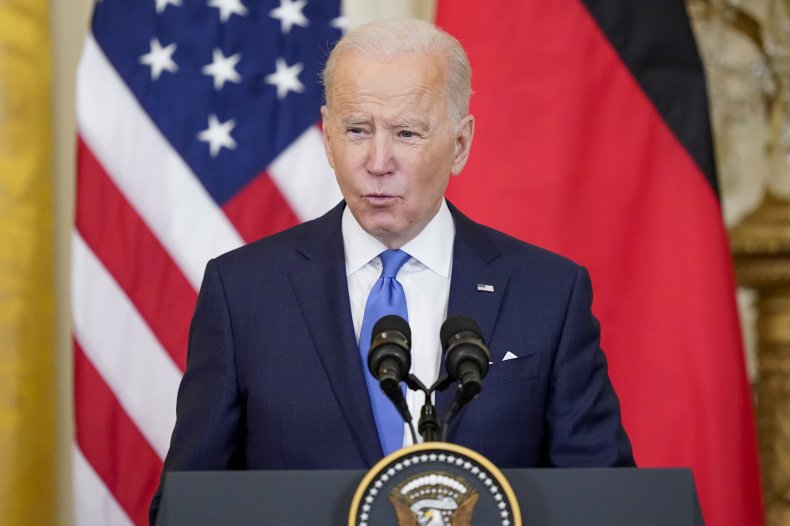 However, Stefan Meister, a Russia and eastern Europe expert at the German Council on Foreign Relations, told Al-Jazeera that most Germans support the pipeline, with only some of the "elite and media" being against it.
"The more the U.S. talks about sanctioning or criticizes the project, the more it becomes popular in German society," he said.
At the beginning of the meeting, Biden said the U.S. and Germany are "working in lockstep to further deter Russian aggression in Europe." Scholz reiterated this, saying, "We are working intensely together, and this is necessary for doing the steps that we have to do, for instance, fighting against Russian aggression against Ukraine."
In recent weeks, the "aggression" has grown, with about 100,000 Russian troops and artillery near Ukraine increasing NATO's concerns that a war could be on the way. According to AP, White House national security adviser Jake Sullivan has warned that an invasion could come "any day" with the conflict likely to come at an "enormous human cost."
During the press conference, Biden advised Americans and diplomats in Ukraine that "it would be wise" to leave the country as soon as possible due to the growing threat.
Update 2/7/22, 5:40 p.m. ET: This article was updated with additional information.