Nordstrom Oversold Its Stock of Nike Dunks and People Aren't Happy
Sneaker shoppers won't be rushing to Nordstrom's website anytime soon. Many Nike aficionados flocked to the department store's page on Wednesday to purchase the latest edition of Nike Dunks. However, Nordstrom oversold their stock, and people are not happy.
The Nike Dunk Low "University Red" shoes dropped on July 1 at 10 a.m. ET. Many lucky sneakerheads were excited to get their hands (and feet) on the red and white shoes commemorating the original model's 35th anniversary. Other folks, however, were not that lucky.
The shortage has led people to complain about Nordstrom overselling its stock of the highly coveted sneakers. The Twitter account for Sole Lighting, which keeps followers up to date on sneaker and streetwear release dates, tweeted that Nordstrom oversold its Nike Dunks merchandise, and added that until shoppers get a shipping email, a confirmation email about their order won't mean that they're guaranteed a pair of Dunks.
At the moment, it remains unclear when the Dunks will be restocked and available for purchase through Nordstrom. The sneakers are also being sold through Nike's website, but they're out of stock there, as well.
"I knew it was too good to be true seeing soo many Nordstrom cooks this morning," one Twitter user lamented, with the hashtag "oversold."
"Nordstrom gon (sic) tell me I purchased the Dunks my order went thru and everything & an hour later they just gon (sic) cancel?!?!" another shopper complained on Twitter. "Really thought Nordstrom was going to come thru (sic) w these Nike Dunks," a third wrote.
Shoppers shared screenshots of emails from Nordstrom customer service that noted an oversell issue. "An item from your order was canceled. Occasionally, items sell out before our system can mark them as not available," one email read. "We're sorry for any inconvenience this caused."
People also seemed upset that the department store didn't notify them right away about their order cancelation. One user said they waited over an hour to be notified that they weren't getting the Nike Dunks.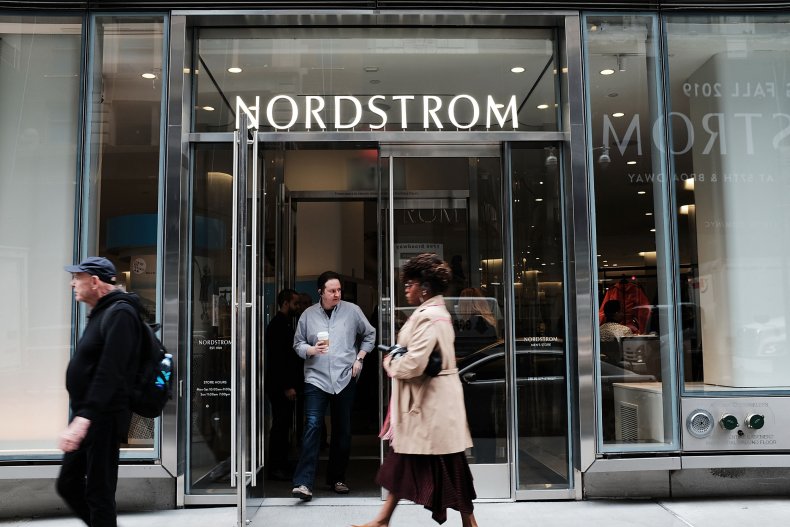 According to Sneaker News, the shoes sold out quickly in Europe and overseas when they were made available on June 12. The sneaker "brandishes simple with a two-part arrangement," the shoes site noted. "The titular shading covers the overlay's leather paneling while white neutrals accent below at the toe box, profile, ankle, and tongue."
This isn't the first time Nordstrom experienced technical difficulties with its website including delayed confirmation emails. In July 2019, during the department store's anniversary sale, shoppers had issues adding items to their cart and receiving purchase confirmations. A similar issue occurred the year before as well.
Nordstrom told Newsweek that "Whenever customers place an order with us, we do our best to fulfill that order as quickly as possible. Unfortunately, in some cases, we do not have the right merchandise available and need to cancel an online order. This situation is rare and we're continually working to eliminate this disappointing experience for our customers."
The department store also addressed the popularity of Nike shoes. "The demand for Nike shoe drops can be significant, though we often have a limited supply of product available for customers to shop. We hate to hear we've disappointed customers and hope we'll be able to serve them with future Nike launches."
Updated 7/1/2020, 3:56 p.m. ET: This article has been updated to include a statement from Nordstrom.