Passengers Tie up Drunk Man in Plastic Food Wrap after He Tries to Open Plane Door
Passengers on board a plane to Thailand endured a flight from hell in which a drunk passenger tried to open the emergency door, two other passengers started an alcohol-fueled row and another person started smoking in the toilets.
The first half of the Nordwind flight from Moscow to Phuket was uneventful, but then passengers noticed a commotion had started next to the emergency exit, where cabin crew were trying to calm a passenger.
Russian TV reporter, Elena Demidova, who was on board, filmed on her phone her description of events, saying that during an in-flight announcement, passengers had been asked if they had any "plastic food wrap," according to Metro.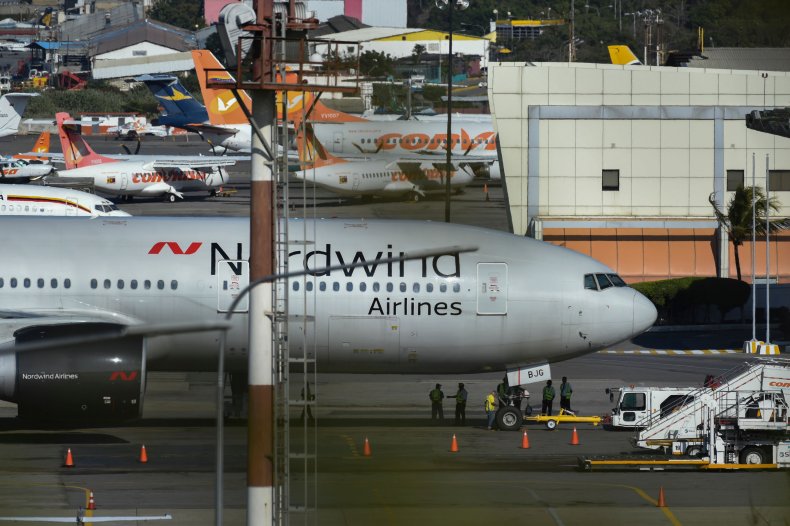 "Suddenly the sign fasten your seat belts began to flash. Why? Minutes later the captain explained a passenger in the rear of the plane was drunk and rowdy," she said.
"A doctor tried to calm him. Then tougher measures were taken. They tried to use plastic food wrap to tie him. Seven people were holding him, but nothing helped," she added.
The passengers had stepped in to help cabin crew restrain the man and the Boeing 777 was then diverted to Uzbekistan where he was handed over to police.
Russian transport police said that the man in his 30s had been abusive to the cabin crew and made the flight uncomfortable for other passengers, according to reports
But the drama on the flight did not stop there, and when the plane was back in the air after a four-hour delay, another altercation started between drunken passengers who had to be separated by the crew.
Then in yet another incident, a passenger was caught smoking in the toilets, and was arrested by Thai police when the plane eventually landed in Phuket. Video footage of the other incidents also emerged.
Demidova later said on Twitter: "It is the first time I have been on such an eventful flight. Thank goodness that all of us are still alive," according to The Mirror.
Earlier in the month, a Spirit Airlines flight was delayed yesterday morning after a drunk passenger threw up in a woman's hair and had to be escorted off the plane.
There was then a second delay to the unlucky flight from Chicago to Baltimore after two other drunk passengers allegedly locked themselves in the plane's bathroom, according to ABC 7 News Chicago.
All the passengers had to disembark so that the plane could be cleaned.
Last month, a woman in China was detained by police after she opened a plane's emergency exit door prior to takeoff. She was on the Xiamen Air flight traveling from Wuhan city to Lanzhou, the South China Morning Post reported and she delayed the journey by about an hour.