Nor'easter Double Whammy: Two More Storms Will Hammer Northeast With More Snow, Winds
A fourth winter storm could hit the Northeast coast and mid-Atlantic areas in time for the first day of spring, with parts of the tri-state area facing warnings that it could see two separate blasts of snow in the coming days.
New Jersey looks set to be one of the states to be severely affected by heavy snow by Tuesday night, with other tri-state areas, including New York and the Hudson Valley, also experiencing some snowfall during the first wave of unsettled weather, reports NBC's Storm Team 4.
NBC forecasts there could be two rounds of snow to hit the tri-state area on Tuesday and Wednesday, with several inches of snow expected to fall around central and southern New Jersey.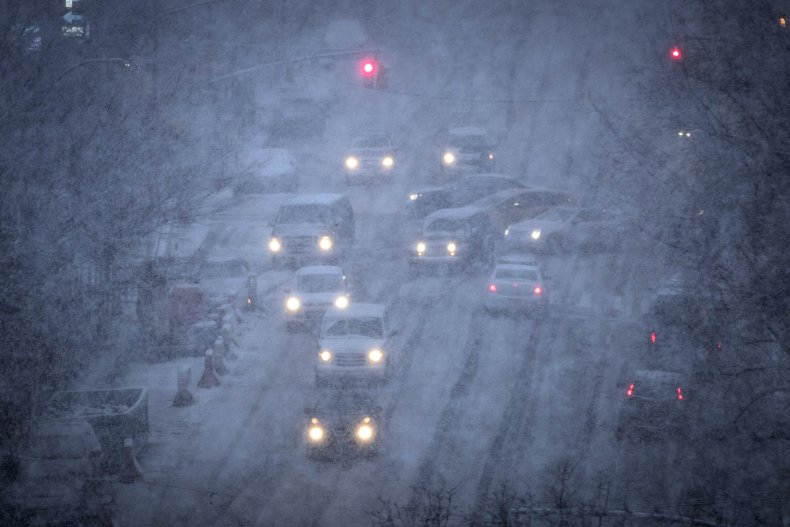 The active weather pattern is expected to continue for the rest of March, meaning further serious storms across the coast could be expected.
Three nor'easters have already battered the East Coast over the past few weeks, leaving several people dead, hundreds of thousands without power and causing chaos on the roads and other forms of transport.
According to Weather.com, snow will likely affect parts of the mid-Atlantic, central Appalachians and the upper Ohio Valley over the next two days. It is uncertain whether a major nor'easter will impact areas further north along the Northeast coastline.
A Tuesday night forecast from Weather.com states, "Snow or a rain and snow mix could affect a swath from the upper Ohio Valley into the mid-Atlantic region, including Washington, D.C., and Baltimore, perhaps extending northward into Philadelphia and New York City, as well."
A second area of low pressure will continue to affect the mid-Atlantic region on Wednesday, with the potential of snow reaching as far south as northern North Carolina and southern Virginia.
According to CNN meteorologist Jenn Varian, the storm is not expected to reach Boston or other New England coastal cities. "Snowfall accumulations at this time are with very low confidence," Varian added.
However, strong winds are possible along the coast from New England to the mid-Atlantic coast, with the possibility of flooding in some areas.
The Weather Prediction Center is advising people to check the forecasts for their areas in the next few days.