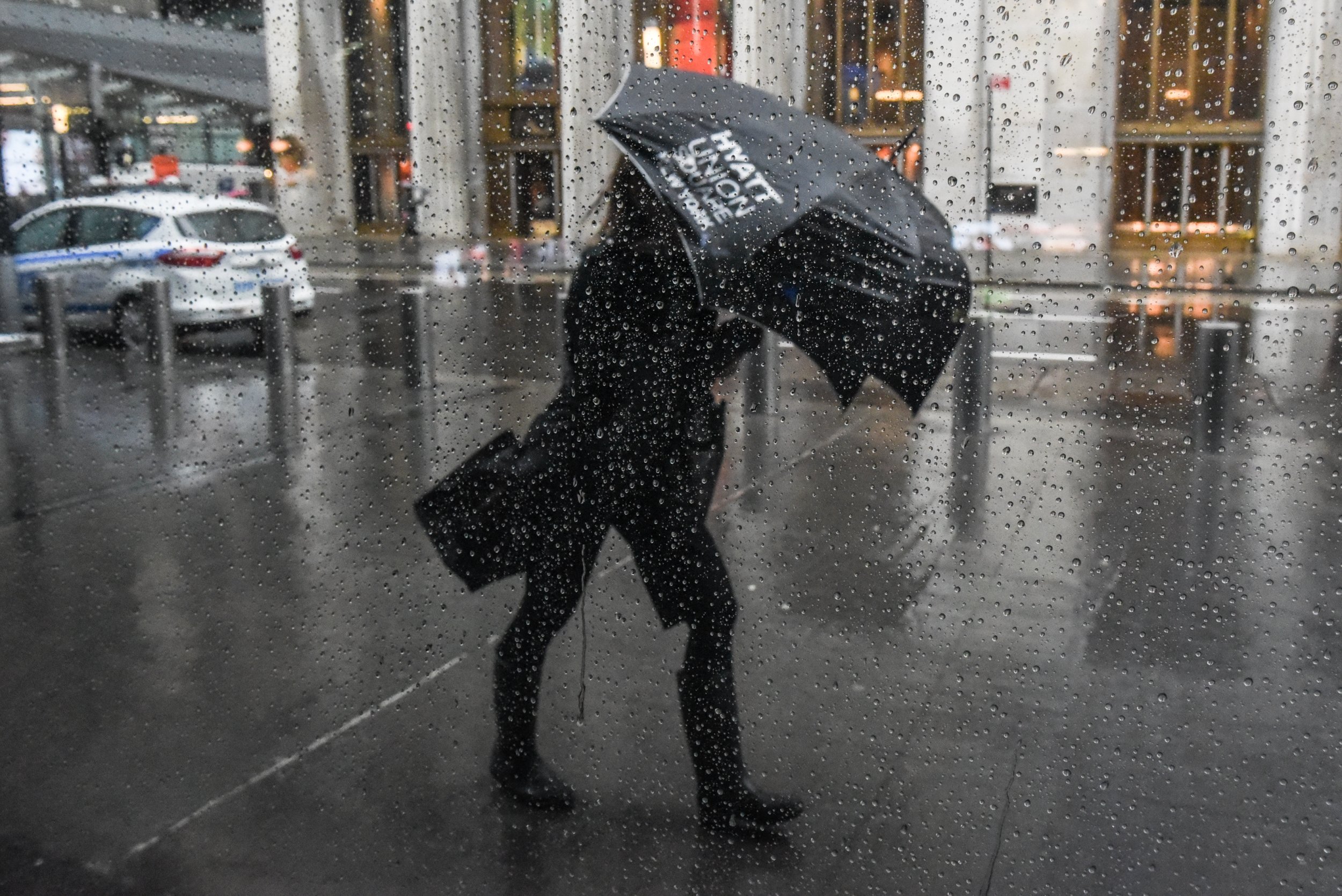 Ahead of Halloween, the East Coast is expected to get some less than favorable trick-or-treating weather, with some parts of the Northeast possibly seeing snow this weekend.
After making landfall in Mexico on Tuesday, remnants of Hurricane Willa traveled across the Southern United States. Moisture from the former hurricane mixed with low pressure as the storm moved up the East Coast on Friday.
The storm is expected to turn into a nor'easter on Saturday, the first of the season, but because of the warm temperatures, it will produce more rain than snow. Making its way up the East Coast, the storm is expected to bring rain to New Jersey and Pennsylvania on Saturday morning, according to the National Oceanic and Atmospheric Administration.
With the nor'easter identified as a coastal storm, the National Weather Service (NWS) said winds up to 50 miles per hour are forecast for the coastline along New Jersey, potentially causing power outages and minor tree damage. Moderate coastal flooding can be expected for southern portions of Delaware and the New Jersey shore.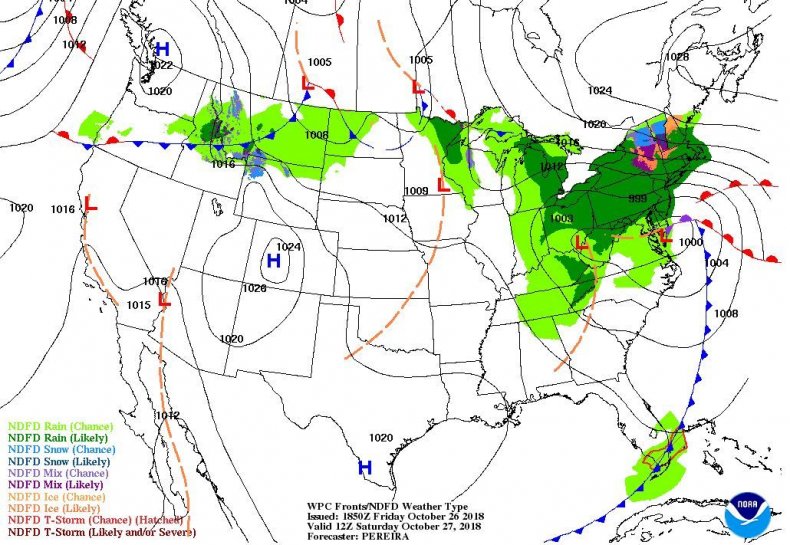 Up to 2 feet of saltwater inundation is possible in low-lying areas near the shorelines around high tide on Saturday. Starting on Friday night and into Saturday, NJ.com reported, 2 inches of rain is expected to hit New Jersey.
"Go find the best book you can download and get ready for this weekend, because it is going to be a windy, windy, cold weekend in the Northeast," CNN meteorologist Chad Myers said Friday.
Around 8 a.m. EDT on Saturday, the storm is expected to move into New York, bringing heavy rain to large areas of the state, as well as possible snow and a wintry mix in the state's central and northern regions. Vermont and Maine are also expected to see snow and ice on Saturday morning.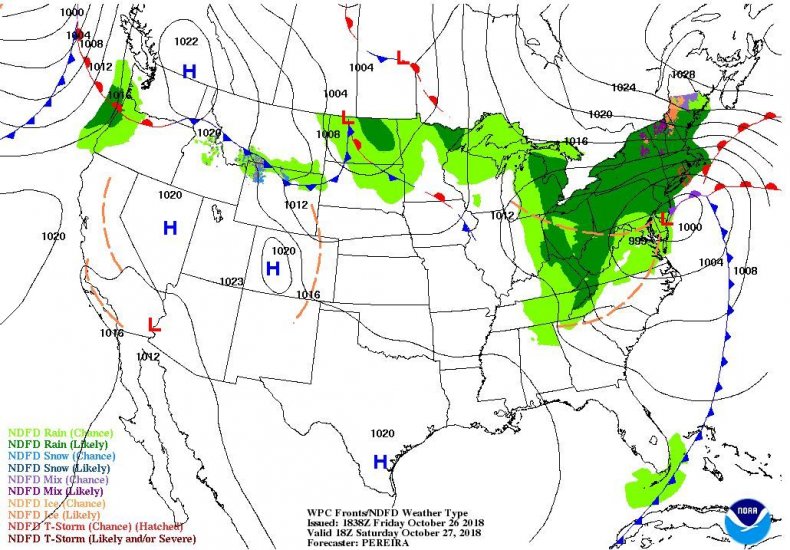 While some areas at 2,000 feet above sea level or higher may see snow on Saturday, Syracuse.com noted that it will likely be wet snow and that most parts of the northern states will have just rain.
Major cities along the East Coast, such as Washington, D.C., Philadelphia, New York City and Boston, could experience urban flooding because such a large amount of rain is expected to fall in a short period of time, ABC News said.
Ahead of the storm, New York Governor Andrew Cuomo said he was deploying additional assets and personnel to the mid-Hudson Valley and Long Island regions. State agencies were directed to prepare roads, personnel and supplies for the potentially hazardous conditions.
"I urge all New Yorkers to make sure they are ready for winter weather and to begin preparing their homes, vehicles and businesses for whatever Mother Nature brings our way," Cuomo said.
On Sunday, the storm will continue moving north, bringing rain and ice to Massachusetts. Areas of northern Massachusetts may see snow, but it will likely be mixed with rain. Up to 1.75 inches of rain is forecast for southeastern New England, according to the NWS in Boston.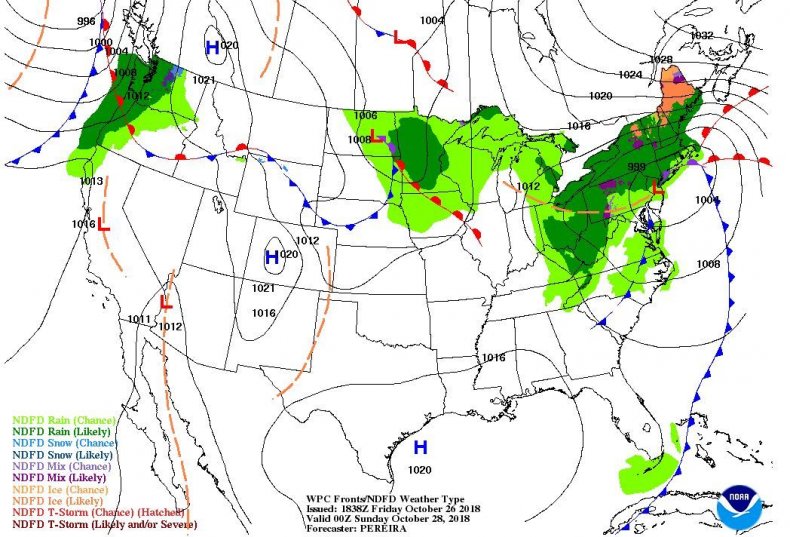 A storm is classified as a nor'easter by the NWS if it occurs along the East Coast. Generally, the storm develops between Georgia and New Jersey and progresses northeastward, reaching maximum intensity near New England. Nor'easters almost always bring heavy snow or rain, gale-force winds and rough seas.
While nor'easters are most frequent between September and April, they can occur at any time of year.