Nor'easter Power Outage Map, Updates As 490,000 in Massachusetts Without Power
Nearly 500,000 homes and businesses in Massachusetts were without power early on Wednesday, as a menacing nor'easter cyclone continued to batter the East Coast.
The National Weather Service in Boston urged those living along the Massachusetts coast to remain indoors and stay away from windows as wind speeds reach up to 85 mph through 7 a.m. The service also warned of a "dangerous situation" near and southeast of I-95, the East Coast's main highway.
"Winds gusting over hurricane force across southeast Massachusetts. Numerous downed trees," the service warned on Twitter. "TRAVEL IS NOT RECOMMENDED early this morning in southeast MA."
It later noted that while conditions were easing across western Massachusetts into Connecticut, "significant impacts" continue in eastern Massachusetts and Rhode Island. As of 10.45 a.m. ET, there were 497,649 power outages reported in Massachusetts, with the worst-affected counties being Plymouth and Barnstaple, according to PowerOutage.US.
Other states were also hit. The winter storm led the governors of New Jersey and New York to declare states of emergency, only weeks after Hurricane Ida left severe flooding in early September. On Tuesday, the storm dropped more than 3 inches of rain in parts of Connecticut, New Jersey and New York.
Up to 5 inches of rain had fallen in parts of New Jersey by 11 a.m. on Wednesday, flooding some roads, creeks and streams.
Energy companies, including National Grid and EverSource, face significant outages, with thousands of their customers without power.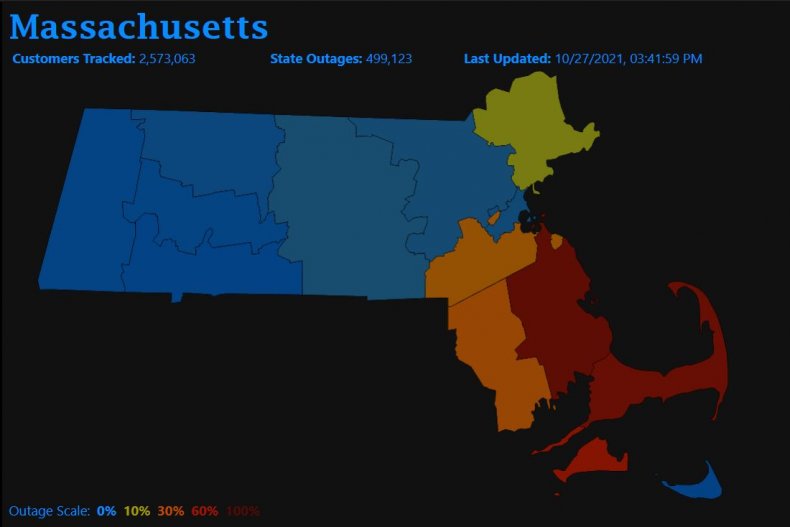 EverSource
Around 277,000 EverSource customers were without power in Massachusetts as of early Wednesday morning, according to PowerOutrage.US.
EverSource MA tweeted on Tuesday: "As stormy weather continues across the commonwealth, please use extra caution on the roads. Our crews were working here on Silver Street in Greenfield this afternoon to repair significant damage after a van crashed into a utility pole. Be safe out there!
"The winds are expected to continue ramping up overnight—particularly here on the Cape where gusts could reach 75 mph. Our line and tree crews will continue working through the night to clear damage and restore our customers as quickly and safely as possible."
Early on Wednesday, it said powerful winds overnight brought massive trees down onto our power lines across the Cape.
"We're working to assess all the damage and coordinating with our communities to make roads safe," the power company said.
"As the winds continue to roar, please remember that when gusts reach hazardous strength, it's not safe to put buckets in the air. We'll continue working to restore power to all our customers as quickly and safely as possible.
"Our priority this morning is working closely with local officials and first responders to ensure the safety of our communities. Our crews are working to clear trees that have fallen across roads and onto our power lines like here on Queen Anne Rd. in Harwich."
EverSource MA advised people to stay away from downed wires as winds continue to last the state. It added that it was repairing damage and restoring customers as quickly and safely as possible.
National Grid
Around 222,217 National Grid customers were without power as of early Wednesday morning.
On Tuesday, National Grid tweeted: "We will continue to monitor the weather, and are in touch with local officials, first responders, and life support customers. Sign up for outage alerts, report an outage, review safety tips and more on http://ngrid.com/OutageCentral. We are here to help."
"We have over 2,400 field-based personnel in place & ready to respond," National Grid added.
"Please drive carefully and use caution when driving near any crews working to restore power. For your well-being and the safety of our crews, keep a distance from active work zones."
Those who want text alerts for updates on outages can text "REG" to 64743. Those who have registered can report an outage by texting "OUT." Those wanting to check the status of their outages can text "STAT."