Power Outage Map for Connecticut, Maine, Massachusetts, New Hampshire and New Jersey after Bomb Cyclone Strikes Northeast
Around 200,000 residents have been affected by power outages in Massachusetts, around 61,000 in Maine, more than 42,000 in New Hampshire and between 33,000 and 40,000 in Rhode Island and Connecticut, respectively, according to figures from PowerOutage.US, where you can find further details about power outages in your local area.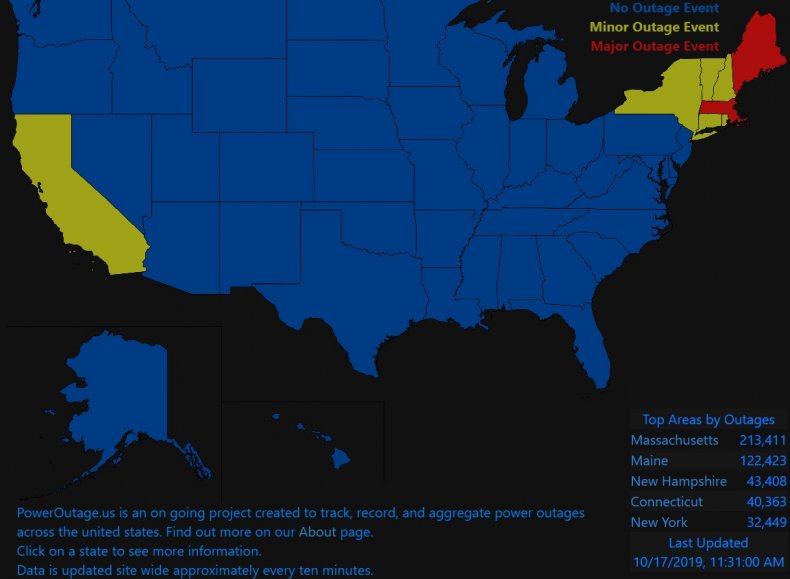 New York State has seen more than 31,000 power cuts, PowerOutage.US reports, with more than 14,000 in Long Island, according to the Public Service Enterprise Group (PSEG) energy company's Long Island branch, while nearly 26,600 have been affected in Pennsylvania, CNN reports.
A wind advisory is in effect across more than 60 million people across 14 states in the stretch from North Carolina through Maine, CNN reports, including in Long Island which recorded wind gusts of 51mph at Blue Point last night, Patch reports.
The National Weather Service has issued a flash flood warning for 7 million people in the Northeast, with rain expected to last through Friday, noting the pressure system could potentially drop to more than 30 millibars in 24 hours, creating a bomb cyclone, CNN reports. A bomb cyclone occurs following a pressure drop of 24 millibars in 24 hours.
"The system will have the equivalent low pressure of a Category 1 hurricane," CNN meteorologist Dave Hennen notes.
New York City will see rainfall until about 10pm, while continuing in Boston through 4am Friday morning, ABC News reports, and up to three inches of rain is anticipated for most of the Northeast, with some areas seeing up to 6 inches throughout Thursday, according to the National Weather Service, CNN reports.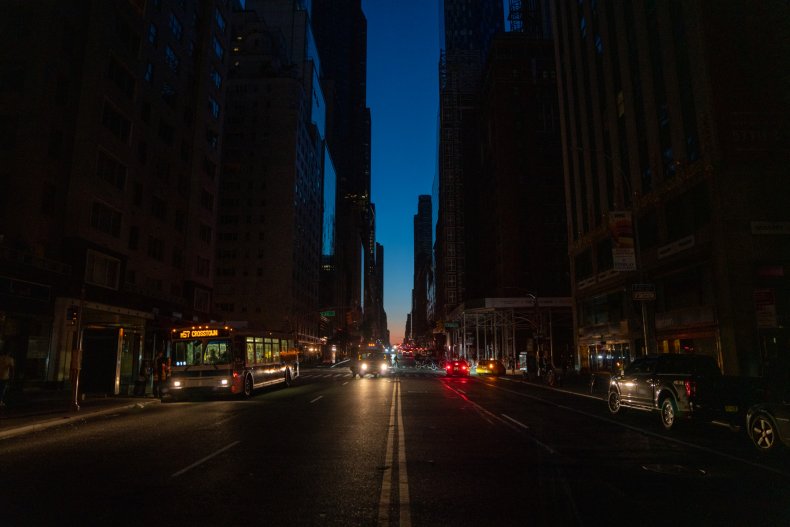 Wind will continue to pick up through tonight in New Jersey and Long Island, with wind gusts possibly as high as 60 mph, while the strongest winds are expected to be in the southeastern end of New England, potentially reaching up to 70 mph, according to ABC News.
Extensive damages were seen in Connecticut from fallen trees and large tree branches scattered across local streets prompting several road and street closures in effect "until further notice," the CT Post reports.
Flight delays have been reported at LaGuardia and Newark International in New York City, averaging between about an hour and 2.5 hours, and more are expected throughout New England through Friday, according to CNN.
Winds may also reach gusts of 50 mph in Philadelphia and Boston which may cause flight cancellations, ABC News reports.
Most of the rain is expected to taper off and leave the northern New England area by Friday.
But the National Weather Service also noted it is "closely monitoring a tropical disturbance near the Bay of Campeche," in a post on its official Twitter account, warning "There is potential for this system to further develop over the next couple of days as it approaches the northern Gulf Coast. Heavy rain and gusty winds possible."