Nor'easter to Strike New York, New England as Heavy Rainfall and Flash Flooding Predicted
The storm system heads Southeast today before a nor'easter hits the Northeast, with thunderstorms and heavy rain expected from Atlanta to Raleigh.
Flash flood warnings have already been issued for the southern states of Arkansas, Louisiana and Mississippi, ABC News reports.
The coast will be met by rainfall of more than 3 inches from Wednesday afternoon and into the evening, while gusty winds along the Interstate 95 corridor are likely to be higher than 50mph and reach up to 70mph on Cape Cod.
Mississippi, southern Arkansas and northern Louisiana may see between 2 and 5 inches of rain in the next 24 hours, according to ABC News.
Northern New England and the lower end of the mid-Atlantic coast may receive 1 to 2 inches of rain on average, while 2 to 3 inches of rainfall are expected for the stretch from northern New Jersey and eastern New York State to the southern and central New England region where rainfall may reach a maximum of 4 inches, Accuweather reports.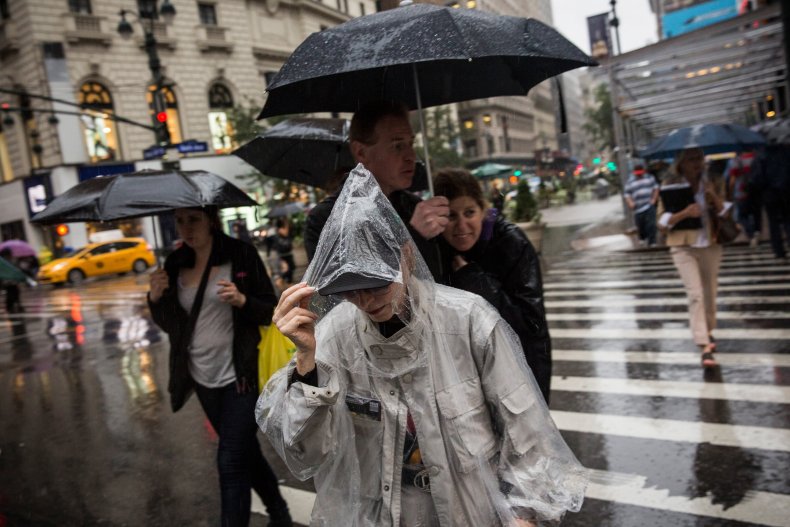 A storm warning is in effect from the mid-Atlantic to New England and the East Coast has also been issued a gale warning, with waves at sea to potentially reach as high as 16 feet or more, according to the National Weather Service, Bloomberg reports.
A nor'easter is a strong area of low pressure along the East Coast typically associated with winds from the Northeast coast off the Atlantic.
Accuweather also notes there may not be enough northeasterly winds covering a large area to be classified as a true nor'easter, but the fast-developing storm could potentially see some parts of the Northeast receive high elevation snow, along with heavy rain and powerful winds.
"It's a fairly strong low for October," Patrick Burke, a lead forecaster for the U.S. Weather Prediction Center in Maryland told Bloomberg.
"If this was mid-winter it would be a major snowstorm for somebody," he added.
The storm could be intense enough to set a low pressure record for October as it approaches Boston and the southern part of New England by Thursday, Burke also noted.
Delays are expected at all major airport hubs from Washington D.C. to Boston, ABC News reports, while minor street flooding and drainage issues in urban areas are also likely to cause travel delays, according to Accuweather.
With a 90 percent chance of heavy rain predicted by the National Weather Service for Wednesday, the scheduled American League Championship Series baseball match between the New York Yankees and the Houston Astros will also be affected.