Norm Macdonald's 'SNL' Monolog After He Was Fired Goes Viral
Fans of Norm Macdonald are today remembering the late comedian and some of his funniest moments following his death at aged 61.
The influential Canadian comedian died on Tuesday after a private battle with cancer.
Lori Jo Hoekstra, his longtime partner, confirmed the sad news to Deadline.
"He was most proud of his comedy," Hoekstra said in a statement. "He never wanted the diagnosis to affect the way the audience or any of his loved ones saw him. Norm was a pure comic. He once wrote that 'a joke should catch someone by surprise, it should never pander.' He certainly never pandered. Norm will be missed terribly."
Tributes from all over the comedy world have been paid to the funnyman who was perhaps most well-known for his work on Saturday Night Live.
Serving as a cast member on the comedy show for five years in the 1990s, Macdonald spent three years as host of the "Weekend Update" segment.
After being fired in 1998, Macdonald returned to guest host the show in October 1999.
In his monologue, the comedian wryly skewered his former employees for firing him then asking him back to host.
An audio clip of that monologue is going viral on Twitter today thanks to a tweet from film director, Billy Corben.
"Norm Macdonald was warned to lay off O.J. on SNL Weekend Update cuz he was golf buddies with the president of NBC. Norm kept slamming Simpson anyway. Every. Damn. Week. And got fired for it. A year later, he was invited back to host and did the most brilliant monologue ever. #RIP," Corben tweeted.
The clip has been viewed more than 170,000 times at the time of publishing.
"I don't know if you remember this but I used to actually be on this show," Macdonald begins in his monologue.
"But now, this is the weird part, right? It's only a year and a half later and they asked me to host the show! So I wondered, I go, 'Hey, wait a second here. How did I go, in a year and a half, from being not funny enough to be even allowed in the building, to being so funny that I'm now hosting the show? How did I suddenly get so goddamn funny?' It occurred to me, I haven't gotten funnier. The show has gotten really bad!"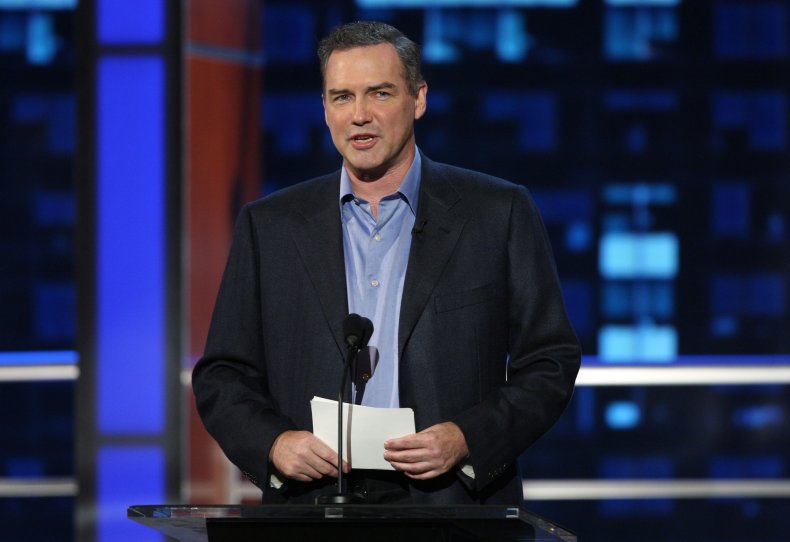 Other notable figures to pay tribute to late stand-up include Jim Carrey and Jon Stewart.
Taking to Twitter, the Dumb and Dumber star wrote: "My dear friend Norm MacDonald passed after a brave 10-year battle. He was one of our most precious gems. An honest and courageous comedy genius. I love him."
While, late-night host Jon Stewart said: "No one could make you break like Norm Macdonald. Hilarious and unique."