10 Hottest Sex Scenes in Film and TV History, According to Study on Arousal
A recent TV show has beat out some Hollywood classics to be given the honor of having the sexiest scene in television and movie history.
Normal People, the BBC adaptation of the Sally Rooney novel beat romantic classic Ghost and famously steamy films Call Me By Your Name and 50 Shades of Grey when it came to the hottest sex scene, according to a recent study on arousal.
The Irish series, starring Paul Mescal and Daisy Edgar Jones as Connell and Marianne, captured hearts when it was released in April 2020, with the stars' insane chemistry propelling the somewhat small scale show to global recognition—the now-famous sex scenes even sparked outrage in religious middle Ireland.
Now, more than a year later, Fandomspot conducted a study of more than 100 participants in which they monitored their heart rates while they watched sexy moments on screen.
A wide range of movies, TV shows across all genres were studied to see which titles got hearts racing the most.
Normal People, took first place in the list, raising heart rates 38 percent on average.
Ghost and Jessica Jones took second and third place, respectively.
The top 10 steamiest movie and TV moments based on how much the average heart rate increased by are:
Final sex scene in Normal People — 38 percent
Pottery scene from Ghost — 35 percent
The bed-breaking scene from Jessica Jones — 32 percent
Peach scene from Call Me By Your Name — 29 percent
Alex and Piper first shower scene from Orange Is The New Black — 27 percent
The post-fight rough sex scene in Mr & Mrs Smith — 27 percent
Dr. Izzie asking Dr. Karev to take his pants off before hooking up in Grey's Anatomy — 25 percent
Jonathan Pine bearing his bottom while getting intimate with Jemima 'Jed' Marshall in The Night Manager — 25 percent
Lisbeth Salander and Mikael Blomkvist in The Girl With The Dragon Tattoo — 23 percent
Noah and Allie undressing each other before getting intimate for the second time in The Notebook — 20 percent
"Hollywood isn't shy of the odd intimate scene and when we think of the raunchiest movie or TV moment I'm sure lots of different scenes come to our minds. Therefore, as we all appear to be sex and love-obsessed with the likes of Netflix's Sex/Life and Love Island trending worldwide, we wanted to discover which cinematic moments in history get pulses racing the most," Alyssa Celatti of FandomSpot.com said in a statement.
"TV and movie scenes of an adult nature are something that can often prove to be very divisive but here at FandomSpot.com, we believe it's important for the media to show representation on all sorts of topics and themes. That's why we included a wide variety of people in the study. It was super fun to conduct this study that ultimately relates back to on-screen favorites and popular culture, which is what we're all about here at FandomSpot.com."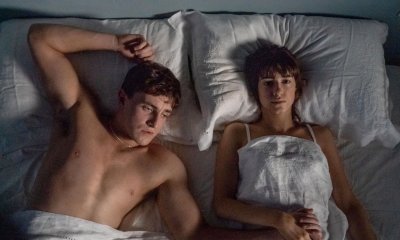 The success of Normal People in capturing exquisitely shot sex scenes is the result of its consent-led approach and use of intimacy coordinator Ita O'Brien, whose other recent credits include Netflix's Sex Education, It's a Sin, The Great and I May Destroy You.
Speaking about coordinating Normal People's sex scenes, O'Brien explained her process in an interview with Vogue.
"It's always about serving the storytelling and after reading the novel, I could see that we were being brought into the characters' internal psychology through those intimate moments," she said.
"Marianne and Connell are so beautiful together and very different as people compared to how they present themselves to the outside world when they're with their friends. So I thought, if the show is going to honour that, then the intimate content has to be inherent to the story. Plus, there's a lot of it!"