Norman Lloyd Tributes Flood in After 'Saboteur' Actor's Death At 106
Normal Lloyd, the veteran actor known for his role in Hitchcock's Saboteur and as Dr. Daniel Auschlander on NBC's St. Elsewhere, has died at the age of 106.
Tributes for the stalwart of acting have been pouring in from leading industry figures as Lloyd's glittering career is remembered by those who loved his work and those who worked with him.
The actor whose legendary career was punctuated with collaborations with the likes of Orson Welles, Alfred Hitchcock, Charlie Chaplin, Bertolt Brecht and Jean Renoir, passed away on Tuesday at his home in Los Angeles, his son Michael confirmed to The Hollywood Reporter.
Producer Dean Hargrove confirmed his passing to Variety and said that "his third act was really the best time of his life."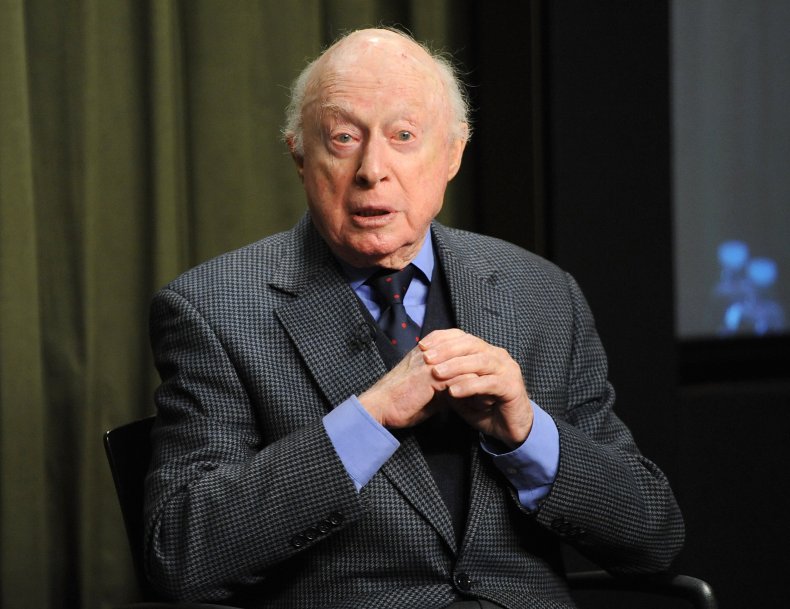 Lloyd starred as the school principal in the 1989 drama Dead Poets Society alongside Robin Williams. His final film role came in Judd Apatow's 2015 comedy Trainwreck.
"What a career. From Welles to Apatow. #RIP Norman Lloyd," tweeted Ben Stiller.
Meanwhile, Michael McKean paid tribute to the "real deal" of acting.
"Got to meet Norman Lloyd once about 20 years ago, when he was a mere pup of 86," the Better Call Saul star tweeted. "Run your eye down the man's credits as an actor & director and salute the Real Deal. RIP."
Director Judd Apatow shared the effect that Lloyd had on people, sharing a photo of the late actor making comedian Amy Schumer throw her head back in laughter.
"This is how we all felt being around Norman Lloyd," Apatow wrote.
Meanwhile, on Instagram, the Knocked Up director shared a touching anecdote about working with Lloyd.
"Norman Lloyd loved to tell stories and make people laugh," he began. "I was watching an interview with Ethan Hawke a few months ago and he was talking about being a kid shooting Dead Poet's Society.
"He said one day Norman walked up to him and said 'pay attention. It isn't usually like this. This is special.' He said that moment was a giant lesson for him. Every moment with Norman was special."
"He loved to tell this story about his wife Peggy. She was in bed and was very ill. She said to him 'Norman, how long have we been married?' He replied, 'seventy years.' She said, 'I think we're going to make it.' I miss him already."
TV critic Alan Sepinwall added: "RIP, Norman Lloyd. Lived to 106, worked with directors from Alfred Hitchcock to Judd Apatow, and was an indispensable part of one of the great TV drama ensembles ever made as Dr. Auschlander on St. Elsewhere."
While TV journalist Keith Olbermann said: "My dear friend Norman Lloyd has died. He was 106. He would quote things Chaplin, Hitchcock, and Judd Apatow said to him—in the same sentence. He saw his first World Series game in 1928 ('Babe Ruth tore his pants! We roared!') and his last in 2017. He was intent on 107."
Writer Mark Harris tweeted: "I knew this day would come but I'm awfully sad about it. Norman Lloyd was one of the first people I interviewed for the Mike Nichols book. I wanted to talk to him early, for obvious reasons. He had a story to tell, and he told it delightfully."
Brent Spiner, who worked on Star Trek: The Next Generation with Lloyd posted: "Look up mensch in the dictionary. There's a picture of Norman Lloyd. RIP."