Twitter Users Are Here For Normani's First Solo Track 'Motivation'
Normani emerged as a solo artist on Friday with the release of her single, "Motivation," and Twitter users are here for it.
The 23-year-old artist and former Fifth Harmony member trended on Twitter on Friday, with many commending both the song and Normani's strut-and twerk-filled dance performance in the music video.
"Motivation" is the singer's first new song since "Dancing With a Stranger," a duet with Sam Smith that was released earlier this year. It's also her first track as a solo artist (i.e., track that is a non-collaboration) since Fifth Harmony announced its indefinite hiatus in early 2018.
The song came in third on iTunes charts Friday morning, behind Taylor Swift's "Lover" and Miley Cyrus's "Slide Away" (both released on Friday as well).
In an Instagram post early Friday morning, Normani posted a behind-the-scenes photo of her shooting the music video for "Motivation." She wrote: "Motivation OUT NOW !!!!!!!!!!!!!!!!!!!!!!!!! still screaming crying all of it."
Several fellow artists—including, but certainly not limited to Ariana Grande and Halsey—took to Twitter to support Normani.
Grande tweeted: "i'm so proud of u @Normani."
The "thank u, next" singer served as a co-writer for Normani's single. In reply, Normani thanked Grande, writing "i love you so much. thank you for believing in me the way that you have sis and for being my biggest cheerleader. we got a smashhhhh !!!!!! i miss you too much."
The social media platform was filled with reposts of Normani's choreography-heavy music video for "Motivation," which media outlets like Billboard and fans likened to the 1990s and early 2000s work of Ashanti, Beyonce, Britney Spears, Ciara.
Zara Larsson tweeted a message of overall approval, saying that "Normani DID what HAD to be done."
Fans replied to Larsson's message with requests for a collaboration between Larsson and Normani.
"I recorded this song a while back," Normani said of 'Motivation' in an interview with Rolling Stone during Lollapalooza weekend. "I'll be on Twitter, and [fans] will be like, 'Sis, where's the new music? Where's the new music? I'm like, 'Guys, it's coming. I promise it's coming.' I shot the video probably a month ago. It's going to be worth the wait...It's an upbeat [song]. It's a feel good record. I think that everybody will really love it. It was the first opportunity that I had to have fun."
Previously, Normani was a duet partner to both Khalid on "Love Lies" and Sam Smith on "Dancing With a Stranger." Both songs hit the top 10 of the Hot 100, according to Billboard. She is a former member of the girl group Fifth Harmony, which announced its hiatus in March 2018, and a former contestant of Dancing With The Stars, having competed during Season 24 in 2017.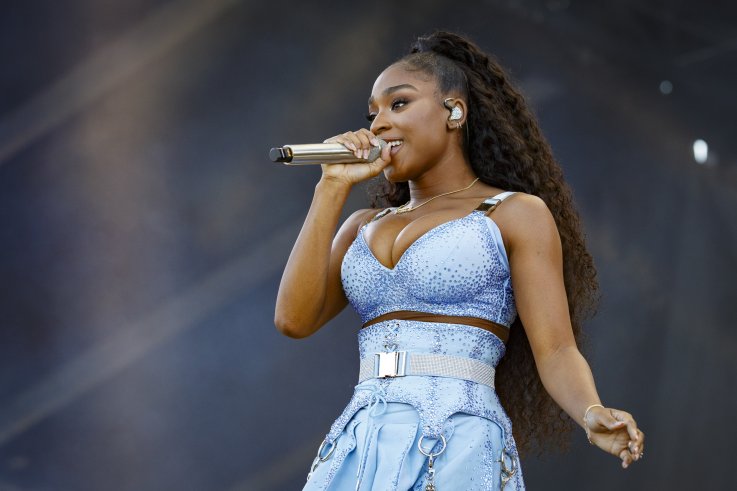 Twitter Users Are Here For Normani's First Solo Track 'Motivation' | Culture