Lithium is hard to come by in North America. The region is rich in copper and coal, but not mined lithium. However, some experts believe that Nevada could be home to as much as 25 percent of the world's supply, which powers much of what we do with modern technology.
Three-quarters of the world's mined lithium currently originates from South America, with Chile being home to eight million tons in lithium reserves.
China has a supply too, and it's where most of the world's lithium processing plants are located. Those plants turn lithium spodumene (the mined ore) into a version that can be used in electric car batteries, laptops, phones, medical devices and other applications.
A Canadian mining company named Snow Lake Lithium aims to open the first North American lithium mine run almost exclusively on renewable energy.
Snow Lake says that when its Manitoba mine starts operations in 2024 or 2025, it will draw 98 percent of its power from a hydroelectric source. The other two percent, according to the company, is currently unknown.
According to the Manitoba government, the province currently gets more than 98 percent of its power from hydroelectric and wind sources.
The main power provider to the region is Manitoba Hydro, the province's leading electricity and natural gas utility company, which operates 16 hydroelectric power stations, four diesel generating stations and one thermal generating station. It also purchases wind power from independent wind farms.
In 2019, Manitoba Hydro said that it had ceased generating power using coal as a fuel source.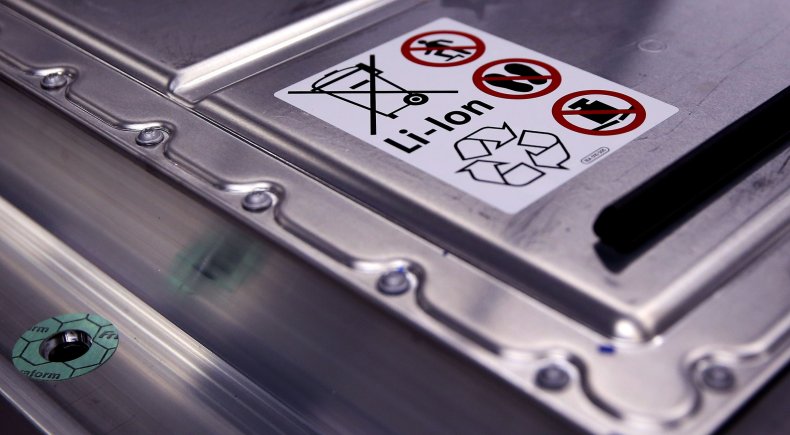 The automotive industry is moving towards more sustainable production methods as part of its overall push towards electrification. As a consequence, industry suppliers are also looking to adopt those methods. That includes shoring up supply chains and ensuring they meet high sustainability standards.
Shipping bottlenecks and other cracks in the supply further complicate matters and lead to higher prices across the chain.
In an interview, Snow Lake Lithium CEO Philip Gross told Newsweek that one of the goals of the new mine is to provide North American automakers with a competitive advantage against Chinese interests and supply chain constraints.
"Albeit it's not the solution to the problem, but it's an actual alternative where the North American automobile industry can secure their supply chain, at least to an extent or a percentage thereof," he explained.
With supply chains slowing to a relative crawl, the flow of lithium has slowed too. It's become more difficult and costly for automotive companies to acquire lithium-ion batteries given the processing locations and the introduction of COVID-19.
According to BloombergNEF, China controls 77 percent of the world's raw materials refining market. It's also the leading exporter of lithium-ion batteries. The price of a ton of lithium carbonate in China, a key component in the production of those batteries, went from $7,000 in January 2021 to about $26,200 by the end of the year.
When the mine becomes fully operational, Gross expects it to produce 160,000 metric tons of usable lithium over a 10 year period.
In a 2022 U.S. Geological Survey commodities report, the agency said that worldwide lithium production in 2021 was about 100,000 metric tons. Demand for lithium has skyrocketed in recent years as an essential component in lithium-ion batteries, a key part of electric vehicle manufacturing.
Dr. Steven Enders, a professor of mining engineering at the Colorado School of Mines, told Newsweek that the mine's Manitoba location and abundance of hydropower is well-suited for its sustainability goals.
"Not only is your power less expensive than other sources, it's renewable," he said. "It has a very low carbon footprint in its own right. And so if they can electrify their entire operation, they have a big advantage to push in terms of their carbon footprint."
But mining the lithium isn't enough as a sustainability goal. Gross says it's pointless to mine it and then send it overseas to process into the final product, so they're also looking for a joint venture partner to build a hydroxide processing plant. That would also be powered primarily with renewable energy.
Lithium mined in South America is traditionally sent to the Asia-Pacific region to be processed and used to construct lithium-ion batteries. The final product is then shipped to customers around the world, with increased costs to account for inflated costs of global shipping. Those costs are then passed on to the consumer.
The extracted lithium ore is processed at hydroxide facilities, which use a technique called "acid roasting" to refine the ore into battery-grade lithium.
According to Dr. Kwame Awuah-Offei, a mining expert at the Missouri University of Science and Technology, that presents a challenge to the production process. That process, which includes heating the lithium spodumene to 1,000 degrees Celsius, is usually done with fossil fuels.
"If they're going to have to acid roast the ore...they need to figure out how to do that without fossil fuels," he said. "Traditionally, the easiest way to raise temperatures to that level is to add in coal."
That's a common practice in mining and refining, which explains some of the industry's high emission rates. Awuah-Offei added that it's not impossible, but it will be a challenge the company will have to face.
A spokesperson for Snow Lake Lithium said that it's in the early stages of finding a partner for the processing plant and that it's too soon to give details about that plant's energy requirements.
The project, like any mine, faces potential roadblocks, according to Enders. He says that it takes years from the time an ore deposit is discovered to when full production can begin. That end-to-end process averages nine years in gold mining, 23 years in copper mining and up to seven years in lithium mining.
"Presumably, without any challenges from either communities, NGOs or the government, there's still a fair amount of time and work that is required to advance a project to a point where you're ready to build it," Enders said. "These things typically take several years."
It can take a tremendous length of time just to complete feasibility and environmental impact studies.
Gross is optimistic that, with support from local, provincial and federal governments, the feasibility study will be completed over the next 18 months, with environmental impact follow-ups taken care of shortly afterward.
"Canada is probably the most mining-friendly jurisdiction in the first world," he said. "We're in an economic area where the entire economy has been dependent on mining for the past 100 years. It's a really strong mining community."
Awuah-Offei says that sustainability has only recently been top of mind to mining executives. As recently as 10 years ago, few mining companies issued sustainability reports. But now that consumers are placing that high on their priorities list, companies have responded in kind.
"(Sustainability) has been on their minds as something that they need to inform their stakeholders how they're doing so that investors can have that information for investment decisions," he explained, adding that it also helps relationships with communities surrounding the mine and strengthens your place in the supply chain.
The environmental impact of traditional mining methods and shipping is also catching the eyes of consumers. The Environmental Protection Agency (EPA) has estimated that metal mines have polluted more than 40 percent of watershed headwaters in the U.S. western region. The chemical pollutant reactions from hard rock mining have also been well-documented.
Having been in the mining industry his entire working life, Gross says that he would not have believed that the industry would be turning this way as recently as five years ago.
"It's not just a legislative issue anymore," he said. "Today's generation of consumers are far more conscientious and far more cognizant. This is what they want and this is what they're demanding."
The new Snow Lake operation, in Gross's view, encompasses those sustainability goals while also opening the door to simplify supply chains and protect the strength of North American automotive manufacturing.
"We want to avoid an existential threat," he said. "We need to move fast and mobilize and accelerate to where we can achieve a certain amount of independence in that regard."