North And South Korea May Get First Rail Connection Since the War, linking Pyongyang to Europe
Officials from North and South Korea have discussed building a railway that would join the former adversaries for the first time in more than 60 years, and could provide an overland link between Pyongyang and Europe.
If agreed, the rail link would be the most concrete step toward a rapprochement on both ends of the peninsula, and would be a huge boon for Seoul's trade with China, Russia and beyond.
The possibility of linking the two Koreas by rail has been floated before, but these are the first bilateral talks to grapple with the project in a decade. The talks took place in the truce village of Panmunjom in the demilitarized zone, Agence France Presse reported.
South Korea's chief delegate Kim Jeong-ryeol said before the meeting that the sanctions on Pyongyang for its nuclear program would first need to be addressed.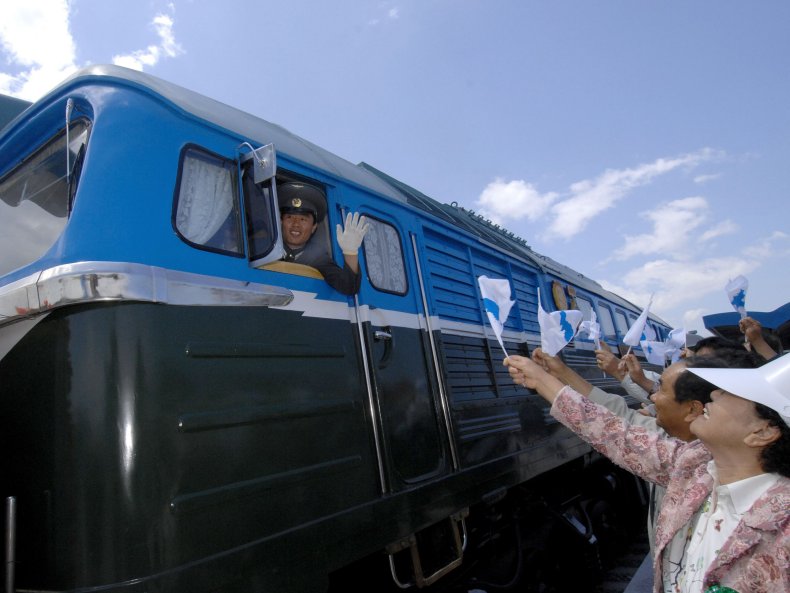 "But we can thoroughly research and study various projects we can pursue after the sanctions are lifted," he told AFP.
There is already a disused rail line between Seoul and Pyongyang, which continues on to Sinuiju on the Chinese border, but the North Korean tracks, originally built by Japan in the early 1900s, are too old to handle high-speed trains, Korean broadcaster Arirang reported.
The idea was mooted in the April summit between the North's leader Kim Jong-un and the South's President Moon Jae-in, who suggested that the railway could link the peninsula to Russia's trans-Siberian railway—offering a land link with Europe.
Moon met with Russian Prime Minister Dmitry Medvedev to discuss the $35 billion proposal.
"Among the trilateral cooperation on the railway, electricity, and energy, connecting railways appears to be most likely," Moon told Medvedev, according to the Korea Herald.
"Through permanent peace on the Korean Peninsula, I'm hoping that the Trans-Siberian Railway will extend all the way to the southern port city of Busan, where I grew up. I hope you will join our efforts to open up new possibilities and common prosperity on the Korean Peninsula," he added.
Senior South and North Korean army officials have also discussed moving away artillery on the northern side of the border, aimed mostly at Seoul, and restoring telephone and fax lines to better avoid misunderstandings leading to military clashes, the Daily Telegraph reported.
The warming of ties continues after the summit between U.S. President Donald Trump and North Korean leader Kim Jong-un. Pyongyang skipped its annual anti-U.S. imperialism rally, and has also moved to transfer the remains of some of the American soldiers who perished in the Korean War and remain buried in the North.