North Carolina's Sweeping Anti-LGBT Bill Slammed by Civil Rights Group and Celebrities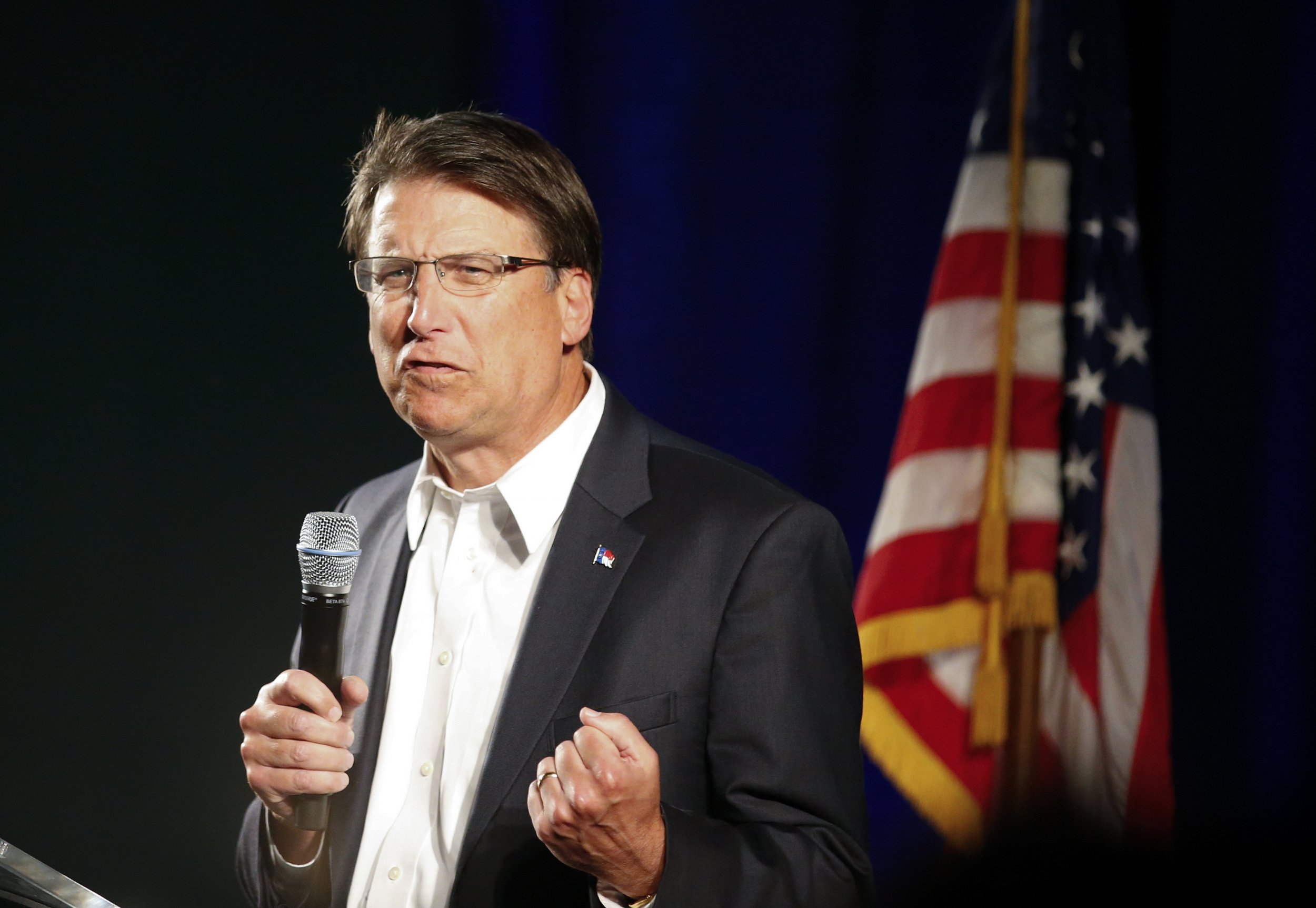 Gay rights organizations, businesses and transgender celebrities are speaking out against a sweeping North Carolina bill that revokes and bans any new LGBT protection measures in the state and was signed into law Wednesday less than 10 hours after it was introduced.
In February, the Charlotte, North Carolina, City Council passed a LGBT nondiscrimination ordinance, which allowed transgender people to use the bathroom according to the gender with which they identify. The new measure was set to go into effect on April 1 but was revoked after North Carolina Governor Pat McCrory signed the state-level bipartisan legislation, House Bill 2, the Public Facilities Privacy and Security Act, into law on Wednesday night.
The vote was 84-25 in the House and 32-0 in the Senate, with Democrats walking out in protest, The Charlotte Observer reports.
McCrory said Charlotte's bill meant the "basic expectation of privacy in the most personal of settings, a restroom or locker room, for each gender was violated by government overreach and intrusion by the mayor and City Council of Charlotte." After McCrory signed the bill on Wednesday night, he tweeted that he had done so "to stop the breach of basic privacy and etiquette, [to] ensure privacy in bathrooms and locker rooms."
In addition to prohibiting transgender people from choosing which bathroom they want to use, the state-level bill denies municipalities in the state from introducing additional LGBT protection measures. Public schools and publicly funded universities are barred from building multi-stall transgender bathrooms, and only transgender people who have had their biological sex changed on their birth certificate will be exempt from the new law.
"Today, North Carolinians have been deprived of basic fairness, leaving families vulnerable and putting countless individuals in harm's way," Sarah Kate Ellis, president and CEO of GLAAD, the LGBT media-monitoring organization, said in a statement.
"This discriminatory law is a scourge on the progress that we as a nation have achieved for LGBT Americans, but we will not waiver in the fight for full equality and acceptance," she said. "Now corporate America, including the entertainment industry, must join the chorus of Americans taking a stand to let Governor McCrory and other lawmakers know that discrimination will not be tolerated."
In a statement on Wednesday night, Freedom for All Americans, an organization working to get nondiscrimination legislation for LGBT people, called the bill "one of the worst, most extreme" bills.
Transgender actress Laverne Cox, best known for her role as transgender inmate Sophia Burset on the Netflix show Orange Is the New Black, also tweeted about the bill, saying that she was "so disappointed in the governor and legislature of North Carolina."
"Stay strong. This law is clearly unconstitutional and will not survive a court challenge," she tweeted.
Some companies, including Dow Chemical and Biogen, also tweeted that they don't support the bill. Chad Dickerson, the CEO of Etsy, tweeted his "support to LGBT community in NC (my home state)."
According to local media reports, religious groups and children testified against the bill on Wednesday morning. John Amanchukwu, executive director of the Upper Room Christian Academy in Raleigh, North Carolina, said, "If God didn't give you access to a male or female bathroom via your anatomy, neither should we give you access via either ordinance or legislation," according to local news outlet WRAL.com.
High school student Chloe Jefferson, a junior at Greenville Christian Academy, said she was frightened by the prospect of boys using the girls' locker room, WRAL.com reports. Skye Thomson, 15, a transgender boy from Greenville, North Carolina, said he felt "bullied" by lawmakers.
"Imagine yourself in my shoes, being a boy walking into a ladies' room. It's awkward and embarrassing and can actually be dangerous," Thomson said.