N. Carolina Bill Proposing Women Who Get Abortions Be Executed Sparks Fury
A North Carolina bill proposing that women getting abortions face the death penalty is sparking alarm on social media, despite it being highly unlikely to become law.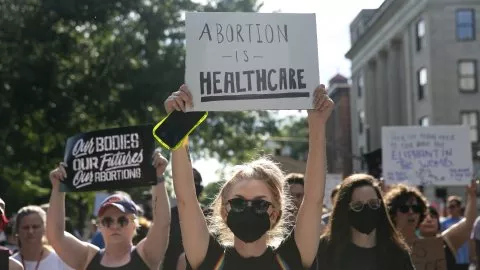 Although the bill was filed in February 2021 and received little support from state legislators, it received renewed attention on social media after viral tweets incorrectly stated it was introduced recently, in the wake of the Supreme Court's historic reversal of its decision in Roe v. Wade last month.
"Republicans in North Carolina just introduced a bill that'd make abortion punishable with death," Santiago Mayer, the founder and executive director of Voters of Tomorrow, a nonprofit focused on getting young people into politics, wrote in a tweet on Monday that has so far been shared more than 20,000 times. "So very pro-life of them."
HB 158 was actually introduced in the North Carolina House by Republican state Rep. Larry Pittman on February 24, 2021 and attracted only four other sponsors, according to the North Carolina Legislature's website.
It was referred to different committees over the next few months, and ultimately referred to the Commission for Judiciary in August last year. The 2022 legislative session ended on July 1 and Pittman, the bill's proponent, is not running for re-election.
"A lot of my bills have not even been given a hearing since I've been here," Pittman said at a rally in support of the bill last year. "This may not happen while I'm still here. We may not get it done this year. We may not get it done next year. But all I know is the Lord says do it and so we're giving it our best try." Pittman has been contacted for comment.
The bill proposed an amendment to North Carolina's constitution to define a "distinct and separate human life" as beginning at the "moment of fertilization."
It says any "person who willfully seeks to destroy the life of another person, by any means, at any stage of life, or succeeds in doing so, shall be held accountable for attempted murder or for first degree murder, respectively." First-degree murder is punishable by life in prison or the death penalty under North Carolina law.
It also proposed authorizing the use of deadly force to stop someone from getting an abortion. "Any person has the right to defend his or her own life or the life of another person, even by the use of deadly force if necessary, from willful destruction by another person," it says.
Sara Pequeño, a journalist with The News & Observer, a daily newspaper based in Raleigh, North Carolina, tweeted that while the bill is "scary," it was important to note the context around it.
"I understand the desire to get folks fired up about abortion rights and the bill filed in Feb 2021 by Larry Pittman (who has said and done a lot of wild stuff) is scary," Pequeño wrote. "But to say it was just filed and leave out context is not good for North Carolina morale."
Pequeño noted that only five out of 120 representatives had signed on to the bill despite there being a "very vocal anti-abortion" Republican Party in the state.
Another journalist said Voters of Tomorrow was trying to fundraise off the bill.
"A Dem group is trying to fundraise off of House Bill 158," tweeted Bryan Anderson, a reporter at Raleigh TV station WRAL. "This bill was introduced 501 days ago. It never got a single committee vote and the legislative session ended a couple weeks ago. The GOP-controlled legislature has said it's not advancing abortion bills this year."
Mayer has deleted the fundraising link and corrected himself in his Twitter thread, a Voters for Tomorrow spokesperson told Newsweek.
"Though this bill was introduced last year, it proves that Republicans have been preparing for Roe to be overturned so that they can take away the rights of women and others," Mayer said in a statement to Newsweek. "This bill would put people at risk of being murdered by the state for exercising control over their own bodies."
Others were also furious about the contents of the proposed bill.
"North Carolina state reps want to make it legal to MURDER pregnant women who were trying to abort. Vote them all out," wrote actress Patricia Arquette.
Christian Christensen, a journalism professor at Stockholm University, added: "So many who warned about the Christian Right in the US were dismissed as "Marxist" alarmists. Well, here's a North Carolina bill that would make it legal to murder a woman trying to get an abortion. These people are violent, misogynist, fundamentalist lunatics."
Abortion remains legal in North Carolina and can be performed until fetal viability.
A law that banned most abortions after 20 weeks of pregnancy is currently unenforceable after federal judges struck it down in 2019 and 2021. That ban could be restored now Roe is overturned, but formal action would have to be taken to cancel the court rulings striking it down.
And while Republicans hold majorities in the state House and Senate, they lack the margins to overcome a veto by Democratic Gov. Roy Cooper, a supporter of abortion rights.
Republicans are hoping to have the supermajority needed for veto-proof margins after this year's elections, and have pledged to take up additional abortion restrictions in the next legislative session. Cooper and other state Democrats have already made abortion rights a major campaign issue.
Update 7/20, 11:41 a.m. EDT: This article has been updated with comment from Santiago Mayer.
{{#isDisplay}} {{/isDisplay}}