A 12-year-old boy in North Carolina had a lucky escape on Wednesday after he was run over by his own school bus after his bag got stuck in the vehicle's doors.
Zion Baker walked away with cuts and bruises following the accident in Moore County, WTVD reported. And though he has been released from hospital, his mother has criticized the conduct of the bus driver involved.
Serena Thomas told WTVD that her son "could have died." She added, "A bus driver is supposed to make sure that her kids are supposed to be safe...I don't send my son on a school bus to get hurt."
The accident happened as Zion was getting off the bus. The vehicle's doors closed before he was clear, trapping his bag. The driver then set off, dragging the boy along with the bus.
"She pulled away and it dragged me, and I fell," Zion explained. He said he was dragged around 10 feet before he was able to break free from the bag. But as he fell to the floor, one of the bus's back tires ran over him.
"It hurt really bad, there were tire marks on my arm," Zion recalled. "My veins turned red." Zion's mother told WTVD that he was left with wrist and elbow injuries, as well as various cuts and bruises.
The as-yet unidentified bus driver was charged with careless and reckless driving, and Moore Country Schools sent a statement to WTVD stressing that "the employee is not currently driving a bus."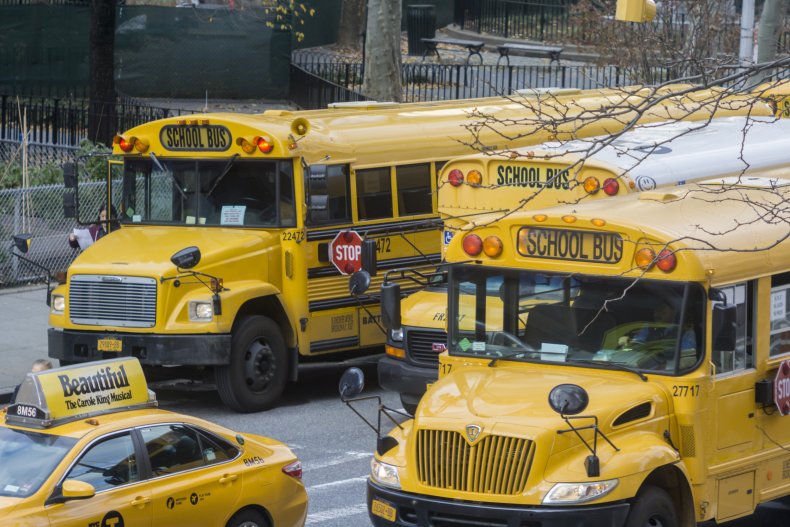 Thomas said that though she doesn't think the driver intended to hurt Zion, the negligence was clear.
"You should've just watched the kids, you watched the other little girls," Thomas said, referring to two girls who got off the bus shortly before Zion. "You don't get paid for thinking. You can't tell me that you thought my kid made it safe. You said you thought all the kids made it over safe but you never verified if Zion made it safe."
Zion, meanwhile is now too afraid to get back on the bus, explaining that he doesn't "want anything else to happen."
Last month, another school bus driver was accused of negligence and arrested for driving under the influence of alcohol. Catherine Maccarone, 48, was detained after a 10-year-old student of Longview Public Schools in Washington called police and reported her erratic driving, which included running several red lights.